CableFAX Contest - Describe the cable industry in 5 words for a chance to win a $50 Amazon gift card!
Sign up for The Skinny from CableFAX - Free Weekly Eletter
Awards --
Call for Entries & Events:

CableFAX's Most Powerful Women in Cable Breakfast
November 21 - NYC
Photos from the Event

CableFAX's Best of the Web & Digital Marketing Awards
Deadline: December 6
Enter Today!

Webinars:

Establish Cable PR and Brand Leadership with Content Marketing
December 17
Register Now!

Selling TV Everywhere: Marketing and PR Strategies to Drive TVE Awareness
On-Demand

---
---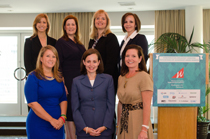 A TOUCH OF LEADERSHIP: At the PowerBrokers Breakfast of the WICT Washington, DC/Baltimore Chapter in Washington, DC on October 29, Touchstones of Leadership Award Honorees, were (top row, L-R) Discovery Comm's Catherine Frymark, Scripps Nets' Suzanne Underwald, Comcast's Samantha Callahan, TWC's Becky Bobzien-Simms, (bottom row, L-R) Travel Channel's Meghan Rodgers, the FCC's Michelle Carey & NBCU's Meredith Attwell Baker.






January 22, 2013

Research & Analytics...

CA/DRM Market Grows, But Challenges Continue
The pay-TV content-protection market is spiking, driven by the ongoing digitization of cable in emerging markets, and by continued investment in advanced applications and "TV Everywhere" offerings in major markets, according to a Frost & Sullivan research report. F&S also predicts the conditional access (CA)/digital rights management (DRM) market will bring in $2.6 billion in 2016, partly because of the "bring your own device (BYOD)" enterprise phenomenon that is changing the way video content is delivered and consumed. One of the challenges moving forward, the group says, is declining selling prices, particularly in the smart-card-based CA segment because CA can be bundled into headend and customer-premise equipment, thus making business life harder for smaller CA developers.

UltraHD: Not Ready For Prime Time
UltraHD may be the next new thing, but it will ramp slowly, according to Northern Sky Research. Starting at a low base in 2015 with just 15 channels being demanded by the global cable, IPTV and DTH industries combined, the global satellite UltraHD market could hit $412 million in 2025 from a $8.2 million revenue base in 2015; Eutelsat's launch on Jan. 8 of a dedicated UltraHD channel is set to benefit the broadcasting chain. Content already is available, and NSR notes TV makers are the first to ante up, with UltraHD sets from major manufacturers like Sony, LG and Samsung being unveiled; the price point for consumers remains pretty steep, however. Initial UltraHD investment is tentative at best, with NSR predicting UltraHD will remain a small niche — meaning minimal impact in revenues and channel carriage in the long term, relative to SD and HD growth. Until more consumer gear and more channels become available, that prediction may hold true.