Sign up for The Skinny from CableFAX - Free Weekly Eletter
Awards --
Call for Entries & Events:

CableMania with Cablefax & AXS TV - April 30
RSVP Today!

Call for Nominations - Top Operators
Nomination Deadline: May 2
Enter Now!

CableFAX's Digital & Tech Summit: May 21
Yale Club | NYC
Register Now!

Call for Entries - Program Awards
Entry Deadline: June 20
Enter Today!

Complete List of Events
Webinars:

Participation TV 2.0: Turning Audience Involvement Into Profit
May 7
Register Now!

Monetizing Social TV: New Tools and Tactics for Success
March 25
On-Demand

---
---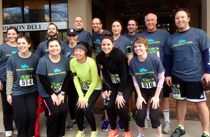 CABLE SHAPES UP! Members of CableFit #teamplatform at NCTA get ready to run a St. Patrick's Day 8K road race, spanning the U.S. Capitol grounds and National Mall on March 9, (back row, l. to r.): Julie Hance, Ethan Buch, Frank Gallagher, Kristin Buch, Steven Morris, Lisa Hamilton, Scot Donaldson, Rob Stoddard, Rick Stoddard; (front row, l. to r.): Kelly Allers, Kat Stewart, Esther Song, Carleigh Blewett, Lisa Otto. NCTA's team finished 11th in a field of 54.







January 16, 2013

Research & Analytics...

Continued Success For Moto Solutions
With only two years of operating independently, Motorola Solutions retains its position as a market leader in its core markets: public-safety government agencies and commercial enterprises. According to a free report from the National Traders Association (www.nationaltradersassociation.org/r/entire_report/6e7e_MSI), Motorola continues to focus on infrastructure and applications as it looks to expand task-specific mobile-computing devices for enterprises. In its government segment, Motorola Solutions owns more than 50 percent of the public-safety market for handhelds, infrastructure, software and services. The report also notes Motorola Solutions' strength lies in its revenue growth, earnings per share, increased in net income, return on equity and solid stock price performances – all of which offset the company's reportedly weak operating cash flow.