CableFAX Contest - Describe the cable industry in 5 words for a chance to win a $50 Amazon gift card!
Sign up for The Skinny from CableFAX - Free Weekly Eletter
Awards --
Call for Entries & Events:

CableFAX's Most Powerful Women in Cable Breakfast
November 21 - NYC
Photos from the Event

CableFAX's Best of the Web & Digital Marketing Awards
Deadline: December 6
Enter Today!

Webinars:

Establish Cable PR and Brand Leadership with Content Marketing
December 17
Register Now!

Selling TV Everywhere: Marketing and PR Strategies to Drive TVE Awareness
On-Demand

---
---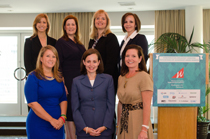 A TOUCH OF LEADERSHIP: At the PowerBrokers Breakfast of the WICT Washington, DC/Baltimore Chapter in Washington, DC on October 29, Touchstones of Leadership Award Honorees, were (top row, L-R) Discovery Comm's Catherine Frymark, Scripps Nets' Suzanne Underwald, Comcast's Samantha Callahan, TWC's Becky Bobzien-Simms, (bottom row, L-R) Travel Channel's Meghan Rodgers, the FCC's Michelle Carey & NBCU's Meredith Attwell Baker.






January 16, 2013

Research & Analytics...

Continued Success For Moto Solutions
With only two years of operating independently, Motorola Solutions retains its position as a market leader in its core markets: public-safety government agencies and commercial enterprises. According to a free report from the National Traders Association (www.nationaltradersassociation.org/r/entire_report/6e7e_MSI), Motorola continues to focus on infrastructure and applications as it looks to expand task-specific mobile-computing devices for enterprises. In its government segment, Motorola Solutions owns more than 50 percent of the public-safety market for handhelds, infrastructure, software and services. The report also notes Motorola Solutions' strength lies in its revenue growth, earnings per share, increased in net income, return on equity and solid stock price performances – all of which offset the company's reportedly weak operating cash flow.