Sign up for The Skinny from CableFAX - Free Weekly Eletter
Awards --
Call for Entries & Events:

CableMania with Cablefax & AXS TV - April 30
RSVP Today!

Call for Nominations - Top Operators
Nomination Deadline: May 2
Enter Now!

CableFAX's Digital & Tech Summit: May 21
Yale Club | NYC
Register Now!

Call for Entries - Program Awards
Entry Deadline: June 20
Enter Today!

Complete List of Events
Webinars:

Participation TV 2.0: Turning Audience Involvement Into Profit
May 7
Register Now!

Monetizing Social TV: New Tools and Tactics for Success
March 25
On-Demand

---
---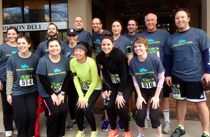 CABLE SHAPES UP! Members of CableFit #teamplatform at NCTA get ready to run a St. Patrick's Day 8K road race, spanning the U.S. Capitol grounds and National Mall on March 9, (back row, l. to r.): Julie Hance, Ethan Buch, Frank Gallagher, Kristin Buch, Steven Morris, Lisa Hamilton, Scot Donaldson, Rob Stoddard, Rick Stoddard; (front row, l. to r.): Kelly Allers, Kat Stewart, Esther Song, Carleigh Blewett, Lisa Otto. NCTA's team finished 11th in a field of 54.







January 10, 2013

Research & Analytics...

Wireless Management Services Drive MVNO Dollars
Enterprises are embracing wireless communications along with mobility apps and services, but the fragmentation in hardware, software and suppliers makes their implementation and management a huge challenge, notes ABI Research. However, the time is right for an enterprise MVNO if it offers customers a range of value-added services, including telecom expense management, mobile device management, and mobile app-development and -management. Analysis shows these services can contribute as much as 25 percent of revenues per employee, ramping to 34 percent when M2M connections and management services are added. Right now, healthcare providers and financial institutions appear to be are the most lucrative MVNO clients.

On-Net Service Coverage Lags Globally
While the availability of enterprise IP VPN and Ethernet over MPLS (EoMPLS) is growing in all world regions, on-net service coverage and growth rates vary widely. New data from TeleGeography says on-net availability of IP VPN services in nearly 170 global cities grew 12 percent in 2012. Carriers' aggregate on-net EoMPLS coverage grew 11 percent last year, with on-net availability varying widely, from less than 7 percent in Asia to 17 percent in North America.

Hello, LTE. Goodbye, WCDMA?
With LTE going mass market this year, Strategy Analytics predicts 1.6 billion LTE connections (excluding M2M) worldwide by 2017, totaling 18 percent of the global market, but generating more than 40 percent of service revenues. There were 88 million connections on LTE networks at the end of 2012, with the group predicting that number will grow to 322 million this year alone. Early-adopter usage profiles and premium pricing by operators should bring in some nice revenues in the medium term and, when combined with strong device sales and network expansions, LTE could overtake WCDMA in 2016 to become the largest wireless revenue-generating technology.