Sign up for The Skinny from CableFAX - Free Weekly Eletter
Awards --
Call for Entries & Events:

CableMania with Cablefax & AXS TV - April 30
RSVP Today!

Call for Nominations - Top Operators
Nomination Deadline: May 2
Enter Now!

CableFAX's Digital & Tech Summit: May 21
Yale Club | NYC
Register Now!

Call for Entries - Program Awards
Entry Deadline: June 20
Enter Today!

Complete List of Events
Webinars:

Participation TV 2.0: Turning Audience Involvement Into Profit
May 7
Register Now!

Monetizing Social TV: New Tools and Tactics for Success
March 25
On-Demand

---
---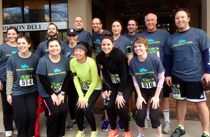 CABLE SHAPES UP! Members of CableFit #teamplatform at NCTA get ready to run a St. Patrick's Day 8K road race, spanning the U.S. Capitol grounds and National Mall on March 9, (back row, l. to r.): Julie Hance, Ethan Buch, Frank Gallagher, Kristin Buch, Steven Morris, Lisa Hamilton, Scot Donaldson, Rob Stoddard, Rick Stoddard; (front row, l. to r.): Kelly Allers, Kat Stewart, Esther Song, Carleigh Blewett, Lisa Otto. NCTA's team finished 11th in a field of 54.







February 22, 2013

Products & Services...

— Hitachi Communication Technologies America Inc. (Hitachi CTA) says its MME/SGSN/Small Cell Gateway software now is running on virtualization technology. Hitachi, together with Juniper Networks, deployed its software on Juniper's JunosV App Engine virtualization platform, and the joint solution is available from Juniper as the virtual Mobile Control Gateway (MCG) — the first step toward a virtualized Mobile Packet Core.

— ASSIA Expresse Solutions is a new portfolio of customized software and professional services that includes the Customer Empowerment solution that helps service providers personalize services for the subscriber plus the Customer Experience Management, Customer Care Automation and Next-Generation Networks solutions. The company says the programs are scalable and incorporate planning, implementation, testing and optimization, resulting in business metrics for increasing revenues and managing costs in heterogeneous network environments.

— At next week's 2013 Mobile World Congress in Barcelona, Huawei and Qualcomm Technologies will jointly demonstrate a scalable UMTS solution they say "efficiently enhances" spectrum utilization by providing UMTS services with a half-bandwidth channel. Scalable UMMTS with half bandwidth UMTS can enable easier and more flexible GSM/UMTS 900 re-farming, the partner adds, and it also can be deployed with Huawei's UMTS Flexible Carrier Bandwidth solution to save spectrum when deploying small cell to improve network capacity and user experience in hot spots. The two wrapped a successful test of the technology in November 2012.