CableFAX Contest - Describe the cable industry in 5 words for a chance to win a $50 Amazon gift card!
Sign up for The Skinny from CableFAX - Free Weekly Eletter
Awards --
Call for Entries & Events:

CableFAX's Most Powerful Women in Cable Breakfast
November 21 - NYC
Photos from the Event

CableFAX's Best of the Web & Digital Marketing Awards
Deadline: December 6
Enter Today!

Webinars:

Establish Cable PR and Brand Leadership with Content Marketing
December 17
Register Now!

Selling TV Everywhere: Marketing and PR Strategies to Drive TVE Awareness
On-Demand

---
---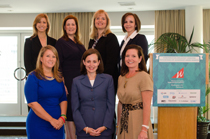 A TOUCH OF LEADERSHIP: At the PowerBrokers Breakfast of the WICT Washington, DC/Baltimore Chapter in Washington, DC on October 29, Touchstones of Leadership Award Honorees, were (top row, L-R) Discovery Comm's Catherine Frymark, Scripps Nets' Suzanne Underwald, Comcast's Samantha Callahan, TWC's Becky Bobzien-Simms, (bottom row, L-R) Travel Channel's Meghan Rodgers, the FCC's Michelle Carey & NBCU's Meredith Attwell Baker.






February 22, 2013

Products & Services...

— Hitachi Communication Technologies America Inc. (Hitachi CTA) says its MME/SGSN/Small Cell Gateway software now is running on virtualization technology. Hitachi, together with Juniper Networks, deployed its software on Juniper's JunosV App Engine virtualization platform, and the joint solution is available from Juniper as the virtual Mobile Control Gateway (MCG) — the first step toward a virtualized Mobile Packet Core.

— ASSIA Expresse Solutions is a new portfolio of customized software and professional services that includes the Customer Empowerment solution that helps service providers personalize services for the subscriber plus the Customer Experience Management, Customer Care Automation and Next-Generation Networks solutions. The company says the programs are scalable and incorporate planning, implementation, testing and optimization, resulting in business metrics for increasing revenues and managing costs in heterogeneous network environments.

— At next week's 2013 Mobile World Congress in Barcelona, Huawei and Qualcomm Technologies will jointly demonstrate a scalable UMTS solution they say "efficiently enhances" spectrum utilization by providing UMTS services with a half-bandwidth channel. Scalable UMMTS with half bandwidth UMTS can enable easier and more flexible GSM/UMTS 900 re-farming, the partner adds, and it also can be deployed with Huawei's UMTS Flexible Carrier Bandwidth solution to save spectrum when deploying small cell to improve network capacity and user experience in hot spots. The two wrapped a successful test of the technology in November 2012.