Sign up for The Skinny from CableFAX - Free Weekly Eletter
Awards --
Call for Entries & Events:

CableMania: A Magical Mystery Tour with Cablefax & AXS TV - April 30
RSVP Today!

CableFAX Tech Breakfast & Roundtable - May 1
Complimentary Registration!

Call for Nominations - Top Operators
Nomination Deadline: May 2
Enter Now!

CableFAX's Digital & Tech Summit: May 21
Yale Club | NYC
Register Now!

Complete List of Events
Webinars:

Participation TV 2.0: Turning Audience Involvement Into Profit
May 7
Register Now!

Monetizing Social TV: New Tools and Tactics for Success
March 25
On-Demand

---
---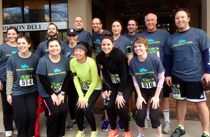 CABLE SHAPES UP! Members of CableFit #teamplatform at NCTA get ready to run a St. Patrick's Day 8K road race, spanning the U.S. Capitol grounds and National Mall on March 9, (back row, l. to r.): Julie Hance, Ethan Buch, Frank Gallagher, Kristin Buch, Steven Morris, Lisa Hamilton, Scot Donaldson, Rob Stoddard, Rick Stoddard; (front row, l. to r.): Kelly Allers, Kat Stewart, Esther Song, Carleigh Blewett, Lisa Otto. NCTA's team finished 11th in a field of 54.







February 20, 2013

Products & Services...

— Comcast's new Upware marketplace, a suite of cloud-based business solutions, can be purchased through one integrated Web portal and consist of a selected list of third-party business apps for data backup, data security and collaboration. Third parties include: Data Backup – Carbonite (backup), DigitalSafe (backup) and Mozy (online backup); Data Security – Norton and Websense; and Collaboration – Box (online storage), Microsoft (Web collaboration), Soonr (online file sharing) and YouSendIt (document collaboration).

— Marvell now is offering LTE TDD/FDD capability on its quad-core world-mode platform, featuring support for five-mode cellular modems, High Speed Packet Access Plus (HSPA+), Time Division High Speed Packet Access Plus (TD-HSPA+) and Enhanced Data for GSM Environment (EDGE). At Mobile World Congress 2013 next week in Barcelona, Marvell's LTE solution will power ZTE's first Dual Radio Dual Standby (DRDS) LTE smartphone demonstration, supporting both TD-SCDMA and dual-radio dual standby LTE voice solutions in addition to a Circuit Switched Fallback (CSFB) voice capability.

— RetractaNet direct-buried retractable cable from the Prysmian Group is an outdoor underground product suited for FTTH deployments. The cables use specially manufactured retractable cable from the Optical Distribution Point splice closure to the customer premises. The RetractaNet Solution for OSP apps uses direct buried RetractaCable filled with small fiber modules designed to be cut at one point in the network and retracted to another, where they can be fed or blown through microducts directly to the customer premises. Ducts can be installed 30 centimeters deep, the company says, instead of the normal 60 or 120 centimeters, making it possible to lay 600 meters of fiber a day. Pilot installations have been done in Europe.