Sign up for The Skinny from CableFAX - Free Weekly Eletter
Awards --
Call for Entries & Events:

CableMania with Cablefax & AXS TV - April 30
RSVP Today!

Call for Nominations - Top Operators
Nomination Deadline: May 2
Enter Now!

CableFAX's Digital & Tech Summit: May 21
Yale Club | NYC
Register Now!

Call for Entries - Program Awards
Entry Deadline: June 20
Enter Today!

Complete List of Events
Webinars:

Participation TV 2.0: Turning Audience Involvement Into Profit
May 7
Register Now!

Monetizing Social TV: New Tools and Tactics for Success
March 25
On-Demand

---
---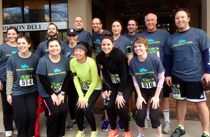 CABLE SHAPES UP! Members of CableFit #teamplatform at NCTA get ready to run a St. Patrick's Day 8K road race, spanning the U.S. Capitol grounds and National Mall on March 9, (back row, l. to r.): Julie Hance, Ethan Buch, Frank Gallagher, Kristin Buch, Steven Morris, Lisa Hamilton, Scot Donaldson, Rob Stoddard, Rick Stoddard; (front row, l. to r.): Kelly Allers, Kat Stewart, Esther Song, Carleigh Blewett, Lisa Otto. NCTA's team finished 11th in a field of 54.







February 15, 2013

Products & Services...

— Multiscreen products developer Elemental Technologies launched the NVIDIA Tesla GPU accelerator and Intel Sandy Bridge-based versions of its Elemental Live and Elemental Server products to "double the performance of its previous-generation solutions," it says.

— Wireless infrastructure builder Radisys Corporation is partnering with Mavenir Systems on Voice over LTE (VoLTE) deployments based on Mavenir's mOne Convergence Platform integrated with Radisys' Software Media Resource Function. They can be deployed in virtualized cloud environments, and they are scalable to handle subscriber growth. Early adopters (including MetroPCS) are expected to go live with the joint VoLTE solution in the second half of 2013, the two add.

— Canada's Redline Communications Group Inc. says its entire family of RDL-3000 wireless broadband systems now operates in the 3.5 GHz band, offering higher speeds, lower latency and greater capacity than WiMAX. This allows operators to use their 3.5 GHz spectrum to deliver fixed services while they use their LTE spectrum for mobile services. To deliver business-access services, the software-configured RDL-3000 allows for point-to-point and point-to-multipoint applications, customizable QoS controls and the ability to remotely change the delivered bandwidth on a unit-by-unit basis. Redline's U.S. business operates out of Miami Beach.

— Rogers Communications business and consumer customers soon will enjoy lower voice and data roaming rates when they visit the United States. A new $7.99/day pay-per-use plan provides access to 50 megabytes of data – twice the data they would typically use domestically, the operator says.