Sign up for The Skinny from CableFAX - Free Weekly Eletter
Awards --
Call for Entries & Events:

CableMania with Cablefax & AXS TV - April 30
RSVP Today!

Call for Nominations - Top Operators
Nomination Deadline: May 2
Enter Now!

CableFAX's Digital & Tech Summit: May 21
Yale Club | NYC
Register Now!

Call for Entries - Program Awards
Entry Deadline: June 20
Enter Today!

Complete List of Events
Webinars:

Participation TV 2.0: Turning Audience Involvement Into Profit
May 7
Register Now!

Monetizing Social TV: New Tools and Tactics for Success
March 25
On-Demand

---
---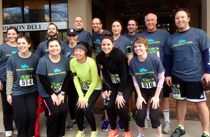 CABLE SHAPES UP! Members of CableFit #teamplatform at NCTA get ready to run a St. Patrick's Day 8K road race, spanning the U.S. Capitol grounds and National Mall on March 9, (back row, l. to r.): Julie Hance, Ethan Buch, Frank Gallagher, Kristin Buch, Steven Morris, Lisa Hamilton, Scot Donaldson, Rob Stoddard, Rick Stoddard; (front row, l. to r.): Kelly Allers, Kat Stewart, Esther Song, Carleigh Blewett, Lisa Otto. NCTA's team finished 11th in a field of 54.







February 11, 2013

Products & Services...

— The Society of Cable Telecommunications Engineers (SCTE) plans to offer a "record" 50 virtual classes this year as part of its increased focus on training and career development in the cable telecommunications industry. New courses include Business Class Service Specialist; Broadband Distribution Specialist; Broadband Transport Specialist; Home Networking with Wi-Fi, DOCSIS Systems; and Wi-Fi Hotspots. In addition, SCTE has updated classes on Ethernet Transport, IPv6: Impact on Cable Networks and DOCSIS Channel Bonding.

— Starting today, DISH will marketing its Hopper with Sling Whole-Home HD DVR, winner of the 2013 CES "Best of Show" award (CTDaily, 02/01/13), nationwide. Sling encodes and redirects a live or recorded TV signal from the Hopper to Internet-connected iOS and Android tablets and smartphones. DISH Anywhere also is available on PCs and Macs. In addition, customers can use the Sling feature to watch DVR recordings stored on Hopper's hard drive. The Hopper system requires a whole-home DVR fee of $10/month and $7/month for each "Joey" add-on box that allows programming to be accessed in other rooms in the home.

— Buildfibre.com, called "the world's first user-friendly online guide to planning and delivering a FTTH project" will be unveiled at the FTTH Conference in London later this month by Rala, a Swedish supplier of passive equipment. The buildfibre.com service runs on Windows and Mac as well as on tablet formats. According to the company, FTTH builders can add properties, interested property owners and access points by pointing on a map. Rala, of course, has network project planners at the ready with advice and suggestions.