CableFAX Contest - Describe the cable industry in 5 words for a chance to win a $50 Amazon gift card!
Sign up for The Skinny from CableFAX - Free Weekly Eletter
Awards --
Call for Entries & Events:

CableFAX's Most Powerful Women in Cable Breakfast
November 21 - NYC
Photos from the Event

CableFAX's Best of the Web & Digital Marketing Awards
Deadline: December 6
Enter Today!

Webinars:

How to Profit from Content Marketing in Cable
December 17
Register Now!

Selling TV Everywhere: Marketing and PR Strategies to Drive TVE Awareness
On-Demand

---
---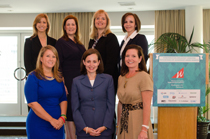 A TOUCH OF LEADERSHIP: At the PowerBrokers Breakfast of the WICT Washington, DC/Baltimore Chapter in Washington, DC on October 29, Touchstones of Leadership Award Honorees, were (top row, L-R) Discovery Comm's Catherine Frymark, Scripps Nets' Suzanne Underwald, Comcast's Samantha Callahan, TWC's Becky Bobzien-Simms, (bottom row, L-R) Travel Channel's Meghan Rodgers, the FCC's Michelle Carey & NBCU's Meredith Attwell Baker.






February 8, 2013

Products & Services...

— The SmartAIR1000 edge application controller from wireless network-capacity and resource-management provider Vasona Networks Inc., works with traffic across all applications while assessing and acting on congestion based on where it is occurring and its causes. By inserting transparently between the radio access network (RAN) and the core network, the platform spans mobile network mapping, high-speed packet processing and Vasona Networks' RateControl technology. It also can work in conjunction with other network tools, including policy servers, video optimizers, caching products and deep-packet inspectors.

— According to CommScope, its Six Sector Solution, part of the Andrew portfolio of antenna offerings, uses three antennas where six previously were needed. The technology uses twin-beam base-station antennas for sector-splitting, generating two RF beams from one antenna while saving on tower leasing costs and decreasing wind loading, the company adds. The array works on GSM, CDMA, UMTS and LTE networks.