Sign up for The Skinny from CableFAX - Free Weekly Eletter
Awards --
Call for Entries & Events:

CableMania with Cablefax & AXS TV - April 30
RSVP Today!

Call for Nominations - Top Operators
Nomination Deadline: May 2
Enter Now!

CableFAX's Digital & Tech Summit: May 21
Yale Club | NYC
Register Now!

Call for Entries - Program Awards
Entry Deadline: June 20
Enter Today!

Complete List of Events
Webinars:

Participation TV 2.0: Turning Audience Involvement Into Profit
May 7
Register Now!

Monetizing Social TV: New Tools and Tactics for Success
March 25
On-Demand

---
---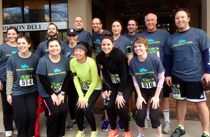 CABLE SHAPES UP! Members of CableFit #teamplatform at NCTA get ready to run a St. Patrick's Day 8K road race, spanning the U.S. Capitol grounds and National Mall on March 9, (back row, l. to r.): Julie Hance, Ethan Buch, Frank Gallagher, Kristin Buch, Steven Morris, Lisa Hamilton, Scot Donaldson, Rob Stoddard, Rick Stoddard; (front row, l. to r.): Kelly Allers, Kat Stewart, Esther Song, Carleigh Blewett, Lisa Otto. NCTA's team finished 11th in a field of 54.







February 8, 2013

Products & Services...

— The SmartAIR1000 edge application controller from wireless network-capacity and resource-management provider Vasona Networks Inc., works with traffic across all applications while assessing and acting on congestion based on where it is occurring and its causes. By inserting transparently between the radio access network (RAN) and the core network, the platform spans mobile network mapping, high-speed packet processing and Vasona Networks' RateControl technology. It also can work in conjunction with other network tools, including policy servers, video optimizers, caching products and deep-packet inspectors.

— According to CommScope, its Six Sector Solution, part of the Andrew portfolio of antenna offerings, uses three antennas where six previously were needed. The technology uses twin-beam base-station antennas for sector-splitting, generating two RF beams from one antenna while saving on tower leasing costs and decreasing wind loading, the company adds. The array works on GSM, CDMA, UMTS and LTE networks.