Sign up for The Skinny from CableFAX - Free Weekly Eletter
Awards --
Call for Entries & Events:

CableFAX Most Powerful Women & Most Influential Minorities in Cable
Deadline: May 17
Free to Nominate

CableFAX Program Awards
Call for Entries: June 21
Enter today!

CableFAXIES & Sales Executive of the Year Awards Breakfast
June 24
Register today!

Complete List of Events

Webinars:

Vine, Viggle, GetGlue:
Leveraging the Newest Social Media Apps to Drive Engagement and Brand Awareness
On-Demand

Capitalizing on Cloud Management and Navigation

Video On Demand Next Practices: Capitalizing on the Latest Innovations
On Demand

Killer Cable Apps: Using Online Games and Apps to Drive Consumer Engagement
On Demand


---
---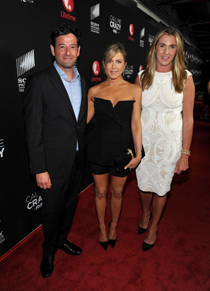 CALL ME CRAZY. On April 16, 2013, Lifetime and Sony Pictures Television held a premiere event for the Lifetime Original Movie "CALL Me Crazy: A Five Film" at the Pacific Design Center in Los Angeles. L to R: Rob Sharenow, evp, Programming, Lifetime Networks; Jennifer Aniston, Executive Producer of "Call Me Crazy"; and Nancy Dubuc, pres, Entertainment and Media, A+E Nets. Debuts April 20, 8pm. Photo by John Shearer/Invision for Lifetime/AP Images.





February 15, 2013

PeopleWatch...

Rogers Communications: President/CEO Nadir Mohamed will retire in January 2014, and the board now plans to appoint a search committee and to select a search firm. Mohamed was promoted to his present position in March 2009, succeeding the late company founder Ted Rogers. Edward Rogers, deputy chairman and chair of the Rogers Control Trust, will not put his name forward as a candidate and neither will Melinda Rogers, although they will be involved in the search process.

Infonetics Research: Godfrey Chua, formerly of Juniper Networks and market research firms IDC, IHS/Emerging Energy and Pyramid, joins as directing analyst/M2M and Connected World. This is a new position and a new research program. Chua will be based in Silicon Valley.

The Internet Society: President/CEO Lynn St. Amour today said she will leave the Society in February 2014 when her contract ends. She's been on the job since March 2001, and the board will work with her during the next year to search for a successor and to implement a transition plan.