Sign up for The Skinny from CableFAX - Free Weekly Eletter
Awards --
Call for Entries & Events:

CableFAX Most Powerful Women & Most Influential Minorities in Cable
Deadline: May 17
Free to Nominate

CableFAX Program Awards
Call for Entries: June 21
Enter today!

CableFAXIES & Sales Executive of the Year Awards Breakfast
June 24
Register today!

Complete List of Events

Webinars:

Vine, Viggle, GetGlue:
Leveraging the Newest Social Media Apps to Drive Engagement and Brand Awareness
On-Demand

Capitalizing on Cloud Management and Navigation

Video On Demand Next Practices: Capitalizing on the Latest Innovations
On Demand

Killer Cable Apps: Using Online Games and Apps to Drive Consumer Engagement
On Demand


---
---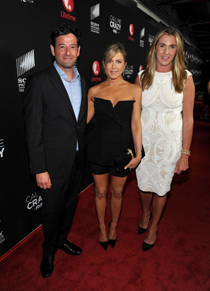 CALL ME CRAZY. On April 16, 2013, Lifetime and Sony Pictures Television held a premiere event for the Lifetime Original Movie "CALL Me Crazy: A Five Film" at the Pacific Design Center in Los Angeles. L to R: Rob Sharenow, evp, Programming, Lifetime Networks; Jennifer Aniston, Executive Producer of "Call Me Crazy"; and Nancy Dubuc, pres, Entertainment and Media, A+E Nets. Debuts April 20, 8pm. Photo by John Shearer/Invision for Lifetime/AP Images.





February 6, 2013

PeopleWatch...

The Society of Satellite Professionals International: This year's inductees into the group's 2013 Hall of Fame include Romain Bausch, president/CEO at SES; Robert Zitter, executive vice president/CTO at HBO; Susan Irwin, president, Euroconsult US; Professor U. R. Rao, chairman of the Governing Council of the Physical Research Laboratory at Ahmedabad (India); and Dick Tauber, vice president/Transmission Systems & New Technology for the CNN News Group. The Hall of Fame ceremony will open the 2013 gala dinner March 19 at the Renaissance Hotel in Washington, D.C.

SCTE: Joel Babbit, an evangelist for environmentally responsible strategies and CEO/co-founder of the Mother Nature Network, will headline the upcoming SCTE SEMI (Smart Energy Management Initiative) Forum 2013, set for April 10 in Atlanta. According to SCTE, Mother Nature Network and its online network – which includes mnn.com and treehugger.com – attract more than 8 million visits a month. Babbit will join Kevin Hart, executive vice president/CTO at Cox Communications, in a conversation on how Mother Nature Network is helping the business community address energy issues, and the two also will discuss case studies of energy-management strategies used by well-known U.S. companies. For more SEMI details and registration information, go to www.scte.org/semiforum.