CableFAX Contest - Describe the cable industry in 5 words for a chance to win a $50 Amazon gift card!
Sign up for The Skinny from CableFAX - Free Weekly Eletter
Awards --
Call for Entries & Events:

CableFAX's Most Powerful Women in Cable Breakfast
November 21 - NYC
Photos from the Event

CableFAX's Best of the Web & Digital Marketing Awards
Deadline: December 6
Enter Today!

Webinars:

Establish Cable PR and Brand Leadership with Content Marketing
December 17
Register Now!

Selling TV Everywhere: Marketing and PR Strategies to Drive TVE Awareness
On-Demand

---
---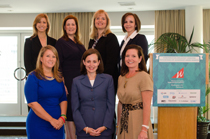 A TOUCH OF LEADERSHIP: At the PowerBrokers Breakfast of the WICT Washington, DC/Baltimore Chapter in Washington, DC on October 29, Touchstones of Leadership Award Honorees, were (top row, L-R) Discovery Comm's Catherine Frymark, Scripps Nets' Suzanne Underwald, Comcast's Samantha Callahan, TWC's Becky Bobzien-Simms, (bottom row, L-R) Travel Channel's Meghan Rodgers, the FCC's Michelle Carey & NBCU's Meredith Attwell Baker.






January 24, 2013

PeopleWatch...

Time Warner Cable Inc.: The results of TWC's changes to its organizational structure look like this:

>> Technology and Network Operations will be headed by Mike LaJoie, who will serve as executive vice president/Chief Technology and Network Operations Officer. The leadership team will include Frank Boncimino, senior vice president/CIO; Dave Flessas, senior vice president/NOC and Operations Support; Mike Hayashi, executive vice president/Architecture, Development and Engineering; Henry Hryckiewicz, senior vice president/Business/Residential Field Network Engineering Operations; Jim Ludington, senior vice president/Technology Business Operations; James Manchester, senior vice president/Applications Operations; Howard Pfeffer, senior vice president/Broadband Engineering and Technology; Matt Stanek, senior vice president/Core, Metro and Regional Network Operations; and Matt Zelesko, senior vice president/Converged Technology Group.

>> Residential Services operations report to Bill Goetz, executive vice president/COO. The leadership team will include Jeff Hirsch, executive vice president/Chief Marketing and Sales Officer; and John Keib, executive vice president/Chief Care and Technical Operations Officer.

>> Media Services will continue to be led by Joan Gillman, executive vice president/COO for Media Services.

>> Business Services will be led by a new executive vice president/COO. Gerry Campbell, who fills that position now but who will retire in June, is helping with the search process along with Business Services Presidents Ken Fitzpatrick and Craig Collins.

Optelian: Brian Pratt has joined the optical networking specialist company as vice president/Product Marketing, responsible for developing and leading the team that will define new products and bring them to market. Pratt comes over from Alcatel-Lucent, where he was vice president/Business Development for the Kindsight team.