CableFAX Contest - Describe the cable industry in 5 words for a chance to win a $50 Amazon gift card!
Sign up for The Skinny from CableFAX - Free Weekly Eletter
Awards --
Call for Entries & Events:

CableFAX's Most Powerful Women in Cable Breakfast
November 21 - NYC
Photos from the Event

CableFAX's Best of the Web & Digital Marketing Awards
Deadline: December 6
Enter Today!

Webinars:

Establish Cable PR and Brand Leadership with Content Marketing
December 17
Register Now!

Selling TV Everywhere: Marketing and PR Strategies to Drive TVE Awareness
On-Demand

---
---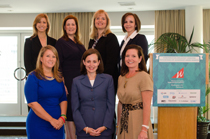 A TOUCH OF LEADERSHIP: At the PowerBrokers Breakfast of the WICT Washington, DC/Baltimore Chapter in Washington, DC on October 29, Touchstones of Leadership Award Honorees, were (top row, L-R) Discovery Comm's Catherine Frymark, Scripps Nets' Suzanne Underwald, Comcast's Samantha Callahan, TWC's Becky Bobzien-Simms, (bottom row, L-R) Travel Channel's Meghan Rodgers, the FCC's Michelle Carey & NBCU's Meredith Attwell Baker.






February 12, 2013

Events...

Scalise Added To ACA Summit Speaker List
Rep. Steve Scalise (R-La.), considered to be a voice for communications policy reform on Capitol Hill, has been added to the speaker roster for the American Cable Association's (ACA) 20th Washington Summit, set for March 12-14 at the Grand Hyatt Hotel in Washington, D.C. The congressman is chief sponsor of the Next Generation Television Marketplace Act that could, among other things, repeal the retransmission consent provisions of the 1992 Cable Act. He will speak March 13, from 2 p.m. to 2:45 p.m. Also on the three-day agenda are Rep. John Barrow (D-Ga.) and FCC Commissioner Ajit Pai; the commissioner will go head-to-head with ACA's Matt Polka on March 13.