Sign up for The Skinny from CableFAX - Free Weekly Eletter
Awards --
Call for Entries & Events:

CableFAX Most Powerful Women & Most Influential Minorities in Cable
Deadline: May 17
Free to Nominate

CableFAX Program Awards
Call for Entries: June 21
Enter today!

CableFAXIES & Sales Executive of the Year Awards Breakfast
June 24
Register today!

Complete List of Events

Webinars:

Vine, Viggle, GetGlue:
Leveraging the Newest Social Media Apps to Drive Engagement and Brand Awareness
On-Demand

Capitalizing on Cloud Management and Navigation

Video On Demand Next Practices: Capitalizing on the Latest Innovations
On Demand

Killer Cable Apps: Using Online Games and Apps to Drive Consumer Engagement
On Demand


---
---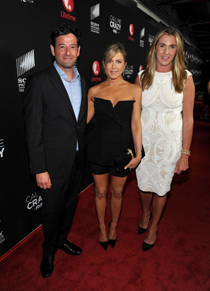 CALL ME CRAZY. On April 16, 2013, Lifetime and Sony Pictures Television held a premiere event for the Lifetime Original Movie "CALL Me Crazy: A Five Film" at the Pacific Design Center in Los Angeles. L to R: Rob Sharenow, evp, Programming, Lifetime Networks; Jennifer Aniston, Executive Producer of "Call Me Crazy"; and Nancy Dubuc, pres, Entertainment and Media, A+E Nets. Debuts April 20, 8pm. Photo by John Shearer/Invision for Lifetime/AP Images.





January 22, 2013

Events...

SCTE Touts Energy Efficiency, Cost Cutting At SEMI Forum
A dozen experts from cablecos and vendors are scheduled to share insights at the SCTE's SEMI Forum on April 10 in Atlanta. SCTE, already ahead of the power curve when it comes to smart energy management, says participants on three panels will address apps, software, modeling and smart grids; energy savings from workforce-management approaches; and modular approaches to facility energy management. Keynoter Kevin T. Hart, executive vice president/CTO at Cox Communications, will discuss how operators can align workforces, operations and outreach programs to reflect modern energy strategies and sustainable thinking. Some preliminary events will take place on April 9. For more information, go to www.scte.org/semiforum/.