CableFAX Contest - Describe the cable industry in 5 words for a chance to win a $50 Amazon gift card!
Sign up for The Skinny from CableFAX - Free Weekly Eletter
Awards --
Call for Entries & Events:

CableFAX's Most Powerful Women in Cable Breakfast
November 21 - NYC
Photos from the Event

CableFAX's Best of the Web & Digital Marketing Awards
Deadline: December 6
Enter Today!

Webinars:

Establish Cable PR and Brand Leadership with Content Marketing
December 17
Register Now!

Selling TV Everywhere: Marketing and PR Strategies to Drive TVE Awareness
On-Demand

---
---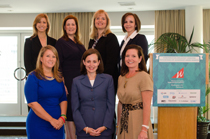 A TOUCH OF LEADERSHIP: At the PowerBrokers Breakfast of the WICT Washington, DC/Baltimore Chapter in Washington, DC on October 29, Touchstones of Leadership Award Honorees, were (top row, L-R) Discovery Comm's Catherine Frymark, Scripps Nets' Suzanne Underwald, Comcast's Samantha Callahan, TWC's Becky Bobzien-Simms, (bottom row, L-R) Travel Channel's Meghan Rodgers, the FCC's Michelle Carey & NBCU's Meredith Attwell Baker.






January 11, 2013

Events...

'State of the Net' Tech Policy Confab Set For Jan. 22-23
Following all the inaugural hoopla the day before, the Congressional Internet Caucus Advisory Committee, a Washington, D.C.-based group that keeps Congress and the public informed regarding Internet-related policy issues, will host the 9th Annual State of the Net Conference Jan. 22-23 at the Hyatt Regency on Capitol Hill. Among the topics to be discussed are "Plumbing the Policy Implications of Data Analytics and Defining "Big Data" and "Should Congress Rewrite the Telecom Act?" For more information about this gathering, go to www.netcaucus.org/conference/2013/.