CableFAX Contest - Describe the cable industry in 5 words for a chance to win a $50 Amazon gift card!
Sign up for The Skinny from CableFAX - Free Weekly Eletter
Awards --
Call for Entries & Events:

CableFAX's Most Powerful Women in Cable Breakfast
November 21 - NYC
Photos from the Event

CableFAX's Best of the Web & Digital Marketing Awards
Deadline: December 6
Enter Today!

Webinars:

Establish Cable PR and Brand Leadership with Content Marketing
December 17
Register Now!

Selling TV Everywhere: Marketing and PR Strategies to Drive TVE Awareness
On-Demand

---
---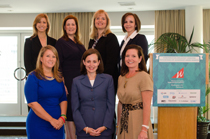 A TOUCH OF LEADERSHIP: At the PowerBrokers Breakfast of the WICT Washington, DC/Baltimore Chapter in Washington, DC on October 29, Touchstones of Leadership Award Honorees, were (top row, L-R) Discovery Comm's Catherine Frymark, Scripps Nets' Suzanne Underwald, Comcast's Samantha Callahan, TWC's Becky Bobzien-Simms, (bottom row, L-R) Travel Channel's Meghan Rodgers, the FCC's Michelle Carey & NBCU's Meredith Attwell Baker.






February 20, 2013

Inside The Beltway...

New Booster Tech Specs Cover Consumer, Industrial Use
A Report & Order adopted earlier today at the FCC aims to improve signal-booster design by requiring manufacturers to include safeguards that protect against interference. The order addresses consumer and industrial boosters, with different regulatory requirements for each. Already, AT&T Wireless, Verizon Wireless, T-Mobile USA and Sprint Nextel along with other rural and regional carriers have agreed to use boosters on their networks as long as the gear meets the technical specs outlined in the order. While lauding the R&O for its technical standards, consumer watchdog Public Knowledge chided the agency for putting carriers before subscribers, in that subs must get consent from their carriers to even have a booster (including requiring some 2 million who previously purchased boosters) and that carriers can restrict what brands and models of boosters their customers can buy.