Sign up for The Skinny from CableFAX - Free Weekly Eletter
Awards --
Call for Entries & Events:

CableMania with Cablefax & AXS TV - April 30
RSVP Today!

CableFAX Tech Breakfast & Roundtable - May 1
Complimentary Registration!

Call for Nominations - Top Operators
Nomination Deadline: May 2
Enter Now!

CableFAX's Digital & Tech Summit: May 21
Yale Club | NYC
Register Now!

Call for Entries - Program Awards
Entry Deadline: June 20
Enter Today!

Complete List of Events
Webinars:

Participation TV 2.0: Turning Audience Involvement Into Profit
May 7
Register Now!

Monetizing Social TV: New Tools and Tactics for Success
March 25
On-Demand

---
---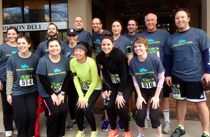 CABLE SHAPES UP! Members of CableFit #teamplatform at NCTA get ready to run a St. Patrick's Day 8K road race, spanning the U.S. Capitol grounds and National Mall on March 9, (back row, l. to r.): Julie Hance, Ethan Buch, Frank Gallagher, Kristin Buch, Steven Morris, Lisa Hamilton, Scot Donaldson, Rob Stoddard, Rick Stoddard; (front row, l. to r.): Kelly Allers, Kat Stewart, Esther Song, Carleigh Blewett, Lisa Otto. NCTA's team finished 11th in a field of 54.







February 20, 2013

Inside The Beltway...

New Booster Tech Specs Cover Consumer, Industrial Use
A Report & Order adopted earlier today at the FCC aims to improve signal-booster design by requiring manufacturers to include safeguards that protect against interference. The order addresses consumer and industrial boosters, with different regulatory requirements for each. Already, AT&T Wireless, Verizon Wireless, T-Mobile USA and Sprint Nextel along with other rural and regional carriers have agreed to use boosters on their networks as long as the gear meets the technical specs outlined in the order. While lauding the R&O for its technical standards, consumer watchdog Public Knowledge chided the agency for putting carriers before subscribers, in that subs must get consent from their carriers to even have a booster (including requiring some 2 million who previously purchased boosters) and that carriers can restrict what brands and models of boosters their customers can buy.