CableFAX Contest - Describe the cable industry in 5 words for a chance to win a $50 Amazon gift card!
Sign up for The Skinny from CableFAX - Free Weekly Eletter
Awards --
Call for Entries & Events:

CableFAX's Most Powerful Women in Cable Breakfast
November 21 - NYC
Photos from the Event

CableFAX's Best of the Web & Digital Marketing Awards
Deadline: December 6
Enter Today!

Webinars:

Establish Cable PR and Brand Leadership with Content Marketing
December 17
Register Now!

Selling TV Everywhere: Marketing and PR Strategies to Drive TVE Awareness
On-Demand

---
---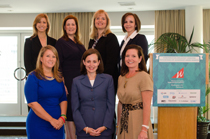 A TOUCH OF LEADERSHIP: At the PowerBrokers Breakfast of the WICT Washington, DC/Baltimore Chapter in Washington, DC on October 29, Touchstones of Leadership Award Honorees, were (top row, L-R) Discovery Comm's Catherine Frymark, Scripps Nets' Suzanne Underwald, Comcast's Samantha Callahan, TWC's Becky Bobzien-Simms, (bottom row, L-R) Travel Channel's Meghan Rodgers, the FCC's Michelle Carey & NBCU's Meredith Attwell Baker.






February 15, 2013

Inside The Beltway...

Carrier Speed Improvements Highlighted In FCC Broadband Report
The FCC says its third Measuring Broadband America report, released this morning, reveals "most broadband providers continue to improve service performance by delivering actual speeds that meet - or exceed - advertised speeds during the past year." Three key findings: most broadband providers continue to closely meet or exceed the speeds they advertise, largely driven by improvements in network performance and not downward adjustments to the speed tiers offered; broadband consumers continue to migrate to faster speed tiers and are receiving faster speeds than ever before, with the average speed tier increasing from 14.3 Mbps to 15.6 Mbps; and satellite broadband technology has improved to such a point that, during peak periods, 90 percent of satellite consumers received 140 percent or better of the 12 Mbps advertised speed.