CableFAX Contest - Describe the cable industry in 5 words for a chance to win a $50 Amazon gift card!
Sign up for The Skinny from CableFAX - Free Weekly Eletter
Awards --
Call for Entries & Events:

CableFAX's Most Powerful Women in Cable Breakfast
November 21 - NYC
Photos from the Event

CableFAX's Best of the Web & Digital Marketing Awards
Deadline: December 6
Enter Today!

Webinars:

Establish Cable PR and Brand Leadership with Content Marketing
December 17
Register Now!

Selling TV Everywhere: Marketing and PR Strategies to Drive TVE Awareness
On-Demand

---
---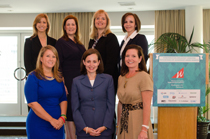 A TOUCH OF LEADERSHIP: At the PowerBrokers Breakfast of the WICT Washington, DC/Baltimore Chapter in Washington, DC on October 29, Touchstones of Leadership Award Honorees, were (top row, L-R) Discovery Comm's Catherine Frymark, Scripps Nets' Suzanne Underwald, Comcast's Samantha Callahan, TWC's Becky Bobzien-Simms, (bottom row, L-R) Travel Channel's Meghan Rodgers, the FCC's Michelle Carey & NBCU's Meredith Attwell Baker.






February 8, 2013

Inside The Beltway...

NPRM Addresses Poor Rural Long-Distance Service
Prompted in part by a letter late last year from a group led by Sen. Tim Johnson (D-S.D.), the FCC released a NPRM (WC Docket No. 13-39) seeking comment on new rules that could help solve long-distance call-completion rates in rural areas. Noting wireless and cable providers along with LECs and VoIP operators might not be monitoring their "intermediate wholesale delivery providers" closely enough regarding rural call completion, the commission proposes stronger reporting and data-retention requirements. The FCC also wants input as to how to minimize compliance strictures for originating providers whose call-routing practices are not under the gun. Comment dates are pending.