Sign up for The Skinny from CableFAX - Free Weekly Eletter
Awards --
Call for Entries & Events:

CableMania with Cablefax & AXS TV - April 30
RSVP Today!

Call for Nominations - Top Operators
Nomination Deadline: May 2
Enter Now!

CableFAX's Digital & Tech Summit: May 21
Yale Club | NYC
Register Now!

Call for Entries - Program Awards
Entry Deadline: June 20
Enter Today!

Complete List of Events
Webinars:

Participation TV 2.0: Turning Audience Involvement Into Profit
May 7
Register Now!

Monetizing Social TV: New Tools and Tactics for Success
March 25
On-Demand

---
---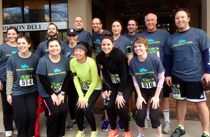 CABLE SHAPES UP! Members of CableFit #teamplatform at NCTA get ready to run a St. Patrick's Day 8K road race, spanning the U.S. Capitol grounds and National Mall on March 9, (back row, l. to r.): Julie Hance, Ethan Buch, Frank Gallagher, Kristin Buch, Steven Morris, Lisa Hamilton, Scot Donaldson, Rob Stoddard, Rick Stoddard; (front row, l. to r.): Kelly Allers, Kat Stewart, Esther Song, Carleigh Blewett, Lisa Otto. NCTA's team finished 11th in a field of 54.







February 8, 2013

Inside The Beltway...

NPRM Addresses Poor Rural Long-Distance Service
Prompted in part by a letter late last year from a group led by Sen. Tim Johnson (D-S.D.), the FCC released a NPRM (WC Docket No. 13-39) seeking comment on new rules that could help solve long-distance call-completion rates in rural areas. Noting wireless and cable providers along with LECs and VoIP operators might not be monitoring their "intermediate wholesale delivery providers" closely enough regarding rural call completion, the commission proposes stronger reporting and data-retention requirements. The FCC also wants input as to how to minimize compliance strictures for originating providers whose call-routing practices are not under the gun. Comment dates are pending.