CableFAX Contest - Describe the cable industry in 5 words for a chance to win a $50 Amazon gift card!
Sign up for The Skinny from CableFAX - Free Weekly Eletter
Awards --
Call for Entries & Events:

CableFAX's Most Powerful Women in Cable Breakfast
November 21 - NYC
Photos from the Event

CableFAX's Best of the Web & Digital Marketing Awards
Deadline: December 6
Enter Today!

Webinars:

Establish Cable PR and Brand Leadership with Content Marketing
December 17
Register Now!

Selling TV Everywhere: Marketing and PR Strategies to Drive TVE Awareness
On-Demand

---
---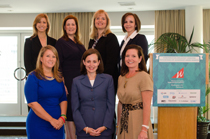 A TOUCH OF LEADERSHIP: At the PowerBrokers Breakfast of the WICT Washington, DC/Baltimore Chapter in Washington, DC on October 29, Touchstones of Leadership Award Honorees, were (top row, L-R) Discovery Comm's Catherine Frymark, Scripps Nets' Suzanne Underwald, Comcast's Samantha Callahan, TWC's Becky Bobzien-Simms, (bottom row, L-R) Travel Channel's Meghan Rodgers, the FCC's Michelle Carey & NBCU's Meredith Attwell Baker.






January 18, 2013

Inside The Beltway...

Broadband Adoption Confab Set For Feb. 7
An all-day summit Feb. 7 at FCC headquarters aims to harness best practices learned from broadband adoption programs and academic studies/surveys. The goal: Close the broadband adoption gap among Americans – particularly low-income households, racial and ethnic minorities, seniors, rural residents, residents of tribal lands and people with disabilities. The summit, presented by the Federal-State Joint Conference on Advanced Services and the National Telecommunications and Information Administration (NTIA), will include a best-practices panel featuring Dave Davidson, senior vice president and general manager/Ohio at Frontier Communications; Bret Perkins, vice president/External and Government Affairs at Comcast; Elaine Divelbliss, director and senior counsel at Sprint Nextel Corporation/Virgin Mobile; and Dale Merten, COO at ToledoTel. Larry Strickling, assistant secretary/Communications and Information and NTIA administrator, will keynote.

FCC Ramps Incentive-Auction Site
Any incentive-auction stakeholder looking for a one-stop information resource regarding the 2014 spectrum sale can go to the FCC's enhanced Learn Everything About Reverse-Auctions Now (LEARN) Web site with enhanced online resources at www.fcc.gov/learnprogram. The site now features an in-depth, 11-page summary of the incentive-auction process, prepared by the Incentive Auction Task Force staff and highlighting key issues of the auction's notice of proposed rulemaking.