Sign up for The Skinny from CableFAX - Free Weekly Eletter
Awards --
Call for Entries & Events:

CableMania with Cablefax & AXS TV - April 30
RSVP Today!

Call for Nominations - Top Operators
Nomination Deadline: May 2
Enter Now!

CableFAX's Digital & Tech Summit: May 21
Yale Club | NYC
Register Now!

Call for Entries - Program Awards
Entry Deadline: June 20
Enter Today!

Complete List of Events
Webinars:

Participation TV 2.0: Turning Audience Involvement Into Profit
May 7
Register Now!

Monetizing Social TV: New Tools and Tactics for Success
March 25
On-Demand

---
---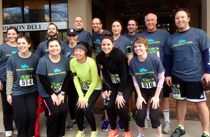 CABLE SHAPES UP! Members of CableFit #teamplatform at NCTA get ready to run a St. Patrick's Day 8K road race, spanning the U.S. Capitol grounds and National Mall on March 9, (back row, l. to r.): Julie Hance, Ethan Buch, Frank Gallagher, Kristin Buch, Steven Morris, Lisa Hamilton, Scot Donaldson, Rob Stoddard, Rick Stoddard; (front row, l. to r.): Kelly Allers, Kat Stewart, Esther Song, Carleigh Blewett, Lisa Otto. NCTA's team finished 11th in a field of 54.







January 18, 2013

Inside The Beltway...

Broadband Adoption Confab Set For Feb. 7
An all-day summit Feb. 7 at FCC headquarters aims to harness best practices learned from broadband adoption programs and academic studies/surveys. The goal: Close the broadband adoption gap among Americans – particularly low-income households, racial and ethnic minorities, seniors, rural residents, residents of tribal lands and people with disabilities. The summit, presented by the Federal-State Joint Conference on Advanced Services and the National Telecommunications and Information Administration (NTIA), will include a best-practices panel featuring Dave Davidson, senior vice president and general manager/Ohio at Frontier Communications; Bret Perkins, vice president/External and Government Affairs at Comcast; Elaine Divelbliss, director and senior counsel at Sprint Nextel Corporation/Virgin Mobile; and Dale Merten, COO at ToledoTel. Larry Strickling, assistant secretary/Communications and Information and NTIA administrator, will keynote.

FCC Ramps Incentive-Auction Site
Any incentive-auction stakeholder looking for a one-stop information resource regarding the 2014 spectrum sale can go to the FCC's enhanced Learn Everything About Reverse-Auctions Now (LEARN) Web site with enhanced online resources at www.fcc.gov/learnprogram. The site now features an in-depth, 11-page summary of the incentive-auction process, prepared by the Incentive Auction Task Force staff and highlighting key issues of the auction's notice of proposed rulemaking.