Sign up for The Skinny from CableFAX - Free Weekly Eletter
Awards --
Call for Entries & Events:

CableFAX Most Powerful Women & Most Influential Minorities in Cable
Deadline: May 17
Free to Nominate

CableFAX Program Awards
Call for Entries: June 21
Enter today!

CableFAXIES & Sales Executive of the Year Awards Breakfast
June 24
Register today!

Complete List of Events

Webinars:

Vine, Viggle, GetGlue:
Leveraging the Newest Social Media Apps to Drive Engagement and Brand Awareness
On-Demand

Capitalizing on Cloud Management and Navigation

Video On Demand Next Practices: Capitalizing on the Latest Innovations
On Demand

Killer Cable Apps: Using Online Games and Apps to Drive Consumer Engagement
On Demand


---
---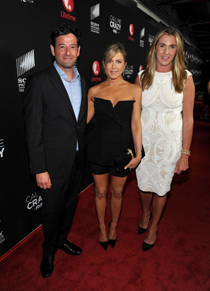 CALL ME CRAZY. On April 16, 2013, Lifetime and Sony Pictures Television held a premiere event for the Lifetime Original Movie "CALL Me Crazy: A Five Film" at the Pacific Design Center in Los Angeles. L to R: Rob Sharenow, evp, Programming, Lifetime Networks; Jennifer Aniston, Executive Producer of "Call Me Crazy"; and Nancy Dubuc, pres, Entertainment and Media, A+E Nets. Debuts April 20, 8pm. Photo by John Shearer/Invision for Lifetime/AP Images.





February 4, 2013

Deals of the Day...

NetOmnia Flies with Bluebird
Columbia, MO-based Bluebird Network has deployed Centina's "NetOmnia Operations Assurance and Service Assurance" solution to manage its entire 6,000 mile network infrastructure for its connectivity offerings. Bluebird provides Metro Ethernet, WAN Ethernet and private-line optical services in the Midwestern US, and operates the combined networks of Bluebird Media Network, Missouri Network Alliance (MNA), and Illinois Network Alliance (INA).

NCTC Strikes Agreement with Entertainment Studios
NCTC signed a hunting license for Entertainment Studios' channels, which include Cars.TV, Comedy.TV, Recipes.TV and Pets.TV. Some NCTC members already have agreed to launch the 7 ES nets, including Coosa Cable and Duncan Cable, according to ES execs.