CableFAX Contest - Describe the cable industry in 5 words for a chance to win a $50 Amazon gift card!
Sign up for The Skinny from CableFAX - Free Weekly Eletter
Awards --
Call for Entries & Events:

CableFAX's Most Powerful Women in Cable Breakfast
November 21 - NYC
Photos from the Event

CableFAX's Best of the Web & Digital Marketing Awards
Deadline: December 6
Enter Today!

Webinars:

Establish Cable PR and Brand Leadership with Content Marketing
December 17
Register Now!

Selling TV Everywhere: Marketing and PR Strategies to Drive TVE Awareness
On-Demand

---
---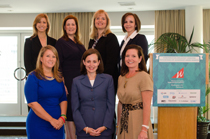 A TOUCH OF LEADERSHIP: At the PowerBrokers Breakfast of the WICT Washington, DC/Baltimore Chapter in Washington, DC on October 29, Touchstones of Leadership Award Honorees, were (top row, L-R) Discovery Comm's Catherine Frymark, Scripps Nets' Suzanne Underwald, Comcast's Samantha Callahan, TWC's Becky Bobzien-Simms, (bottom row, L-R) Travel Channel's Meghan Rodgers, the FCC's Michelle Carey & NBCU's Meredith Attwell Baker.






February 4, 2013

Deals of the Day...

NetOmnia Flies with Bluebird
Columbia, MO-based Bluebird Network has deployed Centina's "NetOmnia Operations Assurance and Service Assurance" solution to manage its entire 6,000 mile network infrastructure for its connectivity offerings. Bluebird provides Metro Ethernet, WAN Ethernet and private-line optical services in the Midwestern US, and operates the combined networks of Bluebird Media Network, Missouri Network Alliance (MNA), and Illinois Network Alliance (INA).

NCTC Strikes Agreement with Entertainment Studios
NCTC signed a hunting license for Entertainment Studios' channels, which include Cars.TV, Comedy.TV, Recipes.TV and Pets.TV. Some NCTC members already have agreed to launch the 7 ES nets, including Coosa Cable and Duncan Cable, according to ES execs.