Sign up for The Skinny from CableFAX - Free Weekly Eletter
Awards --
Call for Entries & Events:

CableMania with Cablefax & AXS TV - April 30
RSVP Today!

Call for Nominations - Top Operators
Nomination Deadline: May 2
Enter Now!

CableFAX's Digital & Tech Summit: May 21
Yale Club | NYC
Register Now!

Call for Entries - Program Awards
Entry Deadline: June 20
Enter Today!

Complete List of Events
Webinars:

Participation TV 2.0: Turning Audience Involvement Into Profit
May 7
Register Now!

Monetizing Social TV: New Tools and Tactics for Success
March 25
On-Demand

---
---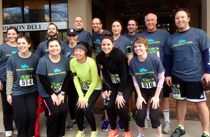 CABLE SHAPES UP! Members of CableFit #teamplatform at NCTA get ready to run a St. Patrick's Day 8K road race, spanning the U.S. Capitol grounds and National Mall on March 9, (back row, l. to r.): Julie Hance, Ethan Buch, Frank Gallagher, Kristin Buch, Steven Morris, Lisa Hamilton, Scot Donaldson, Rob Stoddard, Rick Stoddard; (front row, l. to r.): Kelly Allers, Kat Stewart, Esther Song, Carleigh Blewett, Lisa Otto. NCTA's team finished 11th in a field of 54.







February 11, 2013

Deals Of The Day...

Duo Gets Network Apps Closer To The User
Radio Access Network (RAN) provider Saguna Networks and small-cell developer Ubiquisys are collaborating on an integrated content and application acceleration offering aimed at wireless providers and based on small cells. The project combines the Saguna CODS for optimizing content and apps over mobile networks with the Ubiquisys smart-cell family, a range of intelligent 3G/4G/Wi-Fi small-cell hot spots with an integrated Intel computing platform. The app is distributed and remotely provisioned on smart cells through the Intel AppUp SMB Service, built on the Intel Hybrid Cloud software platform that enables service providers to deliver cloud computing on distributed networked devices.

Ericsson To Run Subcontinent Wireless/Wireline Ops
India's Reliance Communications Limited inked a $1 billion, eight-year, managed-services agreement with Ericsson in which the Swedish company will operate and manage the wireline and wireless networks in the India's northern and western states. Ericsson also will be responsible for the field maintenance, network operations and operational planning of Reliance's 2G, CDMA and 3G mobile networks. Another part of the deal has Ericsson modernizing the tools, processes and best practices Reliance applies across the business, resulting in operational efficiencies by managing cost through consolidation.