CableFAX Contest - Describe the cable industry in 5 words for a chance to win a $50 Amazon gift card!
Sign up for The Skinny from CableFAX - Free Weekly Eletter
Awards --
Call for Entries & Events:

CableFAX's Most Powerful Women in Cable Breakfast
November 21 - NYC
Photos from the Event

CableFAX's Best of the Web & Digital Marketing Awards
Deadline: December 6
Enter Today!

Webinars:

Establish Cable PR and Brand Leadership with Content Marketing
December 17
Register Now!

Selling TV Everywhere: Marketing and PR Strategies to Drive TVE Awareness
On-Demand

---
---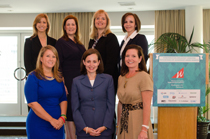 A TOUCH OF LEADERSHIP: At the PowerBrokers Breakfast of the WICT Washington, DC/Baltimore Chapter in Washington, DC on October 29, Touchstones of Leadership Award Honorees, were (top row, L-R) Discovery Comm's Catherine Frymark, Scripps Nets' Suzanne Underwald, Comcast's Samantha Callahan, TWC's Becky Bobzien-Simms, (bottom row, L-R) Travel Channel's Meghan Rodgers, the FCC's Michelle Carey & NBCU's Meredith Attwell Baker.






February 11, 2013

Deals Of The Day...

Duo Gets Network Apps Closer To The User
Radio Access Network (RAN) provider Saguna Networks and small-cell developer Ubiquisys are collaborating on an integrated content and application acceleration offering aimed at wireless providers and based on small cells. The project combines the Saguna CODS for optimizing content and apps over mobile networks with the Ubiquisys smart-cell family, a range of intelligent 3G/4G/Wi-Fi small-cell hot spots with an integrated Intel computing platform. The app is distributed and remotely provisioned on smart cells through the Intel AppUp SMB Service, built on the Intel Hybrid Cloud software platform that enables service providers to deliver cloud computing on distributed networked devices.

Ericsson To Run Subcontinent Wireless/Wireline Ops
India's Reliance Communications Limited inked a $1 billion, eight-year, managed-services agreement with Ericsson in which the Swedish company will operate and manage the wireline and wireless networks in the India's northern and western states. Ericsson also will be responsible for the field maintenance, network operations and operational planning of Reliance's 2G, CDMA and 3G mobile networks. Another part of the deal has Ericsson modernizing the tools, processes and best practices Reliance applies across the business, resulting in operational efficiencies by managing cost through consolidation.