CableFAX Contest - Describe the cable industry in 5 words for a chance to win a $50 Amazon gift card!
Sign up for The Skinny from CableFAX - Free Weekly Eletter
Awards --
Call for Entries & Events:

CableFAX's Most Powerful Women in Cable Breakfast
November 21 - NYC
Photos from the Event

CableFAX's Best of the Web & Digital Marketing Awards
Deadline: December 6
Enter Today!

Webinars:

Establish Cable PR and Brand Leadership with Content Marketing
December 17
Register Now!

Selling TV Everywhere: Marketing and PR Strategies to Drive TVE Awareness
On-Demand

---
---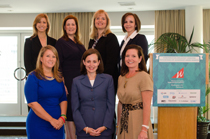 A TOUCH OF LEADERSHIP: At the PowerBrokers Breakfast of the WICT Washington, DC/Baltimore Chapter in Washington, DC on October 29, Touchstones of Leadership Award Honorees, were (top row, L-R) Discovery Comm's Catherine Frymark, Scripps Nets' Suzanne Underwald, Comcast's Samantha Callahan, TWC's Becky Bobzien-Simms, (bottom row, L-R) Travel Channel's Meghan Rodgers, the FCC's Michelle Carey & NBCU's Meredith Attwell Baker.






February 1, 2013

Deals Of The Day...

DIRECTTV Partners With, Invests In Ad Developer
DIRECTV teamed with FreeWheel, a video-advertising-technology provider, to develop a new digital video-ad-insertion offering for the operator's programming partners and advertisers, enabling them to reach customers on traditional and mobile screens. FreeWheel will play a key role in DIRECTV's design and implementation of its digital ad-insertion service scheduled to launch later this year. DIRECTV also took an equity position in FreeWheel, saying the investment will give it insight into the product roadmap and industry evolution as well as helping it to develop better relationships with industry leaders and key partners.

Clearwire Passes On One Sprint Financing Round
Clearwire filed a preliminary proxy statement related to the definitive agreement it inked with Sprint Nextel regarding Sprint's acquisition of the remaining Clearwire shares it doesn't already own, saying it will not take the February $80 million draw included in that agreement while the DISH Networks takeover proposal still is under evaluation by a special committee. Sprint continues to say its original offer (which is some $0.30 less per share than what DISH says it will pay) is the better deal.