Sign up for The Skinny from CableFAX - Free Weekly Eletter
Awards --
Call for Entries & Events:

CableMania with Cablefax & AXS TV - April 30
RSVP Today!

Call for Nominations - Top Operators
Nomination Deadline: May 2
Enter Now!

CableFAX's Digital & Tech Summit: May 21
Yale Club | NYC
Register Now!

Call for Entries - Program Awards
Entry Deadline: June 20
Enter Today!

Complete List of Events
Webinars:

Participation TV 2.0: Turning Audience Involvement Into Profit
May 7
Register Now!

Monetizing Social TV: New Tools and Tactics for Success
March 25
On-Demand

---
---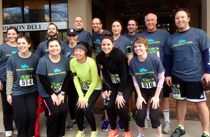 CABLE SHAPES UP! Members of CableFit #teamplatform at NCTA get ready to run a St. Patrick's Day 8K road race, spanning the U.S. Capitol grounds and National Mall on March 9, (back row, l. to r.): Julie Hance, Ethan Buch, Frank Gallagher, Kristin Buch, Steven Morris, Lisa Hamilton, Scot Donaldson, Rob Stoddard, Rick Stoddard; (front row, l. to r.): Kelly Allers, Kat Stewart, Esther Song, Carleigh Blewett, Lisa Otto. NCTA's team finished 11th in a field of 54.







February 1, 2013

Deals Of The Day...

DIRECTTV Partners With, Invests In Ad Developer
DIRECTV teamed with FreeWheel, a video-advertising-technology provider, to develop a new digital video-ad-insertion offering for the operator's programming partners and advertisers, enabling them to reach customers on traditional and mobile screens. FreeWheel will play a key role in DIRECTV's design and implementation of its digital ad-insertion service scheduled to launch later this year. DIRECTV also took an equity position in FreeWheel, saying the investment will give it insight into the product roadmap and industry evolution as well as helping it to develop better relationships with industry leaders and key partners.

Clearwire Passes On One Sprint Financing Round
Clearwire filed a preliminary proxy statement related to the definitive agreement it inked with Sprint Nextel regarding Sprint's acquisition of the remaining Clearwire shares it doesn't already own, saying it will not take the February $80 million draw included in that agreement while the DISH Networks takeover proposal still is under evaluation by a special committee. Sprint continues to say its original offer (which is some $0.30 less per share than what DISH says it will pay) is the better deal.