Sign up for The Skinny from CableFAX - Free Weekly Eletter
Awards --
Call for Entries & Events:

CableFAX Most Powerful Women & Most Influential Minorities in Cable
Deadline: May 17
Free to Nominate

CableFAX Program Awards
Call for Entries: June 21
Enter today!

CableFAXIES & Sales Executive of the Year Awards Breakfast
June 24
Register today!

Complete List of Events

Webinars:

Vine, Viggle, GetGlue:
Leveraging the Newest Social Media Apps to Drive Engagement and Brand Awareness
On-Demand

Capitalizing on Cloud Management and Navigation

Video On Demand Next Practices: Capitalizing on the Latest Innovations
On Demand

Killer Cable Apps: Using Online Games and Apps to Drive Consumer Engagement
On Demand


---
---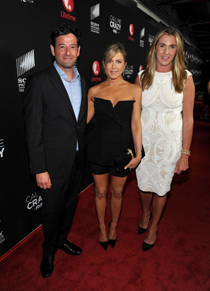 CALL ME CRAZY. On April 16, 2013, Lifetime and Sony Pictures Television held a premiere event for the Lifetime Original Movie "CALL Me Crazy: A Five Film" at the Pacific Design Center in Los Angeles. L to R: Rob Sharenow, evp, Programming, Lifetime Networks; Jennifer Aniston, Executive Producer of "Call Me Crazy"; and Nancy Dubuc, pres, Entertainment and Media, A+E Nets. Debuts April 20, 8pm. Photo by John Shearer/Invision for Lifetime/AP Images.





January 18, 2013

Deal Of The Day...

Orbiters Set To Increase American Samoa Broadband Usage
O3b Networks will provide as much as 1.2 Gbps of future broadband connectivity to the American Samoa Telecommunications Authority (ASTCA). O3b Networks is launching a Middle Earth Orbit satellite constellation to provide fiber speed and satellite reach to Pacific Island nations, and it will go commercial later this year. ASTCA will continue to serve customers via an existing submarine fiber-optic connection to the ASH cable; however, on the first day the O3b constellation is operational, ASTCA will double the broadband capacity available to territory residents. This deal also helps boost American Samoa's low 4.5-percent broadband penetration. Now that ASTCA won't need expensive backhaul, more Samoans will be able to get online.