Sign up for The Skinny from CableFAX - Free Weekly Eletter
Awards --
Call for Entries & Events:

CableMania with Cablefax & AXS TV - April 30
RSVP Today!

Call for Nominations - Top Operators
Nomination Deadline: May 2
Enter Now!

CableFAX's Digital & Tech Summit: May 21
Yale Club | NYC
Register Now!

Call for Entries - Program Awards
Entry Deadline: June 20
Enter Today!

Complete List of Events
Webinars:

Participation TV 2.0: Turning Audience Involvement Into Profit
May 7
Register Now!

Monetizing Social TV: New Tools and Tactics for Success
March 25
On-Demand

---
---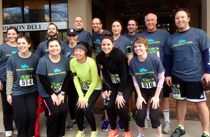 CABLE SHAPES UP! Members of CableFit #teamplatform at NCTA get ready to run a St. Patrick's Day 8K road race, spanning the U.S. Capitol grounds and National Mall on March 9, (back row, l. to r.): Julie Hance, Ethan Buch, Frank Gallagher, Kristin Buch, Steven Morris, Lisa Hamilton, Scot Donaldson, Rob Stoddard, Rick Stoddard; (front row, l. to r.): Kelly Allers, Kat Stewart, Esther Song, Carleigh Blewett, Lisa Otto. NCTA's team finished 11th in a field of 54.







February 22, 2012

3G/Wi-Fi Integrated Enterprise Solution Ready For Trial

In-building mobile broadband operator SpiderCloud Wireless is integrating Wi-Fi capability into its 3G small-cell cluster solution, enabling mobile operators to offer 3G as well as Wi-Fi capacity in Internet hotspots, office buildings, campuses and shopping centers.

SpiderCloud says it will offer enterprise- and service-provider-grade Wi-Fi functionality, including automated RF planning, inter-radio node mobility, quality of service, wireless intrusion detection and prevention, 802.1x-based authentication and 802.11u.

The integrated system consists of a dual-mode radio node capable of supporting one 3G radio and two 802.11 a/b/g/n radios, and a dual-mode services node responsible for controlling the small-cell cluster and integrating it with a mobile operator's core network as well as an enterprise's intranet. 


The new solution, in development since 2010, will be available for trials in the second half of 2012.