Sign up for The Skinny from CableFAX - Free Weekly Eletter
Awards --
Call for Entries & Events:

CableMania with Cablefax & AXS TV - April 30
RSVP Today!

Call for Nominations - Top Operators
Nomination Deadline: May 2
Enter Now!

CableFAX's Digital & Tech Summit: May 21
Yale Club | NYC
Register Now!

Call for Entries - Program Awards
Entry Deadline: June 20
Enter Today!

Complete List of Events
Webinars:

Participation TV 2.0: Turning Audience Involvement Into Profit
May 7
Register Now!

Monetizing Social TV: New Tools and Tactics for Success
March 25
On-Demand

---
---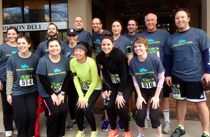 CABLE SHAPES UP! Members of CableFit #teamplatform at NCTA get ready to run a St. Patrick's Day 8K road race, spanning the U.S. Capitol grounds and National Mall on March 9, (back row, l. to r.): Julie Hance, Ethan Buch, Frank Gallagher, Kristin Buch, Steven Morris, Lisa Hamilton, Scot Donaldson, Rob Stoddard, Rick Stoddard; (front row, l. to r.): Kelly Allers, Kat Stewart, Esther Song, Carleigh Blewett, Lisa Otto. NCTA's team finished 11th in a field of 54.







February 21, 2012

NCTC Members Tap Clearleap For On-Demand

Four members of the National Cable Television Cooperative have selected Clearleap's ClearPlay cloud-based streaming services to provide on-demand content via IP for their subscribers.

The new customers, announced at the NCTC WEC in Austin, Texas, are enTouch Systems, Greenlight Cable (owned by the city of Wilson, N.C.), ImOn Communications and Jackson Energy Authority. According to Clearleap, its software-as-a-service technology is deployed in more than 50 cable and content-provider systems, including half of the top 10 U.S. operators.

ClearPlay modules, which can be deployed individually or as a comprehensive solution, include business tools to expand content over high-speed data networks to connected TV devices, laptops, and tablets. Components include ClearPlay On Demand, Linear TV, Cross-Platform App Deployment, Universal Subscriber Authentication and Back Office Management. ClearPlay also integrates with popular billing systems.

How the new clients will use ClearPlay:

>> enTouch Systems Inc. (Houston) and its cable group, ETS Cablevision, says the ClearPlay streaming option complements its recent TiVo set-top deployment with scalable, economical on-demand content.
>> Greenlight is interested in offering its subscribers TiVo boxes, and ClearPlay will provide a turnkey, IP-based streaming service that can scale as more subscribers sign on.
>> ImOn Communications (Cedar Rapids, Iowa) plans to offer new on-demand services using ClearPlay streaming services to its subscribers who use Roku boxes.
>> Jackson Energy Authority (Jackson, Tenn.) will use ClearPlay to launch streaming on-demand services.