Congratulations to the 2014 Digital Hot List - Register for the March 13 Luncheon Today!


Call for Contributors
- Social Media and Digital Marketing Guidebook
Sign up for The Skinny from CableFAX - Free Weekly Eletter
Awards --
Call for Entries & Events:

Cable Business Boot Camp
March 13 | NYC
Register Today!

Digital and Tech Awards Luncheon
March 13 | NYC
Register Today!

CableFAXIES Awards
Entry Deadline: March 21
Enter Now!

Call for Nominations - Top Operators
Nomination Deadline: April 11
Enter Now!

Complete List of Events
Webinars:

Monetizing Social TV: New Tools and Tactics for Success
March 25
Register Today!

The OTT Opportunity: How to Partner for Profit
On-Demand

---
---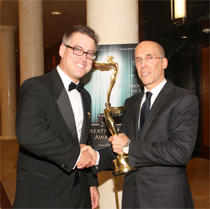 ANIMATION HONORS: 3net Studios President & CEO Tom Cosgrove, whose 4K original series Space: Unraveling the Cosmos won "Best Documentary" poses with DreamWorks Animation CEO Jeffrey Katzenberg, who was on-hand to accept the Harold Lloyd Filmmaker Award at The International 3D & Advanced Imaging Society's Awards Gala Tuesday night at Warner Bros Studios.






June 14, 2011

BigBand Powers Multi-Screen Services

BigBand Networks will showcase new solutions designed to help operators deliver content to multiple screens in the consumer's home at The Cable Show 2011. Highlights of the demonstrations will include:

Advertising with regional and targeted ads delivered to all screens
Enhanced TV capabilities
Delivery of linear TV and VOD programming to IP-connected devices
QAM advancements for bandwidth optimization
Resource management and bandwidth savings for multi-screen support

Thursday, June 16, at 7:30 a.m., McCormick Place, Room S105ABC, BigBand will sponsor a panel hosted by Communications Technology, discussing one of the most critical, evolving aspects of the cable industry: "Transitioning to Tomorrow's Advertising and iTV Commerce, Today." Leading MSOs and industry experts will discuss targeted advertising, EBIF, iTV and T-commerce. Attendees will learn how to make advanced and interactive advertising an integral part of the business mix and how to leverage today's infrastructures to expand advertising to a more zoned, targeted, and interactive world on linear TV and beyond.

In other BigBand news, the company announced its milestone delivery of more than one billion ad transactions in the last year for seven of the top 10 MSOs in North America. BigBand will demonstrate at the Cable Show how its solutions can be used for traditional zoned as well as targeted advertising, helping operators deliver and monetize ads for multiple screens via legacy set-top boxes to such TV and IP-connected devices as the iPad, PC, Roku and TiVo boxes.

BigBand first began offering advertising solutions in 2003 and has continued to expand this product portfolio, which includes the BigBand Broadcast Media Router (BMR) and BigBand Media Services Platform (MSP), to meet the demands of the ever-changing digital television market. Operators use the BigBand portfolio to deliver ads for local advertising insertion and interactive advanced advertising applications with Enhanced TV Binary Interchange Format (EBIF).