Sign up for The Skinny from CableFAX - Free Weekly Eletter
Awards --
Call for Entries & Events:

CableMania with Cablefax & AXS TV - April 30
RSVP Today!

Call for Nominations - Top Operators
Nomination Deadline: May 2
Enter Now!

CableFAX's Digital & Tech Summit: May 21
Yale Club | NYC
Register Now!

Call for Entries - Program Awards
Entry Deadline: June 20
Enter Today!

Complete List of Events
Webinars:

Participation TV 2.0: Turning Audience Involvement Into Profit
May 7
Register Now!

Monetizing Social TV: New Tools and Tactics for Success
March 25
On-Demand

---
---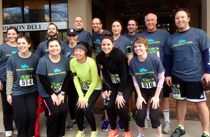 CABLE SHAPES UP! Members of CableFit #teamplatform at NCTA get ready to run a St. Patrick's Day 8K road race, spanning the U.S. Capitol grounds and National Mall on March 9, (back row, l. to r.): Julie Hance, Ethan Buch, Frank Gallagher, Kristin Buch, Steven Morris, Lisa Hamilton, Scot Donaldson, Rob Stoddard, Rick Stoddard; (front row, l. to r.): Kelly Allers, Kat Stewart, Esther Song, Carleigh Blewett, Lisa Otto. NCTA's team finished 11th in a field of 54.







June 14, 2011

BigBand Powers Multi-Screen Services

BigBand Networks will showcase new solutions designed to help operators deliver content to multiple screens in the consumer's home at The Cable Show 2011. Highlights of the demonstrations will include:

Advertising with regional and targeted ads delivered to all screens
Enhanced TV capabilities
Delivery of linear TV and VOD programming to IP-connected devices
QAM advancements for bandwidth optimization
Resource management and bandwidth savings for multi-screen support

Thursday, June 16, at 7:30 a.m., McCormick Place, Room S105ABC, BigBand will sponsor a panel hosted by Communications Technology, discussing one of the most critical, evolving aspects of the cable industry: "Transitioning to Tomorrow's Advertising and iTV Commerce, Today." Leading MSOs and industry experts will discuss targeted advertising, EBIF, iTV and T-commerce. Attendees will learn how to make advanced and interactive advertising an integral part of the business mix and how to leverage today's infrastructures to expand advertising to a more zoned, targeted, and interactive world on linear TV and beyond.

In other BigBand news, the company announced its milestone delivery of more than one billion ad transactions in the last year for seven of the top 10 MSOs in North America. BigBand will demonstrate at the Cable Show how its solutions can be used for traditional zoned as well as targeted advertising, helping operators deliver and monetize ads for multiple screens via legacy set-top boxes to such TV and IP-connected devices as the iPad, PC, Roku and TiVo boxes.

BigBand first began offering advertising solutions in 2003 and has continued to expand this product portfolio, which includes the BigBand Broadcast Media Router (BMR) and BigBand Media Services Platform (MSP), to meet the demands of the ever-changing digital television market. Operators use the BigBand portfolio to deliver ads for local advertising insertion and interactive advanced advertising applications with Enhanced TV Binary Interchange Format (EBIF).