CableFAX Contest - Describe the cable industry in 5 words for a chance to win a $50 Amazon gift card!
Sign up for The Skinny from CableFAX - Free Weekly Eletter
Awards --
Call for Entries & Events:

CableFAX's Most Powerful Women in Cable Breakfast
November 21 - NYC
Photos from the Event

CableFAX's Best of the Web & Digital Marketing Awards
Deadline: December 6
Enter Today!

Webinars:

How to Profit from Content Marketing in Cable
December 17
Register Now!

Selling TV Everywhere: Marketing and PR Strategies to Drive TVE Awareness
On-Demand

---
---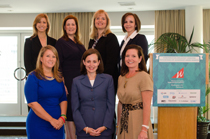 A TOUCH OF LEADERSHIP: At the PowerBrokers Breakfast of the WICT Washington, DC/Baltimore Chapter in Washington, DC on October 29, Touchstones of Leadership Award Honorees, were (top row, L-R) Discovery Comm's Catherine Frymark, Scripps Nets' Suzanne Underwald, Comcast's Samantha Callahan, TWC's Becky Bobzien-Simms, (bottom row, L-R) Travel Channel's Meghan Rodgers, the FCC's Michelle Carey & NBCU's Meredith Attwell Baker.






June 14, 2011

BigBand Powers Multi-Screen Services

BigBand Networks will showcase new solutions designed to help operators deliver content to multiple screens in the consumer's home at The Cable Show 2011. Highlights of the demonstrations will include:

Advertising with regional and targeted ads delivered to all screens
Enhanced TV capabilities
Delivery of linear TV and VOD programming to IP-connected devices
QAM advancements for bandwidth optimization
Resource management and bandwidth savings for multi-screen support

Thursday, June 16, at 7:30 a.m., McCormick Place, Room S105ABC, BigBand will sponsor a panel hosted by Communications Technology, discussing one of the most critical, evolving aspects of the cable industry: "Transitioning to Tomorrow's Advertising and iTV Commerce, Today." Leading MSOs and industry experts will discuss targeted advertising, EBIF, iTV and T-commerce. Attendees will learn how to make advanced and interactive advertising an integral part of the business mix and how to leverage today's infrastructures to expand advertising to a more zoned, targeted, and interactive world on linear TV and beyond.

In other BigBand news, the company announced its milestone delivery of more than one billion ad transactions in the last year for seven of the top 10 MSOs in North America. BigBand will demonstrate at the Cable Show how its solutions can be used for traditional zoned as well as targeted advertising, helping operators deliver and monetize ads for multiple screens via legacy set-top boxes to such TV and IP-connected devices as the iPad, PC, Roku and TiVo boxes.

BigBand first began offering advertising solutions in 2003 and has continued to expand this product portfolio, which includes the BigBand Broadcast Media Router (BMR) and BigBand Media Services Platform (MSP), to meet the demands of the ever-changing digital television market. Operators use the BigBand portfolio to deliver ads for local advertising insertion and interactive advanced advertising applications with Enhanced TV Binary Interchange Format (EBIF).