CableFAX Contest - Describe the cable industry in 5 words for a chance to win a $50 Amazon gift card!
Sign up for The Skinny from CableFAX - Free Weekly Eletter
Awards --
Call for Entries & Events:

CableFAX's Most Powerful Women in Cable Breakfast
November 21 - NYC
Photos from the Event

CableFAX's Best of the Web & Digital Marketing Awards
Deadline: December 6
Enter Today!

Webinars:

Establish Cable PR and Brand Leadership with Content Marketing
December 17
Register Now!

Selling TV Everywhere: Marketing and PR Strategies to Drive TVE Awareness
On-Demand

---
---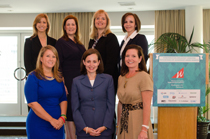 A TOUCH OF LEADERSHIP: At the PowerBrokers Breakfast of the WICT Washington, DC/Baltimore Chapter in Washington, DC on October 29, Touchstones of Leadership Award Honorees, were (top row, L-R) Discovery Comm's Catherine Frymark, Scripps Nets' Suzanne Underwald, Comcast's Samantha Callahan, TWC's Becky Bobzien-Simms, (bottom row, L-R) Travel Channel's Meghan Rodgers, the FCC's Michelle Carey & NBCU's Meredith Attwell Baker.






February 9, 2011

Tektronix Enhances Sentry

Tektronix says it has added significant new capabilities to its Sentry digital content monitor. The Sentry 5.0 release enables Sentry to perform in-depth monitoring of video streams at full line rate - 1 Gbps per unit. This performance enables video service providers to monitor hundreds of video streams per unit, which reduces the number of Sentrys to comprehensively monitor a large multi-channel lineup.

Sentry 5.0 introduces eMOS, or Perceptual Video Quality, which helps service providers tackle content errors where the QoE score is good but the program suffers artifacts due to over-compression, which is common in motion intensive programs like sports. In addition, the new release includes GOP length statistics, RTP support and new reason codes that help service providers quickly understand the source of an issue.