Sign up for The Skinny from CableFAX - Free Weekly Eletter
Awards --
Call for Entries & Events:

CableFAX Most Powerful Women & Most Influential Minorities in Cable
Deadline: May 17
Free to Nominate

CableFAX Program Awards
Call for Entries: June 21
Enter today!

CableFAXIES & Sales Executive of the Year Awards Breakfast
June 24
Register today!

Complete List of Events

Webinars:

Vine, Viggle, GetGlue:
Leveraging the Newest Social Media Apps to Drive Engagement and Brand Awareness
On-Demand

Capitalizing on Cloud Management and Navigation

Video On Demand Next Practices: Capitalizing on the Latest Innovations
On Demand

Killer Cable Apps: Using Online Games and Apps to Drive Consumer Engagement
On Demand


---
---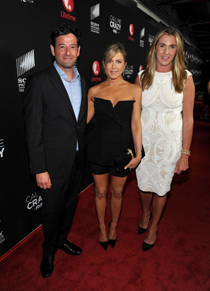 CALL ME CRAZY. On April 16, 2013, Lifetime and Sony Pictures Television held a premiere event for the Lifetime Original Movie "CALL Me Crazy: A Five Film" at the Pacific Design Center in Los Angeles. L to R: Rob Sharenow, evp, Programming, Lifetime Networks; Jennifer Aniston, Executive Producer of "Call Me Crazy"; and Nancy Dubuc, pres, Entertainment and Media, A+E Nets. Debuts April 20, 8pm. Photo by John Shearer/Invision for Lifetime/AP Images.





February 9, 2011

Tektronix Enhances Sentry

Tektronix says it has added significant new capabilities to its Sentry digital content monitor. The Sentry 5.0 release enables Sentry to perform in-depth monitoring of video streams at full line rate - 1 Gbps per unit. This performance enables video service providers to monitor hundreds of video streams per unit, which reduces the number of Sentrys to comprehensively monitor a large multi-channel lineup.

Sentry 5.0 introduces eMOS, or Perceptual Video Quality, which helps service providers tackle content errors where the QoE score is good but the program suffers artifacts due to over-compression, which is common in motion intensive programs like sports. In addition, the new release includes GOP length statistics, RTP support and new reason codes that help service providers quickly understand the source of an issue.