Sign up for The Skinny from CableFAX - Free Weekly Eletter
Awards --
Call for Entries & Events:

CableFAX Most Powerful Women & Most Influential Minorities in Cable
Deadline: May 17
Free to Nominate

CableFAX Program Awards
Call for Entries: June 21
Enter today!

CableFAXIES & Sales Executive of the Year Awards Breakfast
June 24
Register today!

Complete List of Events

Webinars:

Vine, Viggle, GetGlue:
Leveraging the Newest Social Media Apps to Drive Engagement and Brand Awareness
On-Demand

Capitalizing on Cloud Management and Navigation

Video On Demand Next Practices: Capitalizing on the Latest Innovations
On Demand

Killer Cable Apps: Using Online Games and Apps to Drive Consumer Engagement
On Demand


---
---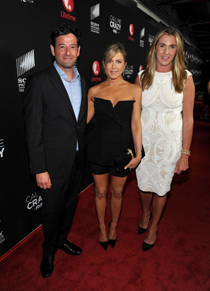 CALL ME CRAZY. On April 16, 2013, Lifetime and Sony Pictures Television held a premiere event for the Lifetime Original Movie "CALL Me Crazy: A Five Film" at the Pacific Design Center in Los Angeles. L to R: Rob Sharenow, evp, Programming, Lifetime Networks; Jennifer Aniston, Executive Producer of "Call Me Crazy"; and Nancy Dubuc, pres, Entertainment and Media, A+E Nets. Debuts April 20, 8pm. Photo by John Shearer/Invision for Lifetime/AP Images.


CableFAX Webinar:
Maximizing Social Media

Presented by CableFAX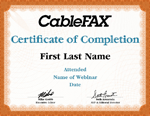 Think you're doing all you could to maximize social media so it can generate big returns for your product or show?
Think again.

With all the noise out there, cable marketers need to go beyond fan pages, contests and forced social interaction to drive eyeballs to shows and wallets to VOD. They need to fully engage potential customers and viewers using the latest tools at their disposal. Have you integrated geo-location services into your social media marketing matrix? Are you using social media to capture information that you can use for future campaigns? And are you integrating your social media activities organically into your overall outreach? If not, you're probably falling behind and risk losing out to your competitors. As the industry gets ready for the CTAM Summit in New Orleans, join us for an introspective webinar that will supercharge your social media skills before the big week.

In this Webinar, you will learn to:
Think about new aspects of social media, including geo-location and crowd sourcing techniques available through services like Foursquare and Facebook Places.
Use new concepts like "virtual check-ins" to drive more people to your brand, show or product.
Implement a strategy that ensures you are using all these platforms to their full potential--and maximizing your investment
Translate social media interactions into lasting customer relationships.
Attend from your desktop or conference room. Invite your whole team to attend at one low price of $329 per location. Each registration comes with access to the archived version of the program and the materials for 1-year.
Each registration comes with access to the archived version of the program, the materials provided by the speakers and a personalized certificate of completion for attending the Webinar.
---
Hear from the experts:
Bio

Gayle Weiswasser
VP, Social Media Communications
Discovery Communications

Gayle is the Vice President of Social Media Communications at Discovery Communications, where she oversees social media strategy for Discovery and its networks and corporate initiatives. This includes Facebook and Twitter strategy and implementation, as well as social media outreach, partnerships with location-based services, and social media monitoring. Prior to Discovery, she worked at a crisis communications firm, where she helped corporate clients develop and implement non-traditional communications plans around products, issues and crisis response.

Gayle graduated from Brown University and Harvard Law School. She practiced transactional law and intellectual property litigation/internet law in San Francisco and Washington, DC for eight years after graduating from law school.

Bio

Ellen Stone
Sr. VP, Marketing
Bravo


As Bravo Media's Senior Vice President, Marketing, Ellen Stone oversees the development of all brand strategy, consumer advertising, ad sales, digital and licensing/merchandising marketing for the network. She also serves as a member of Bravo's senior management team shaping the network's overall strategy.

Under Stone's leadership, Bravo has enjoyed great success, with multi-million dollar campaigns for series such as "The Real Housewives of New York City," "Top Chef Masters" and 'The Fashion Show." She has also spearheaded the network's innovative digital marketing partnerships with sites including Yahoo!, YouTube, and Facebook. Stone is the mastermind behind some of Bravo Media's most successful ventures, including the best-selling "Top Chef: The Cookbook," which is currently in its fourth printing, "Top Chef: The Tour," the nationwide promotional tour that features a customized traveling "Top Chef" 18-wheeler semi-truck, currently in its third cycle, as well as numerous other "Top Chef" brand extensions including wine, knives, board games and flowers. Additionally, under Stone's watch, her team has earned an IMA Outstanding Achievement Award for "The Fashion Show" marketing campaign, as well as three CTAM Mark Awards.

Stone joined Bravo in 2006 as Vice President, Consumer Marketing. Previously, she served as Director, Consumer Marketing at Lifetime Entertainment Services, where she was responsible for managing all off-air consumer marketing efforts for Lifetime Television.

Additionally, Stone worked at Bozell Worldwide, where she served as Partner and Management Supervisor of the National Fluid Milk Program, overseeing strategic and creative operations of the Dairy Management Milk Board. Earlier, Stone worked at J. Walter Thompson, first as Senior Account Executive for the Bell Atlantic Corporation and then, as Partner, Account Supervisor on Unilever Pepsi-Lipton Tea Partnership, Lipton, Lever 2000, and Wisk.

Stone joined Bozell Worldwide from Wells Rich Greene BDDP, where she served as Senior Account Executive for International Business Machines. She began her career at Margeotes Fertitta & Partners where she served as Sr. Media Planner, before being made an Account Executive.

Stone holds a bachelor's degree in Marketing and a minor in French from Lehigh University School of Business and is a graduate of CTAM University, Harvard School of Business. She currently resides in New York City.

Bio

Sam Ford
Director of Digital Strategy
Peppercom

Sam Ford has been with Peppercom since 2007. As Director of Digital Strategy, Ford consults with agency teams and clients on reaching and listening to relevant audiences online and building digital communication strategies that connect companies with the constituencies they want to reach. He also regularly leads Peppercom workshops for a variety of major B2B and B2C companies, trade organizations, and publications, including the Association of National Advertisers and CableFAX.

In addition to writing a weekly column for Fast Company and contributing to Peppercom's PepperDigital blog, Ford has written for BusinessWeek, Portfolio, The Christian Science Monitor, The Huffington Post, Bulldog Reporter, Chief Marketer and a wide range of blogs. He has been featured in stories from Investor's Business Daily, CNN, NPR, The Boston Globe, PRWeek, PR News, The Firm Voice, Portfolio, Boing Boing, Slashdot, and ESPN: The Magazine, among others. He has spoken at South by Southwest Interactive, The Word of Mouth Marketing Association's School of WOM, and MIT's annual Futures of Entertainment conference, as well as digital events and conferences for publications/associations such as PR News, PRWeek, CableFAX, the Advertising Research Foundation, and the Association of Management Consulting Firms and a variety of other industry and academic organizations.

Ford is an affiliate of MIT's Convergence Culture Consortium, a research group he helped found and manage. He is co-editor of The Survival of the Soap Opera (along with UC-Berkeley's Dr. Abigail De Kosnik and Miami University's Dr. C. Lee Harrington), a book due out in December 2010, and is currently writing Spreadable Media, a book co-authored with USC's Dr. Henry Jenkins and UC-Santa Barbara's Dr. Joshua Green. His work has also appeared in a variety of other academic books and journals.

Ford holds a Master's degree from the Program in Comparative Media Studies at MIT and a Bachelor's degree from Western Kentucky University, where he majored in news/editorial journalism, mass communication, communication studies, and English. He has taught courses at both WKU and MIT on journalism, soaps, and professional wrestling. He is also a Kentucky Press Association award-winning journalist who published a weekly column entitled "From Beaver Dam to Brooklyn" about life on the East Coast versus life in Kentucky for several years and has performed in a variety of local professional wrestling events. He lives in Bowling Green, Kentucky, with wife Amanda and daughter Emma.

Moderator:
Mike Grebb
Executive Editor
CableFAX Daily


---
Who should attend?
Cable and marketing executives in the following areas:
Advertising
Marketing
Media Buying
Media Planning
Business Development
Management
Social Media
Branding
Products Launches
Financial Management
Communications
Research
---
How does the Webinar work?
The live audio is delivered to your location over the telephone or your computer speakers. The Power-Point presentations are presented over the Internet and are available to print out before the program. This is like a talk-radio program with visuals on the Web. You and your team will be able to have a live Q&A with all the speakers.

You need Real Player or Windows Media Player installed on your computer. If you do not have either, please follow the instructions below to download and install them. Or if you prefer, a phone for the audio and an Internet connection to let you watch the slides and other information on the Web will suffice. No other downloads or special hardware - a dial-up connection will work fine.
One (1) set of materials (you may make copies for all of the persons you invited to listen to the program);
One (1) toll-free connection to the seminar (if you select the audio connection.), and
One (1) Internet connection to the seminar.
Use speakers on your computer or speakerphone on your telephone and invite your entire staff to attend for one low price of $329.00 USD per site.
---
What equipment do I need?
For the audio connection:
A computer with Real Player or Windows Media Player installed. When you log into the Virtual Seminar, your computer will be taken through a brief configuration check and will let you know if you're missing any software.
If you do not have Real or Windows, a touch-tone telephone will work also. It works best to use a speakerphone so that others can listen too.
For the Internet connection:
PC: 166Mhz Pentium-based PC or better
Operating system: Windows 95, 98, NT, 2000, XP
Browser: For optimal viewing experience, we recommend using Internet Explorer 6.0 or higher. However, any version of IE 4.0 or higher will work. For Netscape, only versions 4.x are supported at this time.
Internet connection: 28.8 or faster connection
Display set at 1024 x 768 or 800 x 600
Mac users are encouraged to use Firefox 2.0 (or later) with Real Player to view the webcast. You can also test your system using the system test button in menu on the left hand side.
Player Downloads
If using Microsoft Windows Media Player, Version 6.4 or later is required.
Download a supported Microsoft Windows Media Player
If using RealPlayer, Version 7.0 or later is required.
Download a supported RealPlayer
---
Questions?
If you are having any technical difficulties or need assistance meeting these requirements, please contact our Technical Support Center at 1-866-709-8255 or click here.

For content questions regarding this Webinar, contact Jessica Clegg at (212) 621-4626 or jclegg@accessintel.com.

*CableFAX does not offer any refunds for the webinar. All sales are final.

For sponsorship opportunities contact: Debbie Vodenos at
dvodenos@accessintel.com

---