Sign up for The Skinny from CableFAX - Free Weekly Eletter
Awards --
Call for Entries & Events:

CableMania: A Magical Mystery Tour with Cablefax & AXS TV - April 30
RSVP Today!

CableFAX Tech Breakfast & Roundtable - May 1
Complimentary Registration!

Call for Nominations - Top Operators
Nomination Deadline: May 2
Enter Now!

CableFAX's Digital & Tech Summit: May 21
Yale Club | NYC
Register Now!

Complete List of Events
Webinars:

Participation TV 2.0: Turning Audience Involvement Into Profit
May 7
Register Now!

Monetizing Social TV: New Tools and Tactics for Success
March 25
On-Demand

---
---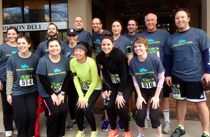 CABLE SHAPES UP! Members of CableFit #teamplatform at NCTA get ready to run a St. Patrick's Day 8K road race, spanning the U.S. Capitol grounds and National Mall on March 9, (back row, l. to r.): Julie Hance, Ethan Buch, Frank Gallagher, Kristin Buch, Steven Morris, Lisa Hamilton, Scot Donaldson, Rob Stoddard, Rick Stoddard; (front row, l. to r.): Kelly Allers, Kat Stewart, Esther Song, Carleigh Blewett, Lisa Otto. NCTA's team finished 11th in a field of 54.




CableFAX Webinar:
Capitalizing on iTV


Presented by CableFAX


Attend from your desktop or conference room. Invite your whole team to attend at one low price of $329 per location. Each registration comes with access to the archived version of the program and the materials for 1-year.

Each registration comes with access to the archived version of the program, the materials provided by the speakers and a personalized certificate of completion for attending the Webinar.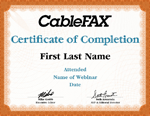 The cable industry has talked up interactivity for years, but now it's finally happening. And consumers—trained by years of using the Internet on a variety of devices—finally seem ready to take the plunge. But how will interactivity and advanced advertising work in the real world? What's the role of EBIF? What do advertisers really want? And what's the status of cable's efforts to satisfy those needs? And most importantly, how can cable operators and programmers use interactivity to increase revenue from advertisers, subscribers and perhaps even other untapped sources?
In this Webinar, we'll tackle the following areas:
An overview of the EBIF spec and how it can enable interactive widgets and advertising.
Examples of ways interactivity could work in terms of polling, audience participation in shows and advertising messaging.
Ways that deep-dive ad telescoping can use Web-based data on TV.
Projections of how players can leverage online, VOD and mobile platforms through the TV screen.
Examples of how programmers and advertisers can work together.
---
Hear from the experts:
Bio

Edgar Villalpando
Senior Vice President of Marketing
ActiveVideo Networks

Edgar joined ActiveVideo in 2008 and is responsible for global market strategy and product marketing for ActiveVideo®. Edgar's extensive media and consumer products experience includes executive positions with HBO and DIRECTV, and as Founder of THUMP, an agency that developed branded content through a combination of traditional and new media platforms. With HBO, Edgar served as vice president, new media and business development for the programmer's international group, with specific responsibility for expanding linear and new media properties into new territories. Edgar previously had served as vice president, marketing for HBO, driving and managing international marketing and communications efforts for the HBO and Cinemax brands. With DIRECTV, Edgar first served as director of marketing and advertising with a focus on supporting the satellite provider's new and international programming services within United States. Edgar began his career in advertising in the agency world, working on blue-chip brands such as Ford, Miller Brewing, Mobil Oil, Wesson Oil, and several other accounts. He holds a B.A. in Psychology from UCLA.

Bio

James Mumma
Executive Director, iTV Product Development
Comcast

James is responsible for setting the strategy and executing on the complete product lifecycle of iTV products to Comcast's 17 million digital cable customers. He led the launch of the first instance of the EBIF standard on a live MSO network in 2006 and went on to lead Comcast's iTV platform deployment to now over 13M homes. James is an active member of Cablelabs and CTAM working groups and also coordinates Canoe Ventures initiatives for Comcast. Prior to joining Comcast, James held a number of consulting, product, and project management roles, specializing in eCommerce, web integration, personalization and financial services. He has a BS of Industrial Engineering from Rutgers University and has an M.B.A. and Masters of Information Systems from Boston University. He is also an active participant in CIC and the Saints Prison Ministry. James currently resides in Southern New Jersey with his wife and three children.

Bio

Jim Turner
Senior Vice President, Product Management
Canoe Ventures

Jim joined Canoe in October 2009 to lead and manage the development of the company's interactive television and advanced advertising product strategy.

Jim brings a wealth of experience in the development and implementation of digital media product strategy in both broadcast and cable television. He was most recently Vice President, Product at Synacor, the leading white label supplier of web. services and digital media to the cable and telecommunications industries. Prior to Synacor, Jim was Vice President, Digital Media at A&E Television Networks where he led the development and management of the company's digital media properties across aU of the network's brands. Before joining-A&E, Jim was Founder and President of AvitageMedia, a consulting and production company for advanced television, interactive advertising, Internet, broadband, and digital.

Jim began his career at CBS where, as part of the CBS Technology Center, he was awarded two patents for the use of computers in music. Since then, he has held executive positions including SVP, Product at Women. com, EVP/COO of Astronet.com and VP Product Development for Kurzweil Music Systems. In the mid 1990s, Digital Equipment Corporation acquired Jim's CDROM production company to create Digital Media Studios. As GM/Executive Producer, Jim led the creation of some of the ftrst shopping, music, VOD and other interactive television applications.

Jim is active in a number of industry initiatives and organizations and serves in several roles for the National Academy of Television Arts and Sciences. Jim holds an MBA in Marketing and Masters and Bachelors degrees in Electrical Engineering.

Bio

Kevin Hurst
Director of Product Management
Ensequence, Inc.

Kevin is responsible for identifying and articulating the market and customer requirements for Ensequence's product strategy. Once identified and codified into a product roadmap, Kevin's team works closely with engineering and marketing to deliver Ensequence products to Ensequence customers, which include some of the largest MSOs and Programmers in the United States. Kevin has been integral in the identification and development of the Ensequence iTV Manager platform, which is the world's first product specifically designed to address the complete iTV development, delivery and management lifecycle. Prior to Ensequence, Kevin held numerous leadership positions in product management and marketing with companies providing solutions for digital media markets, including Apple, Iomega, In Focus and Digimarc. He received his BS from the University of Utah and his Masters from Portland State University. He resides in Portland, Oregon with his wife and two children.

Moderator:
Michael Grebb
Executive Editor
CableFAX Daily


---
Who should attend?
Cable and marketing executives in the following areas:
Advertising
Marketing
Media Buying
Media Planning
Business Development
Management
Social Media
Branding
Products Launches
Financial Management
Communications
Research
---
How does the Webinar work?
The live audio is delivered to your location over the telephone or your computer speakers. The Power-Point presentations are presented over the Internet and are available to print out before the program. This is like a talk-radio program with visuals on the Web. You and your team will be able to have a live Q&A with all the speakers.

You need Real Player or Windows Media Player installed on your computer. If you do not have either, please follow the instructions below to download and install them. Or if you prefer, a phone for the audio and an Internet connection to let you watch the slides and other information on the Web will suffice. No other downloads or special hardware - a dial-up connection will work fine.
One (1) set of materials (you may make copies for all of the persons you invited to listen to the program);
One (1) toll-free connection to the seminar (if you select the audio connection.), and
One (1) Internet connection to the seminar.
Use speakers on your computer or speakerphone on your telephone and invite your entire staff to attend for one low price of $329.00 USD per site.
---
What equipment do I need?
For the audio connection:
A computer with Real Player or Windows Media Player installed. When you log into the Virtual Seminar, your computer will be taken through a brief configuration check and will let you know if you're missing any software.
If you do not have Real or Windows, a touch-tone telephone will work also. It works best to use a speakerphone so that others can listen too.
For the Internet connection:
PC: 166Mhz Pentium-based PC or better
Operating system: Windows 95, 98, NT, 2000, XP
Browser: For optimal viewing experience, we recommend using Internet Explorer 6.0 or higher. However, any version of IE 4.0 or higher will work. For Netscape, only versions 4.x are supported at this time.
Internet connection: 28.8 or faster connection
Display set at 1024 x 768 or 800 x 600
Mac users are encouraged to use Firefox 2.0 (or later) with Real Player to view the webcast. You can also test your system using the system test button in menu on the left hand side.
Player Downloads
If using Microsoft Windows Media Player, Version 6.4 or later is required.
Download a supported Microsoft Windows Media Player
If using RealPlayer, Version 7.0 or later is required.
Download a supported RealPlayer
---
Questions?
If you are having any technical difficulties or need assistance meeting these requirements, please contact our Technical Support Center at 1-866-709-8255 or click here.

For content questions regarding this Webinar, contact Jessica Clegg at (212) 621-4626 or jclegg@accessintel.com.

*CableFAX does not offer any refunds for the webinar. All sales are final.

For sponsorship opportunities contact: Debbie Vodenos at
dvodenos@accessintel.com

---