Sign up for The Skinny from CableFAX - Free Weekly Eletter
Awards --
Call for Entries & Events:

CableFAX Most Powerful Women & Most Influential Minorities in Cable
Deadline: May 17
Free to Nominate

CableFAX Program Awards
Call for Entries: June 21
Enter today!

CableFAXIES & Sales Executive of the Year Awards Breakfast
June 24
Register today!

Complete List of Events

Webinars:

Vine, Viggle, GetGlue:
Leveraging the Newest Social Media Apps to Drive Engagement and Brand Awareness
On-Demand

Capitalizing on Cloud Management and Navigation

Video On Demand Next Practices: Capitalizing on the Latest Innovations
On Demand

Killer Cable Apps: Using Online Games and Apps to Drive Consumer Engagement
On Demand


---
---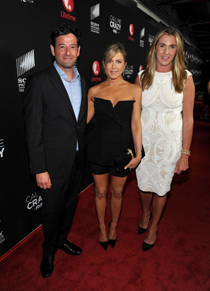 CALL ME CRAZY. On April 16, 2013, Lifetime and Sony Pictures Television held a premiere event for the Lifetime Original Movie "CALL Me Crazy: A Five Film" at the Pacific Design Center in Los Angeles. L to R: Rob Sharenow, evp, Programming, Lifetime Networks; Jennifer Aniston, Executive Producer of "Call Me Crazy"; and Nancy Dubuc, pres, Entertainment and Media, A+E Nets. Debuts April 20, 8pm. Photo by John Shearer/Invision for Lifetime/AP Images.


CableFAX Webinar:
Capitalizing on Transactional TV
VOD* SVOD * Pay Per View

Presented by CableFAX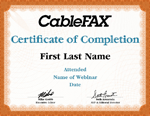 It's ironic that at the same time free video is abundant on the Internet, cable is offering subscribers unprecedented numbers of movies on demand, some even before they reach theaters. In addition, cable programmers are supplying short- and long-form content as well as live events at a record pace, much of it in HD. There's no question transactional TV is evolving from the relatively simple VOD era.

How should you optimize your approach to transactional TV? How will transactional TV work in a TV Everywhere regime? What's working best for operators and programmers? And most important, how can cable operators and programmers use transactional TV to increase revenue from advertisers, subscribers and perhaps even other untapped sources?

In this Webinar, we'll tackle the following areas:
What is the best mix of screens and content to boost your revenue?
What marketing techniques work best to optimize buzz for transactional offerings?
What 3 steps operators can take to augment revenue from transactional TV and make it a must-use part of subscribers¹ cable experience?
What¹s ahead in windowing and how can you plan for those future trends?
How can you tap into the growing ethnic market for transactional TV?
Attend from your desktop or conference room. Invite your whole team to attend at one low price of $329 per location. Each registration comes with access to the archived version of the program and the materials for 1-year.
Each registration comes with access to the archived version of the program, the materials provided by the speakers and a personalized certificate of completion for attending the Webinar.
---
Hear from the experts:
Bio

Jeff Kreger
VP of Sales
New Frontier Media

Jeff Kreger has been at New Frontier Media over 12 years. He oversees all Sales and Marketing efforts for the Southeast US as well as Latin America, Asia and Africa. He has over 15 years experience in transactional television, having worked at Spice Networks before coming to New Frontier Media.

Mr. Kreger is also Vice President of CTAM Florida. He resides in Orlando, Florida with his wife and three children.

Bio

Brian J. Hansen
Sr. Analyst
Frank N. Magid Associates

Brian has worked with Frank Magid Associates for more than 20 years and his contributions include managing primary research projects of various methods, as well as advising clients on decisions and implementation. Brian has experience serving large media companies at the operational level (content and marketing) and in investment and new technology. His clients have ranged from major broadcast TV networks to several cable TV networks, MSOs, Internet companies, publishers, and technology interests. He recently managed an 18-month project of consumer survey research and transactional analysis for a group that included a major cable operator and most of the movie studios, focusing on the impact of On Demand movies. His graduate and undergraduate studies were in journalism and communications at the University of Iowa.

Bio

Doug Ohlandt
VP, Programming Promotions
InDemand

Doug Ohlandt has been at iN DEMAND for in 11 years. He was recently named Vice President, Programming Promotion, overseeing promotion for movie, event and sports product.
He has 15 years experience in transactional television, having worked in a number of different capacities: transmission, operations, programming, marketing and traffic.

Under his leadership at iN DEMAND is the production and distribution of promo spots, barkers, free-preview pieces, web banners and other assets that the company's affiliates use to promote transactional content. The company produces nearly 10,000 pieces of cutting edge media annually. Mr. Ohlandt is part of the marketing team that works closely with the company's programming partners – movies, events and sports content providers - to develop campaigns used by MSO owners and other affiliates.

Mr. Ohlandt is a member of CTAM's ACSC Marketing Strategies Committee. He holds a BS, Communications from Syracuse University. He resides in Poughkeepsie, New York with his wife and two daughters.

iN DEMAND is the world's leading distributor of transactional content to cable via Pay-Per-View (PPV) and Video-On-Demand (VOD) as well as on digital platforms. Programming includes first run movies, boxing, mixed martial arts and wrestling events and the digital out-of-market subscription professional sports packages for MLB, the NBA, the NHL and MLS. iN DEMAND's owners are Comcast iN DEMAND Holdings, Inc., Cox Communications Holdings, Inc., and Time Warner Entertainment - Advance/Newhouse Partnership.

Bio

Ximena Rogers
Regional Marketing Director
Comcast

Ximena Rogers is the Regional Director of Programming & Products, responsible for Programming, Product Introductions, PPV & On Demand as well as Sponsorships for Comcast's South Florida Region.

Ximena has over 13 years of experience in the cable industry. She has also spent 5 years in customer service, sales and dispatch departments where she earned top sales executive awards.

In her role, Ximena has led All Digital programming changes and channel lineup consolidation plans for the region. Ximena has launched new products & processes as
well as new product enhancements, and surpassed revenue metrics for Pay-Per-View and On Demand.

Originally from Lima, Peru, Ximena moved to South Florida in 1988 with her family. She attended Florida International University, majoring in Journalism and Mass Communications with a minor in Marketing. Ximena resides in Coconut Creek, FL with her husband, Darrin.

Moderator:
Seth Arenstein
AVP and Editorial Director
CableFAX Daily


---
Who should attend?
Cable and marketing executives in the following areas:
Advertising
Marketing
Media Buying
Media Planning
Business Development
Management
Social Media
Branding
Products Launches
Financial Management
Communications
Research
---
How does the Webinar work?
The live audio is delivered to your location over the telephone or your computer speakers. The Power-Point presentations are presented over the Internet and are available to print out before the program. This is like a talk-radio program with visuals on the Web. You and your team will be able to have a live Q&A with all the speakers.

You need Real Player or Windows Media Player installed on your computer. If you do not have either, please follow the instructions below to download and install them. Or if you prefer, a phone for the audio and an Internet connection to let you watch the slides and other information on the Web will suffice. No other downloads or special hardware - a dial-up connection will work fine.
One (1) set of materials (you may make copies for all of the persons you invited to listen to the program);
One (1) toll-free connection to the seminar (if you select the audio connection.), and
One (1) Internet connection to the seminar.
Use speakers on your computer or speakerphone on your telephone and invite your entire staff to attend for one low price of $329.00 USD per site.
---
What equipment do I need?
For the audio connection:
A computer with Real Player or Windows Media Player installed. When you log into the Virtual Seminar, your computer will be taken through a brief configuration check and will let you know if you're missing any software.
If you do not have Real or Windows, a touch-tone telephone will work also. It works best to use a speakerphone so that others can listen too.
For the Internet connection:
PC: 166Mhz Pentium-based PC or better
Operating system: Windows 95, 98, NT, 2000, XP
Browser: For optimal viewing experience, we recommend using Internet Explorer 6.0 or higher. However, any version of IE 4.0 or higher will work. For Netscape, only versions 4.x are supported at this time.
Internet connection: 28.8 or faster connection
Display set at 1024 x 768 or 800 x 600
Mac users are encouraged to use Firefox 2.0 (or later) with Real Player to view the webcast. You can also test your system using the system test button in menu on the left hand side.
Player Downloads
If using Microsoft Windows Media Player, Version 6.4 or later is required.
Download a supported Microsoft Windows Media Player
If using RealPlayer, Version 7.0 or later is required.
Download a supported RealPlayer
---
Questions?
If you are having any technical difficulties or need assistance meeting these requirements, please contact our Technical Support Center at 1-866-709-8255 or click here.

For content questions regarding this Webinar, contact Jessica Clegg at (212) 621-4626 or jclegg@accessintel.com.

*CableFAX does not offer any refunds for the webinar. All sales are final.

For sponsorship opportunities contact: Debbie Vodenos at
dvodenos@accessintel.com

---