Sign up for The Skinny from CableFAX - Free Weekly Eletter
Awards --
Call for Entries & Events:

CableFAX Most Powerful Women & Most Influential Minorities in Cable
Deadline: May 17
Free to Nominate

CableFAX Program Awards
Call for Entries: June 21
Enter today!

CableFAXIES & Sales Executive of the Year Awards Breakfast
June 24
Register today!

Complete List of Events

Webinars:

Vine, Viggle, GetGlue:
Leveraging the Newest Social Media Apps to Drive Engagement and Brand Awareness
On-Demand

Capitalizing on Cloud Management and Navigation

Video On Demand Next Practices: Capitalizing on the Latest Innovations
On Demand

Killer Cable Apps: Using Online Games and Apps to Drive Consumer Engagement
On Demand


---
---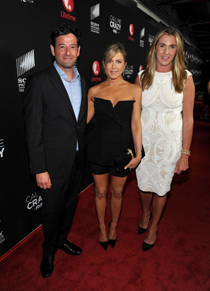 CALL ME CRAZY. On April 16, 2013, Lifetime and Sony Pictures Television held a premiere event for the Lifetime Original Movie "CALL Me Crazy: A Five Film" at the Pacific Design Center in Los Angeles. L to R: Rob Sharenow, evp, Programming, Lifetime Networks; Jennifer Aniston, Executive Producer of "Call Me Crazy"; and Nancy Dubuc, pres, Entertainment and Media, A+E Nets. Debuts April 20, 8pm. Photo by John Shearer/Invision for Lifetime/AP Images.


CableFAX Webinar:
How to Generate New Program
Revenue with Brand Integration
Presented by CableFAX
The webinar first aired January 2009.

Attend from your desktop or conference room. Invite your whole team to attend at one low price of $329 per location. Each registration comes with access to the archived version of the program and the materials for 1-year.
Brands want to engage customers, and programmers have never been in a better position to monetize those desires through brand integration. More elusive, however, are real-world strategies and tactics to integrate top brands into reality shows, talk shows, sit-coms and even dramas. In this Webinar, the experts will tell you how they do it, and what you need to know. What deal points can ensure a successful partnership? What specifically are brands paying for and why—and how can content owners innovate to ensure more revenue growth in the future? What are some creative ways to get the most bang for the integration buck?
In this Webinar, you will learn:
Successful brand integration strategies gleaned from case studies from top campaigns.
Getting from point A to point B: The mechanics of a brand integration deal from the ground up.
How brand integration can strengthen existing advertiser relationships—and help attract new clients.
What factors advertisers consider when gauging brand integration deals—and whether a particular network and/or show fits their needs.
How cable programmers can capitalize on trends to ensure brand integration dollars keep flowing and growing.
What executive skills and knowledge you will need to become your company's brand integration expert—and how to become the rain maker who gets these deals done.
---
Hear from the experts:
Guy McCarter
Managing Director
Green Room Entertainment

Guy McCarter is the Managing Director of Green Room Entertainment, the Branded Entertainment unit of OMG Entertainment & Sports. Green Room develops, negotiates and activates entertainment properties in television, film, digital and music. Working on behalf of clients like Pepsi, Visa, Lowe's, ABSOLUT, the City of Las Vegas and Travelocity, Green Room creates multiplatform, entertainment-based solutions that build brands and increase sales for its clients. Green Room also handles media strategy for BBC America and Village Roadshow. More recently Green Room has extended its capabilities into the video-gaming world through its client Activision.

Guy joined OMD at its inception in 2000. Prior to OMD, he worked at BBDO New York, starting as a Media Planner in 1985 before transitioning into the BBDO Entertainment unit in 1993. Guy became head of this unit in 1996 as a Senior Vice President before bringing his experience into OMD. He ran OMD Entertainment through 2007, when his group moved to the Omnicom Media Group as part of OMG Entertainment & Sports.

As a recognized leader and pioneer in the branded entertainment arena, Guy is a two-time recipient of Mediaweek's Most Creative Use of Media award as well as an Ad Age Media Maven and an Adweek Media All-Star.

He resides in Manhattan with his wife and two children.

Jamie Cutburth
Senior Director of Sales Solutions
A&E Television

Jamie Cutburth is the Senior Director of Sales Solutions for A&E Television where he has been developing new ways of expanding the boundaries of network advertising since 2003. In this role Jamie and his six person team are responsible for developing multi-dimensional marketing solutions for advertisers that leverage A&E and Bio's communication platforms through all media platforms. This has resulted in the development of groundbreaking integrations that extend from the network itself to online and offline activations, which have been recognized with multiple awards, driving more than $300 million in revenue for the networks. His most public partnerships have been forged with GMC, Pontiac, Dell, Big Lots, Clorox, and Pfizer.

Prior to A&E, Jamie spent more than 10 years pioneering the marketing of digital platforms and selling technology solutions for companies like Cars.com, 3Com and Palm. He has been an AdWeek Buzz Marketing Finalist and Platinum recipient of the Myers Innovation Award. He is currently a member of Out in TV & Film, a voting member of the Academy of Television Arts and Sciences, and a graduate of the University of Kansas.


Stephen Earley
SVP, Integrated Marketing
Comcast Entertainment Group



Stephen Earley is Senior Vice President, Integrated Marketing, Comcast Entertainment Group. Earley oversees advertising partnerships, affiliate marketing, licensing and merchandising as well as events for E! Entertainment, The Style Network and G4. He previously served as Vice President, Marketing Solutions, Comcast Entertainment Group and first joined the company in 2001 as Vice President, Marketing, E! Online. Prior to coming to E!, Earley was Executive Director of National Promotions for Twentieth Century Fox Film Corp.





Greg D'Alba
EVP and COO, Sales & Marketing
CNN



Greg D'Alba is executive vice president and chief operating officer of CNN Advertising Sales and Marketing. In this capacity, he oversees all domestic ad sales, marketing strategies and business operations for the CNN portfolio of news networks and businesses, including CNN/U.S., HLN, CNN Airport Network and CNN.com. D'Alba also oversees the Turner Broadcasting System, Inc. production group for ad sales, as well as all direct response business for TBS, Inc., including Entertainment, News, Sports, NBA Digital and Kids/Young Adults linear and digital properties.

D'Alba oversees a division that consistently ranks among the top news ad sales units in the media marketplace. Prior to being named EVP/COO in June 2003, D'Alba served as executive vice president of the division, working on a variety of news sales efforts, while being primarily responsible for HLN ad sales. He was also responsible for product management of CNNfn.

An industry veteran, who has enjoyed more than a 20-year career at the uppermost levels of network television sales, D'Alba joined TBSI in 1986 as an account executive and has held ascending positions through his career at CNN. He was promoted to vice president and sales manager of CNN Sales in 1989, and was named senior vice president in 1996.

With a rapidly expanding marketplace and advertisers seeking to enhance the value of their brands and messages across emerging technologies, D'Alba initiated a redesign of the division that has positioned CNN Ad Sales in the forefront. The division is comprised of three teams devoted to television, new media and integration. The creation of the CNN Strategic Integration Group, in particular, sets the division apart from its peers as a diverse collection of seasoned marketers and brand specialists dedicated to providing opportunities and solutions for advertisers through the development of customized marketing partnerships. The group, working with the CNN television and digital ad sales teams, focuses solely on working with advertisers to enhance their messages within the CNN brand.

D'Alba was named one of the top industry figures comprising the annual CableFax 100 roster two years in a row. His team is consistently ranked as the top television news sales unit by The Jack Myers Report.
D'Alba sits on the Boards of Directors of the Cabletelevision Advertising Bureau (CAB) and Interactive Advertising Bureau (IAB) to share his expertise on the proliferation of media platforms and the emerging value of reach in a multimedia marketplace. He is also on the Board of Directors of the Ghetto Film School in the South Bronx, which strives to connect disadvantaged high school students who are interested in filmmaking with the entertainment and media communities and provides college scholarships. In addition, he recently pioneered the Turner Diversity Fellowship program with Syracuse University's Newhouse School of Communications, providing scholarships to students in their masters program.
D'Alba earned a degree in communications at the University of Buffalo, where he serves as an advisory board member for the University of Buffalo's School of Communication. D'Alba delivered the commencement address to the graduating class of 2005.

CNN Worldwide, a division of Turner Broadcasting System, Inc., a Time Warner Company, is the most trusted source for news and information. Its reach extends to nine cable and satellite television networks; one private place-based network; two radio networks; wireless devices around the world; CNN Digital Network, the No. 1 network of news Web sites in the United States; CNN Newsource, the world's most extensively syndicated news service; and strategic international partnerships within both television and the digital media.

Turner Broadcasting System, Inc., a Time Warner company, creates and programs branded news, entertainment, animation and young adult media environments on television and other platforms for consumers around the world.

Moderator:
Michael Grebb
Executive Editor, CableFAX
---
Who should attend?
Cable and marketing executives in the following areas:
Advertising
Marketing
Media Buying
Media Planning
Business Development
Management
Social Media
Branding
Products Launches
Financial Management
Communications
Research
---
How does the Webinar work?
The live audio is delivered to your location over the telephone or your computer speakers. The Power-Point presentations are presented over the Internet and are available to print out before the program. This is like a talk-radio program with visuals on the Web. You and your team will be able to have a live Q&A with all the speakers.

You need Real Player or Windows Media Player installed on your computer. If you do not have either, please follow the instructions below to download and install them. Or if you prefer, a phone for the audio and an Internet connection to let you watch the slides and other information on the Web will suffice. No other downloads or special hardware - a dial-up connection will work fine.
One (1) set of materials (you may make copies for all of the persons you invited to listen to the program);
One (1) toll-free connection to the seminar (if you select the audio connection.), and
One (1) Internet connection to the seminar.
Use speakers on your computer or speakerphone on your telephone and invite your entire staff to attend for one low price of $329.00 USD per site.
---
What equipment do I need?
For the audio connection:
A computer with Real Player or Windows Media Player installed. When you log into the Virtual Seminar, your computer will be taken through a brief configuration check and will let you know if you're missing any software.
If you do not have Real or Windows, a touch-tone telephone will work also. It works best to use a speakerphone so that others can listen too.
For the Internet connection:
PC: 166Mhz Pentium-based PC or better
Operating system: Windows 95, 98, NT, 2000, XP
Browser: For optimal viewing experience, we recommend using Internet Explorer 6.0 or higher. However, any version of IE 4.0 or higher will work. For Netscape, only versions 4.x are supported at this time.
Internet connection: 28.8 or faster connection
Display set at 1024 x 768 or 800 x 600
Mac users are encouraged to use Firefox 2.0 (or later) with Real Player to view the webcast. You can also test your system using the system test button in menu on the left hand side.
Player Downloads
If using Microsoft Windows Media Player, Version 6.4 or later is required.
Download a supported Microsoft Windows Media Player
If using RealPlayer, Version 7.0 or later is required.
Download a supported RealPlayer
---
Questions?
If you are having any technical difficulties or need assistance meeting these requirements, please contact our Technical Support Center at 1-866-709-8255 or click here.

For content questions regarding this Webinar, contact Jessica Clegg at (212) 621-4626 or jclegg@accessintel.com.

*CableFAX does not offer any refunds for the webinar. All sales are final.

For sponsorship opportunities contact: Debbie Vodenos at
dvodenos@accessintel.com

---