Sign up for The Skinny from CableFAX - Free Weekly Eletter
Awards --
Call for Entries & Events:

CableMania with Cablefax & AXS TV - April 30
RSVP Today!

Call for Nominations - Top Operators
Nomination Deadline: May 2
Enter Now!

CableFAX's Digital & Tech Summit: May 21
Yale Club | NYC
Register Now!

Call for Entries - Program Awards
Entry Deadline: June 20
Enter Today!

Complete List of Events
Webinars:

Participation TV 2.0: Turning Audience Involvement Into Profit
May 7
Register Now!

Monetizing Social TV: New Tools and Tactics for Success
March 25
On-Demand

---
---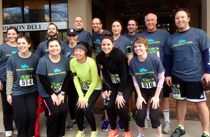 CABLE SHAPES UP! Members of CableFit #teamplatform at NCTA get ready to run a St. Patrick's Day 8K road race, spanning the U.S. Capitol grounds and National Mall on March 9, (back row, l. to r.): Julie Hance, Ethan Buch, Frank Gallagher, Kristin Buch, Steven Morris, Lisa Hamilton, Scot Donaldson, Rob Stoddard, Rick Stoddard; (front row, l. to r.): Kelly Allers, Kat Stewart, Esther Song, Carleigh Blewett, Lisa Otto. NCTA's team finished 11th in a field of 54.




Vine, Viggle, GetGlue: Leveraging the Newest Social Media Apps to Drive Engagement and Brand Awareness
($379 per site - CDs available for purchase)

Join CableFAX for a webinar that will put you in sync with the latest trends in social media consumption. You need to know how to use social media to strengthen viewer tune-in and retain customers.
The social media world has grown well beyond Facebook and Twitter—and cable's growing with it. From rewards program apps like Viggle to must-have social TV apps such as GetGlue, Miso, Tunerfish and Yap.TV, distributors and programmers are trying a bit of everything to make their customers stickier.
At this Webinar, you'll learn how to:
Structure social media outreach for maximum return on investment.
Tap emerging TV-focused loyalty apps such as Viggle.
Embrace new tools like Twitter's buzzed-about Vine app.
Integrate social media efforts with online, linear and mobile properties.
Engage uniquely with TV fans through social TV, second screen experiences and other engagement techniques.
Leverage social media to create goodwill for your brand and reduce churn.
Our experts will show you how new social media assets further strengthen viewer tune-in and customer retention. And they will demonstrate how Twitter's Vine app, which lets users make and share 6-second looped videos, can help drive even deeper engagement. Experts will also share the newest ROI tools. Don't miss the opportunity to hear leading industry executives weigh in, outlining strategies and discussing how such initiatives can boost the bottom line.
BioMichael Haggerty
Senior Vice President, Research
Bravo and Style Media.


Michael Haggerty is Senior Vice President, Research for Bravo and Style Media. Haggerty manages all phases of research and strategic insights for the networks including programming, scheduling, marketing, digital & new media, business development and sales. He oversees the production of all business intelligence and recommendations relating to consumer behaviors and media usage relevant to pop culture and lifestyle networks. Haggerty also works with network management to synthesize insights into brand strategy, to identify new business opportunities and to evolve the overall business models as the media landscape changes.

Prior to joining Bravo, Haggerty was Senior Vice President, Director Marketing Accountability and Research at Universal McCann where he led the US Research Department and spearheaded the research function in new business wins that led to Adweek's "Agency of the Year" and AdAge's "Comeback of the Year." From 2005 to 2009 he worked at TargetCast tcm as SVP, Director of Consumer Insights & Analytics where he created a robust consumer insights offering to bolster that agency's targeting and communications planning process. In 1995, Haggerty joined Carat working in their Hamburg, Germany office, and then moved to MediaVest's London offices to work in their international strategy department. In 2000 he moved to NYC with Mediavest as VP, Director of Consumer Insights.

A veteran strategist and researcher in the advertising and media industry, Haggerty has been lauded by client and agencies alike with "Innovation in Marketing" from Kraft Foods and "The Innovation Award" from MediaVest Worldwide. He holds a BA in Germanic studies from Boston College and resides in New York City.

BioJamie Dyckes
Senior Director of Revenue and Product Marketing
DIRECTV


Jamie Dyckes is currently responsible for the revenue and marketing on a number of products including HBO, Cinemax, Starz, Showtime, Sports Pack and HD Extra Pack. He oversees a team that manages the marketing for base package upgrades and the retention of key revenue products. He is also strategically involved in various legacy hardware initiatives, the DIRECTV Protection Plans and Packaging & Pricing of DIRECTV products and services. In late 2012, his team oversaw the Viggle product deployment to the DIRECTV customer base.

Prior to his current revenue responsibilities at DIRECTV, Dyckes oversaw sports subscription revenue for MLB Extra Innings, NHL Center Ice, NBA League Pass, various NCAA football and basketball packages, and NASCAR HotPass. Before joining the revenue department, Dyckes spent several years on the Proactive Retention Marketing team managing the DIRECTV Movers program, DVR initiatives, and other programs designed to retain customers on the platform.

A veteran strategist and marketer in the sports and television industry, Dyckes was recently named MVP of the DIRECTV Sales and Marketing organization. He holds a BA in History and Political Science from Marquette University. He earned a MS in Sports Management and Marketing from Indiana University. He resides in Orange County and is married with two children.

BioKimber Myers
Senior Director of Partnerships
GetGlue


Kimber Myers is the Senior Director of Partnerships at GetGlue, a social TV leader that offers a personalized guide for TV, movies and sports, to help users discover what to watch. She manages relationships with major companies in TV and film, including FOX, ABC, NBC, USA, HBO, Showtime, 20th Century Fox, Universal Pictures, Warner Bros., and Sony Pictures. GetGlue users check-in and share what they are watching with friends, discover content around their favorite shows and unlock rewards from partners. Kimber has created fan-centric sticker packages for Glee, the Oscars, the Golden Globes, and more. Before joining GetGlue, she worked in film/TV coverage and publishing. Kimber continues to write for indieWIRE's hosted blog The Playlist. She attended Miami University of Ohio before making the move to NYC where she focused on, and continues to pursue, work in entertainment.

Moderator:
Amy Maclean
Editor
CableFAX

Return to top
The live audio is delivered to your location over the telephone or your computer speakers. The Power-Point presentations are presented over the Internet and are available to print out before the program. This is like a talk-radio program with visuals on the Web. You and your team will be able to have a live Q&A with all the speakers.

You need Real Player 10, Adobe Flash Player 9 or Windows Media Player 9 installed on your computer. If you do not have either, please follow the instructions below to download and install them. Or if you prefer, a phone for the audio and an Internet connection to let you watch the slides and other information on the Web will suffice. No other downloads or special hardware - a dial-up connection will work fine.
One (1) set of materials (you may make copies for all of the persons you invited to listen to the program);

One (1) toll-free connection to the seminar (if you select the audio connection.), and

One (1) Internet connection to the seminar.

*You can now view this Webinar on your iPad, iPhone or Droid!
For the audio connection: For the audio connection: A computer with Adobe Flash Player 9.0.28+ or Windows Media Player 10+ or an HTML 5 enabled browser (iPad / iOS / Safari browser only) installed. When you log into the webinar, your computer will be taken through a brief configuration check and will let you know if you're missing any software.
PC: Pentium 4 - 1.3 Ghz or equivalent or better

Operating system: Windows 7, Windows Vista, Windows XP SP3, Apple Mac OS X Snow Leopard, Apple iOS 4.2+ for iPad / iPhone. Mac, Android 2.2+ and Linux audiences may view the presentation using a supported Web browser and Adobe Flash player.

Browser: For optimal viewing experience, we recommend using Internet Explorer 7.0 or higher. Mac OS X must be used in combination w/ a supported Firefox browser and Adobe Flash Player. Most versions of Linux OS will work in combination w/ a supported Firefox browser and Adobe Flash Player.

Internet connection: High speed Cable / Fiber / DSL, Corporate LAN, High speed Wireless LAN / 4G.

Display set at 1024 x 768
Mac users are encouraged to use Firefox 3.6 (or later) with and Adobe Flash Player to view the webcast. You can also test your system using the system test button in menu on the left hand side.

Player Downloads

If using Microsoft Windows Media Player, Version 10 or later is required.
Download a supported Microsoft Windows Media Player

If using Adobe Flash Player, Version 9.0.28 or later is required.
Download a supported Adobe Flash Player

If using RealPlayer, Version 10 or later is required.
Download a supported RealPlayer

($379 per site - CDs available for purchase)
Each registration comes with access to the archived version of the program, the materials provided by the speakers and a personalized certificate of completion for attending the Webinar. For questions regarding this Webinar, contact Saun Sayamongkhun at saun@accessintel.com; 301-354-1694.

If you are having any technical difficulties or need assistance meeting these requirements, please contact our Technical Support Center at 1-866-709-8255 or click here.