Sign up for The Skinny from CableFAX - Free Weekly Eletter
Awards --
Call for Entries & Events:

CableFAX Most Powerful Women & Most Influential Minorities in Cable
Deadline: May 17
Free to Nominate

CableFAX Program Awards
Call for Entries: June 21
Enter today!

CableFAXIES & Sales Executive of the Year Awards Breakfast
June 24
Register today!

Complete List of Events

Webinars:

Vine, Viggle, GetGlue:
Leveraging the Newest Social Media Apps to Drive Engagement and Brand Awareness
On-Demand

Capitalizing on Cloud Management and Navigation

Video On Demand Next Practices: Capitalizing on the Latest Innovations
On Demand

Killer Cable Apps: Using Online Games and Apps to Drive Consumer Engagement
On Demand


---
---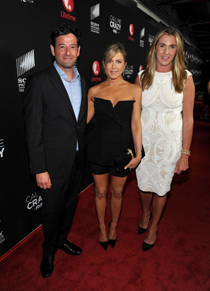 CALL ME CRAZY. On April 16, 2013, Lifetime and Sony Pictures Television held a premiere event for the Lifetime Original Movie "CALL Me Crazy: A Five Film" at the Pacific Design Center in Los Angeles. L to R: Rob Sharenow, evp, Programming, Lifetime Networks; Jennifer Aniston, Executive Producer of "Call Me Crazy"; and Nancy Dubuc, pres, Entertainment and Media, A+E Nets. Debuts April 20, 8pm. Photo by John Shearer/Invision for Lifetime/AP Images.


Monetizing Social TV:
Bolstering Returns in Real Time
Wednesday, March 28, 2012
1:30 - 3:00 p.m. ET



($339/location
Each registration comes with access to the archived version of the program, the materials provided by the speakers.
The jury is in. Linear television officially has a social life, and a robust one at that. Viewers are simultaneously tuning in to their favorite shows and turning on their social networking medium of choice--without dropping out of either platform. Maybe it's time to focus on how you can bolster ratings, viewer engagement and profits during live viewing on the biggest screen in the home. Is your content optimized for dual-screen viewing or still stuck in a silo? What are the best ways to generate buzz for your brand across multiple screens in real time? This webinar will address why the live viewing experience is a powerful nexus for content delivered through mobile devices, iPad and tablet apps and even the TV widget itself.
Join us to gain valuable perspectives on:
Optimize your content for social consumption
Identify which programming is most likely to generate buzz on Twitter, Facebook, Google+ and LinkedIn
Generate viewer stickiness via cross-platform outreach
Assess the current tools available to create the optimal second-screen experience
Determine how to layer content with interactive opportunities without compromising the core linear experience
Monetize new and existing advertising integrations across multiple media outlets
Measure the ROI of your social programming efforts
And much, much more.
In addition, a 10-to-15 minute period has been reserved at the end of speakers' presentations for an interactive Q&A session designed for discussion of specific issues and to gain additional knowledge about the topics discussed.
Return to top
Bio Rahul Aggarwal
CEO
Arktan


Rahul Aggarwal is the CEO and Co-Founder of Arktan, a Silicon Valley company, pioneering Social TV, Music, Sports and Social Brand products being used by leading brands to build interactive social experiences for their users and increase revenue. Rahul has steered Arktan as it has innovated and deployed technology that enables UMG, NBC, Discovery, Washington Post and other brands to extend real-time Social Web curated content and conversation to their sites and apps.

Prior to Arktan, Rahul was a Distinguished Engineer at Juniper Networks where he innovated and drove the adoption of Internet routing products, technologies and standards across the industry. He is the author of over 25 Internet drafts and RFCs and holds over 20 patents. He received his B.S. from Indian Institute of Technology, Roorkee and M.S. from University of Minnesota.

Bio Jennifer Kavanagh
Senior Vice President
Digital, Oxygen Media


As Senior Vice President of Digital, Jennifer Kavanagh is responsible for innovating and leading Oxygen's digital initiatives on all existing and emerging platforms. Well versed in the online space for 15 years, Kavanagh joined Oxygen in 2006. Under her leadership, Oxygen.com has experienced rapid multi-platform growth. Most recently, Kavanagh was added to CableFAX Magazine's 2011 Hot List and honored in their 2010 Most Powerful Women in Cable issue as one of the Top Women in Cable as well as Cable Technology.

Kavanagh currently oversees Oxygen's suite of digital assets including Oxygen.com and the wildly successful OxygenLive.com, recently the recipient of a 2010 Media Vanguard Award. OxygenLive is the first two-screen experience in which fans can socialize, interact and react with Oxygen talent during every episode in real time. This socially driven viewing party allows fans to log in using their Facebook or Twitter accounts to join the party at OxygenLive.com or via the app which is available on iOS and Android devices.

Following the launch of OxygenLive.com in 2009, Oxygen brought social TV to the next level launching OxygenLive TV. This experience closed the loop on co-viewing by bringing the real time viewing conversation back the screen. Select superfans were featured on screen accompanied by their avatar and Facebook or Twitter comments.

Kavanagh has brokered high-profile partnerships with innovative digital companies like Shazam, GroupMe, Broadcastr and GetGlue. She has spoken on several social media and strategic relationship panels at Digital Hollywood, Media Summit NY and the 2010 CMO Spotlight Forum, to name a few.

Kavanagh is also responsible for optimizing digital opportunities for advertisers as part of Oxygen's 360 offerings. These opportunities leverage the power of digital platforms to deliver groundbreaking, high performance campaigns. .

Bio Jeff Weber
Vice President, Video Products
AT&T


Jeffrey G. Weber, AT&T Vice President, Video Products, is responsible for AT&T U-verseSM services, the company's initiative to deliver integrated TV, Internet and voice services over its expanded fiber network. AT&T expects to pass approximately 30 million living units by the end of 2011 as part of its initial network deployment, using fiber-to-the-node (FTTN) and fiber-to-the-premises (FTTP) technologies.

Mr. Weber is responsible for product development and strategy, including AT&T U-verse TV, U-verse Mobile, and U-verse Online multi-screen programming, interactive apps and integration across TV, smartphone, PC, and tablet devices. His team oversees U-verse TV and video product management, implementation, business development and subscriber growth.

Mr. Weber joined SBC in 1986 and has held a number of positions, including roles in IT, sales, strategy, network operations and marketing, while working on local, long distance, data, wireless, and entertainment services.

Mr. Weber is a native of Norman, Okla. He received a MIS degree from the University of Oklahoma and an MBA from Northwestern University, Kellogg School of Management.

Mr. Weber and his wife, Lesa, have two children, Allie and Parker.

Bio Gayle Weiswasser
Vice President, Social Media
Discovery Communications


Gayle Weiswasser is the Vice President of Social Media at Discovery Communications, where she oversees social media communications strategy for Discovery and its networks and corporate initiatives. This includes managing the networks' Facebook, Twitter, and Google+ strategy and implementation, as well as partnerships with social TV services, on-air social media integration, social media monitoring, and emerging platforms.

Prior to her position at Discovery, Gayle worked at Arlington-based crisis communications firm TMG strategies, where she advised Fortune 500 companies on using social media during times of crisis. She has a law degree from Harvard Law School, and formerly practiced both intellectual property and transactional law in Washington DC and San Francisco.

Moderator:
Michael Grebb
Executive Editor
CableFAX
Cable and marketing executives in the following areas:
Advertising
Marketing
Media Buying
Media Planning
Business Development
Management
Social Media
Branding
Products Launches
Financial Management
Communications
Research
The live audio is delivered to your location over the telephone or your computer speakers. The Power-Point presentations are presented over the Internet and are available to print out before the program. This is like a talk-radio program with visuals on the Web. You and your team will be able to have a live Q&A with all the speakers.

You need Real Player or Windows Media Player installed on your computer. If you do not have either, please follow the instructions below to download and install them. Or if you prefer, a phone for the audio and an Internet connection to let you watch the slides and other information on the Web will suffice. No other downloads or special hardware - a dial-up connection will work fine.
One (1) set of materials (you may make copies for all of the persons you invited to listen to the program);
One (1) toll-free connection to the seminar (if you select the audio connection.), and
One (1) Internet connection to the seminar.
Use speakers on your computer or speakerphone on your telephone and invite your entire staff to attend for one low price of $339.00 USD per site.
For the audio connection:
A computer with Real Player or Windows Media Player installed. When you log into the Virtual Seminar, your computer will be taken through a brief configuration check and will let you know if you're missing any software.
If you do not have Real or Windows, a touch-tone telephone will work also. It works best to use a speakerphone so that others can listen too.
For the Internet connection:
PC: 166Mhz Pentium-based PC or better
Operating system: Windows 95, 98, NT, 2000, XP
Browser: For optimal viewing experience, we recommend using Internet Explorer 6.0 or higher. However, any version of IE 4.0 or higher will work. For Netscape, only versions 4.x are supported at this time.
Internet connection: 28.8 or faster connection
Display set at 1024 x 768 or 800 x 600
Mac users are encouraged to use Firefox 2.0 (or later) with Real Player to view the webcast. You can also test your system using the system test button in menu on the left hand side.
Player Downloads
If using Microsoft Windows Media Player, Version 6.4 or later is required.
Download a supported Microsoft Windows Media Player
If using RealPlayer, Version 7.0 or later is required.
Download a supported RealPlayer
If you are having any technical difficulties or need assistance meeting these requirements, please contact our Technical Support Center at 1-866-709-8255 or click here.

For questions regarding this webinar, contact Barbara Bauer at bbauer@accessintel.com.

*CableFAX does not offer any refunds for the webinar. All sales are final.





For sponsorship opportunities contact: Debbie Vodenos at dvodenos@accessintel.com or Amy Abbey at aabbey@accessintel.com

Each registration comes with access to the archived version of the program, the materials provided by the speakers and a personalized certificate of completion for attending the webinar.
About CableFAX:
CableFAX is the most trusted brand in the industry, providing cable executives with the most original, comprehensive and insightful overview of the latest industry news and strategic initiatives. CableFAX offerings include a wide range of resources for cable professionals, including CableFAX Daily, CableFAX: The Magazine, award programs, webinars, and networking events. For more information, visit www.CableFAX.com.