CableFAX Contest - Describe the cable industry in 5 words for a chance to win a $50 Amazon gift card!
Sign up for The Skinny from CableFAX - Free Weekly Eletter
Awards --
Call for Entries & Events:

CableFAX's Most Powerful Women in Cable Breakfast
November 21 - NYC
Photos from the Event

CableFAX's Best of the Web & Digital Marketing Awards
Deadline: December 6
Enter Today!

Webinars:

Establish Cable PR and Brand Leadership with Content Marketing
December 17
Register Now!

Selling TV Everywhere: Marketing and PR Strategies to Drive TVE Awareness
On-Demand

---
---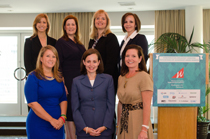 A TOUCH OF LEADERSHIP: At the PowerBrokers Breakfast of the WICT Washington, DC/Baltimore Chapter in Washington, DC on October 29, Touchstones of Leadership Award Honorees, were (top row, L-R) Discovery Comm's Catherine Frymark, Scripps Nets' Suzanne Underwald, Comcast's Samantha Callahan, TWC's Becky Bobzien-Simms, (bottom row, L-R) Travel Channel's Meghan Rodgers, the FCC's Michelle Carey & NBCU's Meredith Attwell Baker.




CableFAX Webinar On-Demand:
Pinterest and Cable: Capitalizing on
a Social Media Phenom
Presented: Wednesday, June 27


Price: $339

Pinterest and Cable: Capitalizing on a Social Media Phenom
A year ago, few had even heard of it. Now, Pinterest is one of the fastest growing social media platforms out there as cable companies work to integrate it into their marketing and outreach efforts. The good news is that cable is already ahead of the game. Some cable networks and shows are already using the picture-pinning social experience to increase viewer loyalty and engagement. And even cable operators are looking toward the platform to help bind ties with subscribers.
So how do you take advantage of this rising ecosystem within the social media landscape? How does Pinterest fit into your overall marketing and social media matrix? And, how can Pinterest help you improve the bottom line? Get answers to these questions and more with guidance on how to profit from Pinterest.
Listen to this presentation to learn:
The basics on Pinterest: What it is and how to set it up
Ways your audience uses Pinterest—and how you can reach it
How this platform is evolving in terms of features and audience—and how that affects you
Strategies to build stories and followers on Pinterest
How to leverage your existing social platforms to build followers on Pinterest
And much, much more.
In addition, a 10-to-15 minute period has been reserved at the end of speakers' presentations for an interactive Q&A session designed for discussion of specific issues and to gain additional knowledge about the topics discussed.
Return to top
BioShelly Kurtz
Executive Director of Affiliate Sales & Marketing
International Media Distribution



Shelly joined the company in 2000 as a Community Marketing Manager. Currently, Shelly leads the planning, strategy and execution of B2B and B2C marketing nationwide for a portfolio of over 30 international television channels targeting Asian, European and Middle Eastern consumers in North America. A native of Vancouver, Washington, Shelly graduated cum laude from Pacific Lutheran University with a degree in Communication and a minor in Spanish. She spends her spare time traveling internationally, volunteering, learning Mandarin Chinese with her 3-year old, looking for misplaced sticky notes and planning her retirement in Argentina. She is married and lives in Seattle with her husband Nate and her daughter Gabrielle.

BioAdam Naide
Executive Director of Social Media
Cox Communications



Prior to joining Cox, Naide served as senior director of audience experience at CNN Worldwide. In this role, Naide led network efforts to build engaged fan bases for CNN/HLN shows and talent on social media platforms. His efforts helped create two-way conversations with consumers, driving viewership for CNN/HLN TV, and growing the networks' social media audience to millions of fans/followers.

Naide also led Time Warner to create a unique bullying prevention partnership between CNN/Cartoon Network/Time and Facebook, culminating in the development of an anti-bullying Facebook application and an upcoming CNN town hall hosted by Anderson Cooper.

Naide has served in multiple marketing roles within the cable and telecommunications industry, including relationship marketing and ad sales for Turner's video game network, GameTap, strategic pricing at Bellsouth, and customer experience and loyalty marketing at EarthLink.Naide also spent four years at Cox's former direct-to-home satellite venture, PrimeStar, earlier in his career.

Adam holds a bachelor's degree from Emory University and an MBA from the University of Georgia. He lives in Alpharetta, Ga., with his wife, Karen, and two children.

BioAndrea Bell Macey
Vice President
Digital Media & Business Development
WE tv


Andrea Bell Macey is the vice president of digital media and business development for WE tv. In this role, Ms. Macey oversees the day-to-day implementation of the networks' advanced platform strategies and explores new business opportunities, such as licensing, merchandising, partnerships and strategic acquisitions. She also crafts digital promotions utilizing WE tv's original programming and talent to create value-added opportunities for distribution and advertising partners; oversees broadband video development and distribution; and identifies video on demand, mobile and iTV applications for the network.

Ms. Macey has played a central role in the strategic planning and development efforts that have led to the significant growth of WE tv's digital operations. Ms. Macey spearheaded the design, development and launch of GuySpeak.com, an online interactive forum for women to have their most fascinating questions about the opposite sex answered by real men. In 2008, Ms. Macey was a key contributor to the redesign of WEtv.com, resulting in a significant traffic increase over 2007. Central to the site's rebuild was a strategy shift - moving from a promotional site to a fully interactive community, which includes social media, original web series, expert bloggers, and increased video content. The site saw double digit increases in traffic, page views and video views following the strategy shift and rebuild.

Previously, Ms. Macey was the director of multi-platform content where she oversaw the development and maintenance of the digital properties for WE tv, including content, branding, advertiser integration, design and online marketing in an effort to drive online traffic and revenue.

Prior to joining WE tv in 2006, Ms. Macey was manager of community marketing at Fox News Channel. During her eight year tenure there, she oversaw the content and development of the FOX Fan section of FOXNews.com. She also oversaw the online content for shows, including the network program "Geraldo at Large," and "The Tony Snow Show" and "The Alan Colmes Show" radio programs. Previous positions at FNC included community producer and project coordinator of advertising and promotion. Earlier in her career, Ms. Macey served as programming operations coordinator for WLIW21/Program Resources Group and as a trainer for Borders Books and Music.

Ms. Macey earned her Bachelor of Arts degree in communication from the State University of New York at Albany. She is a member of Cable & Telecommunications Association for Marketing (CTAM) and Women in Cable Telecommunications (WICT), as well as a WICT Betsy Magness Leadership Institute Fellow. Ms. Macey's work has earned both silver and bronze PROMAX Awards, CableFax Best of the Web Awards, a CableFax Program Award, two bronze Mark Awards, and a W3 Web Creativity Award. Additionally, in 2010, she was named to the Multichannel News annual "40 Under 40" list.

BioJillian St. Charles
Vice President, HGTV.com & HGTVGardens.com
Scripps Networks Interactive


Jillian St. Charles serves as vice president of Scripps Networks Interactive's HGTV.com, the No. 1 shelter site online, and the brand's recently-launched gardening site, HGTVGardens.com. In this role, she is responsible for the strategic direction and day-to-day operations of both sites, overseeing editorial programming (video, text and photography), entertainment convergence with the network, tool and application integration, and development of sponsorship opportunities.

St. Charles began her career with CNN in Atlanta, where she produced one of the network's highest-rated and longest-running shows, TalkBack Live. She received an Emmy Award for the network's coverage of the events of September 11. Most recently, she was online director of RedBookMag.com, where she had digital oversight of one of Hearst Magazines' oldest and most well-known brands. St. Charles has also held programming positions with AOL, developing editorial vision for some of the industry's highest-trafficked women/lifestyle web areas.

St. Charles is a graduate of Northern Kentucky University with a bachelor's degree in journalism and English.

BioAmy Maclean
Editor-in-Chief,
CableFAX Daily


Amy is responsible for the day-to-day editorial operations of CableFAX and contributes her DC expertise to CableFAX: The Magazine. Before joining Access Intelligence in 2000, she was a reporter in the Atlanta and Montgomery, AL, bureaus of the Associated Press, covering politics, education and a variety of other issues. Her articles appeared in papers across the country and sometimes the world. A graduate of the University of Georgia, Amy has written for The Atlanta Journal-Constitution and Macon (GA) Telegraph.
Cable and marketing executives in the following areas:
Advertising
Marketing
Media Buying
Media Planning
Business Development
Management
Social Media
Branding
Products Launches
Financial Management
Communications
Research
The live audio is delivered to your location over the telephone or your computer speakers. The Power-Point presentations are presented over the Internet and are available to print out before the program. This is like a talk-radio program with visuals on the Web. You and your team will be able to have a live Q&A with all the speakers.

You need Real Player or Windows Media Player installed on your computer. If you do not have either, please follow the instructions below to download and install them. Or if you prefer, a phone for the audio and an Internet connection to let you watch the slides and other information on the Web will suffice. No other downloads or special hardware - a dial-up connection will work fine.
One (1) set of materials (you may make copies for all of the persons you invited to listen to the program);
One (1) toll-free connection to the seminar (if you select the audio connection.), and
One (1) Internet connection to the seminar.
Use speakers on your computer or speakerphone on your telephone and invite your entire staff to attend for one low price of $339.00 USD per site.
For the audio connection:
A computer with Real Player or Windows Media Player installed. When you log into the Virtual Seminar, your computer will be taken through a brief configuration check and will let you know if you're missing any software.
If you do not have Real or Windows, a touch-tone telephone will work also. It works best to use a speakerphone so that others can listen too.
For the Internet connection:
PC: 166Mhz Pentium-based PC or better
Operating system: Windows 95, 98, NT, 2000, XP
Browser: For optimal viewing experience, we recommend using Internet Explorer 6.0 or higher. However, any version of IE 4.0 or higher will work. For Netscape, only versions 4.x are supported at this time.
Internet connection: 28.8 or faster connection
Display set at 1024 x 768 or 800 x 600
Mac users are encouraged to use Firefox 2.0 (or later) with Real Player to view the webcast. You can also test your system using the system test button in menu on the left hand side.
Player Downloads
If using Microsoft Windows Media Player, Version 6.4 or later is required.
Download a supported Microsoft Windows Media Player
If using RealPlayer, Version 7.0 or later is required.
Download a supported RealPlayer
If you are having any technical difficulties or need assistance meeting these requirements, please contact our Technical Support Center at 1-866-709-8255 or click here.

For content questions regarding this webinar, contact Marly Zimmerman at mzimmerman@accessintel.com.

*CableFAX does not offer any refunds for the webinar. All sales are final.





For sponsorship opportunities contact: Debbie Vodenos at
dvodenos@accessintel.com or Amy Abbey at aabbey@accessintel.com
Each registration comes with access to the archived version of the program, the materials provided by the speakers and a personalized certificate of completion for attending the Webinar.
About CableFAX:
CableFAX is the most trusted brand in the industry, providing cable executives with the most original, comprehensive and insightful overview of the latest industry news and strategic initiatives. CableFAX offerings include a wide range of resources for cable professionals, including CableFAX Daily, CableFAX: The Magazine, award programs, Webinars, networking events and workshops. For more information, visit www.CableFAX.com.

Return to top