Sign up for The Skinny from CableFAX - Free Weekly Eletter
Awards --
Call for Entries & Events:

CableFAX Most Powerful Women & Most Influential Minorities in Cable
Deadline: May 17
Free to Nominate

CableFAX Program Awards
Call for Entries: June 21
Enter today!

CableFAXIES & Sales Executive of the Year Awards Breakfast
June 24
Register today!

Complete List of Events

Webinars:

Vine, Viggle, GetGlue:
Leveraging the Newest Social Media Apps to Drive Engagement and Brand Awareness
On-Demand

Capitalizing on Cloud Management and Navigation

Video On Demand Next Practices: Capitalizing on the Latest Innovations
On Demand

Killer Cable Apps: Using Online Games and Apps to Drive Consumer Engagement
On Demand


---
---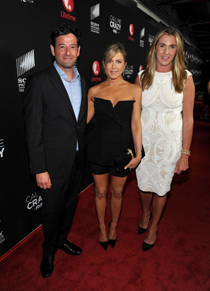 CALL ME CRAZY. On April 16, 2013, Lifetime and Sony Pictures Television held a premiere event for the Lifetime Original Movie "CALL Me Crazy: A Five Film" at the Pacific Design Center in Los Angeles. L to R: Rob Sharenow, evp, Programming, Lifetime Networks; Jennifer Aniston, Executive Producer of "Call Me Crazy"; and Nancy Dubuc, pres, Entertainment and Media, A+E Nets. Debuts April 20, 8pm. Photo by John Shearer/Invision for Lifetime/AP Images.


CableFAX Webinar:
Monetizing Alternative Platforms: The Evolution of Advanced Advertising
View ON Demand



($329/location - CDs available for purchase.)
Each registration comes with access to the archived version of the program, the materials provided by the speakers.
As cable operators and programmers push authentication in online and mobile environments, the next question becomes how to monetize those alternative platforms. Advertising offers a promising near-term solution, but the landscape is endlessly complicated. Evolving metrics. Questions over ad length and frequency. And, of course, confusion over video formats and submission guidelines.
But things are changing. Nielsen recently endorsed ANA and 4As' Ad-ID platform to make it easier for ad pods to flow easily between platforms. Cable operators are innovating with iPad apps and other authenticated features. And ad deals are getting more focused on platform integration. So as this year's upfront draws to a close, join us in an informative Webinar to tackle these and related issues.
In this Webinar, you will learn:
The latest ad innovations helping to bring in new revenue streams.
Exactly how Ad-ID works and how it streamlines the selling process to maximize effectiveness and revenue.
Specific steps cable operators and programmers can take to find interested brands and agencies.
New ideas and techniques from case studies and examples in the industry.
The best near-term and long-term strategies to take full advantage of advertising model changes.
Return to top
Bio Harold Geller
SVP, Cross Industry Workflow
4A's

Harold S Geller is Senior Vice President, Cross Industry Workflow, 4A's and Managing Director, Ad-ID LLC— The Industry Standard for Coding Digital Advertising Assets, a joint venture of the 4A's and the Association of National Advertisers (ANA).

Harold is a member of the boards of the Advanced Media Workflow Association (AMWA), focused on the creation of timely, innovated business driven specifications and technologies for networked media workflows, and the Picture Licensing Universal System (PLUS) Coalition—a non-profit initiative on a mission to simplify and facilitate the communication and management of image rights.

Harold speaks and writes extensively regarding digital workflow and metadata in advertising and media and is the co-author of two white papers. The first, "Content ID - The Elephant in the Room", discusses various content identification standards, their uses, and history while the second, "Are Fully Digital Workflows a Pipedream", looks at the issues related to system and process integration in the media / communications supply chain.

Harold's advertising career spans nearly 30 years, in the United States and Canada. He has worked in media buying/planning, account management, financial, and technology roles at MindShare, Ogilvy & Mather, and McCann Erickson, and the defunct Ted Bates and Foster Advertising.

Harold is a graduate of radio and television broadcasting from Seneca College (Toronto, Ontario, Canada).

Bio Bill Rosolie
EVP, National Ad Sales
Rainbow Advertising Sales Corporation

As executive vice president of national ad sales, Bill Rosolie directs the growing digital advertising sales effort for Rainbow Media's national networks – AMC, IFC, Sundance Channel, WE tv and Wedding Central, as well as direct response. He is charged with developing ad revenue opportunities for VOD, as well as maximizing revenue opportunities with emerging initiatives such as Canoe. Rosolie was named to the post in 2010.

Rosolie is highly-regarded in the advertising industry with a proven track record of success and revenue growth. Most recently, he served as executive vice president of advertising sales for AMC. Under Rosolie's direction, AMC increased its advertising revenue 71% and he helped position AMC as a premium cable network led by high quality originals. He joined Rainbow in 2005 as senior vice president of ad sales for fuse. Under his leadership, fuse's ad sales revenue increased 45% in less than two years, largely due to the customized multi-platform strategies.

Prior to joining fuse, Rosolie was senior vice president, director of advertising sales for the TV Guide Television Group, responsible for managing sales, ad marketing, research and operations teams for TV Guide Channel and TV Guide Interactive. He joined the TV Guide Network Advertising Sales group in 1998 and quickly moved to vice president of ad sales where he was instrumental in driving revenues for TV Guide Channel and TV Guide Interactive. Under Rosolie's direction, ad sales revenue for the channel nearly doubled in four years.

Before TV Guide, Rosolie was at The Weather Channel where, over a three-year period, he became the top-billing account executive, breaking major advertisers. He also spent seven years with Westwood One Radio Networks. As executive vice president, director of sales, Rosolie managed the sales department for the Westwood One, Mutual and NBC Radio Networks, comprised of more than 30 nationally syndicated programs including "In Concert," "MTV Unplugged" and "Larry King Live," and live concert events including Paul McCartney and U2.

Rosolie earned his Master of Business Administration degree from Pace University and is a member of the Cable & Telecommunications Association for Marketing (CTAM), Advertising Women of New York (AWNY), Online Publishers Association (OPA) and the Interactive Advertising Bureau (IAB).

Bio

Andrea Redniss
Managing Director, Digital
Media Storm

As Managing Director, Digital, Andrea Redniss runs the agency's digital department and is also responsible for leading Media Storm's strategic integration capabilities with a specific focus on the Multi-platform landscape.
Prior to joining Media Storm, Ms. Redniss served as SVP, Managing Director, Digital at Optimedia, a Publicis Groupe company, where she oversaw digital media for the U.S. and handled clients such as Google, T-Mobile, Whirlpool and Payless. While at the agency she was credited with helping Optimedia become a digital powerhouse with a significant percent of billings generated from digital.

While at Optimedia she was named as one of Advertising Age's Women to Watch for 2009. She also worked at IPG's ID Media where she built their digital practice with such clients as Purina, SCJ, Nikon and Subaru. While at ID Media Ms. Redniss lead the team that created the first ever 100% digital vehicle launch for Subaru and drove the first ever Client integration into the Flickr service. Her career began in general advertising at Cramer-Krasselt headquartered in Chicago.
Cable and marketing executives in the following areas:
Advertising
Marketing
Media Buying
Media Planning
Business Development
Management
Social Media
Branding
Products Launches
Financial Management
Communications
Research
The live audio is delivered to your location over the telephone or your computer speakers. The Power-Point presentations are presented over the Internet and are available to print out before the program. This is like a talk-radio program with visuals on the Web. You and your team will be able to have a live Q&A with all the speakers.

You need Real Player or Windows Media Player installed on your computer. If you do not have either, please follow the instructions below to download and install them. Or if you prefer, a phone for the audio and an Internet connection to let you watch the slides and other information on the Web will suffice. No other downloads or special hardware - a dial-up connection will work fine.
One (1) set of materials (you may make copies for all of the persons you invited to listen to the program);
One (1) toll-free connection to the seminar (if you select the audio connection.), and
One (1) Internet connection to the seminar.
Use speakers on your computer or speakerphone on your telephone and invite your entire staff to attend for one low price of $329.00 USD per site.
For the audio connection:
A computer with Real Player or Windows Media Player installed. When you log into the Virtual Seminar, your computer will be taken through a brief configuration check and will let you know if you're missing any software.
If you do not have Real or Windows, a touch-tone telephone will work also. It works best to use a speakerphone so that others can listen too.
For the Internet connection:
PC: 166Mhz Pentium-based PC or better
Operating system: Windows 95, 98, NT, 2000, XP
Browser: For optimal viewing experience, we recommend using Internet Explorer 6.0 or higher. However, any version of IE 4.0 or higher will work. For Netscape, only versions 4.x are supported at this time.
Internet connection: 28.8 or faster connection
Display set at 1024 x 768 or 800 x 600
Mac users are encouraged to use Firefox 2.0 (or later) with Real Player to view the webcast. You can also test your system using the system test button in menu on the left hand side.
Player Downloads
If using Microsoft Windows Media Player, Version 6.4 or later is required.
Download a supported Microsoft Windows Media Player
If using RealPlayer, Version 7.0 or later is required.
Download a supported RealPlayer
If you are having any technical difficulties or need assistance meeting these requirements, please contact our Technical Support Center at 1-866-709-8255 or click here.

For content questions regarding this Webinar, contact Kate Schaeffer at 301-354-2303 or kschaeffer@accessintel.com

*CableFAX does not offer any refunds for the webinar. All sales are final.





For sponsorship opportunities contact: Debbie Vodenos at
dvodenos@accessintel.com or Amy Abbey at aabbey@accessintel.com
Each registration comes with access to the archived version of the program, the materials provided by the speakers and a personalized certificate of completion for attending the Webinar.
About CableFAX:
CableFAX is the most trusted brand in the industry, providing cable executives with the most original, comprehensive and insightful overview of the latest industry news and strategic initiatives. CableFAX offerings include a wide range of resources for cable professionals, including CableFAX Daily, CableFAX: The Magazine, award programs, Webinars, networking events and workshops. For more information, visit www.CableFAX.com.