Sign up for The Skinny from CableFAX - Free Weekly Eletter
Awards --
Call for Entries & Events:

CableFAX Most Powerful Women & Most Influential Minorities in Cable
Deadline: May 17
Free to Nominate

CableFAX Program Awards
Call for Entries: June 21
Enter today!

CableFAXIES & Sales Executive of the Year Awards Breakfast
June 24
Register today!

Complete List of Events

Webinars:

Vine, Viggle, GetGlue:
Leveraging the Newest Social Media Apps to Drive Engagement and Brand Awareness
On-Demand

Capitalizing on Cloud Management and Navigation

Video On Demand Next Practices: Capitalizing on the Latest Innovations
On Demand

Killer Cable Apps: Using Online Games and Apps to Drive Consumer Engagement
On Demand


---
---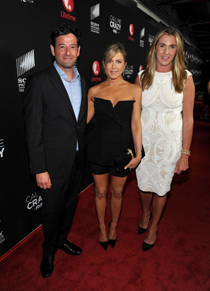 CALL ME CRAZY. On April 16, 2013, Lifetime and Sony Pictures Television held a premiere event for the Lifetime Original Movie "CALL Me Crazy: A Five Film" at the Pacific Design Center in Los Angeles. L to R: Rob Sharenow, evp, Programming, Lifetime Networks; Jennifer Aniston, Executive Producer of "Call Me Crazy"; and Nancy Dubuc, pres, Entertainment and Media, A+E Nets. Debuts April 20, 8pm. Photo by John Shearer/Invision for Lifetime/AP Images.


CableFAX Webinar:
Capitalizing on Cable's Growing Latino Market
Wednesday, April 27
1:30 – 3:00pm ET



($329/location - CDs available for purchase.)
Each registration comes with access to the archived version of the program, the materials provided by the speakers.
The U.S. Census couldn't be more clear: The fastest growing demographic both in numbers and economic power is the Latino population. Join CableFAX as we dissect this trend and what it means for cable in a special Webinar designed to give you the tools you need to reach this growing demographic.
Just-released 2010 Census data found that Hispanics accounted for more than half of U.S. population growth in the last decade. But cable execs often struggle to find the right way to serve the Latino market considering all of its diversity and nuances. How can cable successfully program, package and promote its products to drive business across all segments of the Latino market, recognizing the differences between different sub-groups, economic strata and geographical locations? What do Hispanics truly want from cable—and how can the industry make sure it's delivering the goods better than its competitors, thereby reducing churn and even growing its subscriber base?
In this Webinar, you will learn:
Insights and intelligence about the Latino demographic.
Content strategies that address this important and growing consumer segment.
Mistakes marketers often make when trying to reach the Latino market.
How to tap into the vast potential of Latino-focused content and services.
The similarities and differences between how Latinos approach cable compared with other demos.
Future trends to watch as Latino population growth continues in the U.S.
Return to top
Bio Marisol Martinez de Rodriguez
Senior Director of Target Marketing
Time Warner Cable

Marisol Martinez de Rodriguez is Corporate Hispanic and African-American Director of Marketing for Time Warner Cable's corporate marketing communications group. Named to this position in 2008, Ms. Martinez de Rodriguez oversees corporate brand and competitive advertising, Video On Demand, sports marketing, interactive marketing, loyalty programs and promotions for the Hispanic and African-American markets.

She is also responsible for building a multicultural marketing center of excellence by providing leadership and strategic thinking to measure the Hispanic segment growth, and quantifying its impact and investment across the Time Warner Cable footprint. Ms. Martinez de Rodriguez led her team to win two Telly awards in 2011 for the company's Hispanic brand campaign and is a passionate believer in marketing to this key demographic, while raising awareness of the revenue potential of this expanding segment of the U.S. population.

Ms. Martinez de Rodriguez has more than 14 years of experience in integrated marketing communications at major corporations and multi-cultural advertising agencies. Before joining Time Warner Cable, she held marketing positions at Unilever and Verizon Communications. At Unilever, Ms. Martinez de Rodriguez worked in brand management, leading the strategic planning and execution of Unilever's multi-brand Hispanic marketing campaigns for Dove, Suave, Degree, Pond's and Caress. Her accomplishments at Unilever also included doubling the multi-brand platform's ROI from previous years.

At Verizon, she managed a wide range of acquisition, retention and philanthropy corporate marketing programs aimed at increasing revenue and penetrating Verizon's voice, data and video products in the general market and in multi-cultural segments. She is most proud of the milestone initiatives that launched Verizon's first international city rate plan and DSL products into the Hispanic Market, in addition to the goodwill programs the company generated by providing educational and technological resources to schools in underserved neighborhoods.

Prior to joining the corporate world, she was responsible for leading ad programs for several consumer packaged goods brands, entertainment and cable products while at Grey Worldwide/Wing Latino Group.

Raised in "The Heights" in New York City, Ms. Martinez de Rodriguez holds a bachelor of science degree in marketing and computer information systems from Manhattan College. She received a Master's in strategic communications from Columbia University.

Philanthropy programs are extremely important to Ms. Martinez de Rodriguez and her civic activities include volunteering for initiatives that give back to her community.

Time Warner Cable, the second-largest cable operator in the U.S., serves more than 14 million subscribers in 28 states, and delivers a broad range of video, voice and high-speed data services to residential and commercial customers.

Bio Roberto Perez
Director of Hispanic Marketing
Comcast Cable

Roberto Perez is the Director of Hispanic Marketing for Comcast Cable. In this capacity, Perez is responsible for developing and executing marketing initiatives aimed at attracting and retaining Hispanic customers, creating an end-to-end experience as well maximizing all internal sales channels and partner relationships to create products and programming that resonate with and better serve this audience.

Perez also oversees Comcast's On Demand platform En Español and is charged with assuring that the quality and quantity of content is above the industry standard; he also provides marketing strategy for xfinityTV.com/latinoTV, the company's Spanish language online entertainment portal.

Prior to joining Comcast in 2010, Perez served as the Manager of Multicultural Strategy for Cox Communications. While there, he was in charge of developing products and messaging designed to engage the multicultural market, and more specifically the Hispanic community.

Previously, he was the Project Manager for The Mexican-American Business Chamber in Atlanta, where he developed marketing and advertising strategies for its members, as well as managed their community learning center which offered coaching, mentoring, online training and certification programs.

Perez received a Bachelor's of Science degree in Industrial Engineering from Universidad Católica Andrés Bello in Caracas, Venezuela and a Master's Degree in Business Administration from Oglethorpe University in Atlanta, Georgia.

Bio

Diana Mogollon
GM
mun2

Diana Mogollón was named general manager, mun2, in July 2010. As general manager, Mogollón focuses on developing and driving overall mun2 Television strategy and providing operational leadership across the business. In collaboration with the organization's senior management, she is responsible for identifying opportunities for mun2 that will drive ratings, digital traffic and align the organization for future growth. She reports to Jacqueline Hernández, chief operating officer, Telemundo Communications Group.

Mogollón joined mun2 from Telemundo, where she served as vice president, Programming & Marketing for the Telemundo Network West Coast office. In this role, she was the primary Telemundo network executive in Los Angeles collaborating with the network's owned-and-operated station, KVEA, and all of its top departments (sales, promotions, news, community affairs) in maximizing Telemundo's reach and effectiveness in the number one Hispanic market in the U.S. She was instrumental in working across the organization in developing innovative marketing platforms that reach and speak to the network's viewers including the annual music series "Descarga." Mogollon also worked closely with programming and productions in support of all of the company's West Coast productions including "12 Corazones" and "El Grito."

Prior to joining Telemundo, Mogollón served as vice president for Galán Entertainment and was responsible for supervising all aspects of the company's wide-range of production, development, sales, and marketing activities encompassing both the domestic and international Latino markets. In this position, she was responsible for bringing in the company's many productions to U.S. broadcast television (Los Beltran, Viva Vegas, Padre Alberto, The Swan) as well as developing countless movies, series, and reality shows for broadcast and cable networks such as MTV, UPN, HBO, Lifetime, NBC, and Fox.

Before transitioning as vice president of Galán Entertainment, Mogollón served as director of Development overseeing a slate of television and film projects for the Fox-based production and marketing venture lead by Nely Galán.

Mogollón began her career in the entertainment industry at Lifetime Television, working on award-winning original movies, series, and specials as the coordinator in the Original Programming department. In 1994, she joined the team that helped launch Twentieth Century Fox's first cable channel in Latin America, interfacing with major MSO's and affiliates in Mexico, Brazil and Argentina, as the channel quickly became the leading basic cable entertainment channel in the region.

Mogollón was born in Los Angeles to Colombian and Mexican parents and is a graduate of Loyola Marymount University.

Bio

Michael Schwimmer
CEO
Si TV/NuvoTV

As Chief Executive Officer, Michael Schwimmer oversees the burgeoning Sí TV cable network, the first English-language, Latino-themed network in the country. Schwimmer brings deep industry and cultural expertise to the network, which is dedicated to delivering compelling entertainment in a relevant and authentic voice for bi-cultural Latino viewers. He is currently overseeing a re-branding of the network, which will re-launch as nuvoTV on July 4, 2011.

Michael's passion for diversity in media, and the Latino community in particular, can be traced all the way back to his school days in Southern California, where kids from every ethnic and racial background came together in a usually harmonious but sometimes volatile environment.

After teaching himself to speak fluent Spanish by the age of 15, Michael later received his B.A. in Spanish and lived in Spain as a student. Focusing his attention on Latin America after graduating law school, a turn of events led him to Brazil, where he picked up Portuguese and practiced international law from 1988 to 1992. Schwimmer joined EchoStar Communications' nascent DBS satellite business (Dish Network) in 1996. As Executive Vice President of Programming and Marketing, Schwimmer oversaw all marketing initiatives, acquisition and packaging of traditional subscription and pay-per-view video programming, as well as video on demand, advanced interactive TV services, television advertising sales and international programming.

Schwimmer conceived and engineered the launch of the "Dish Latino" programming platform in 1998. Revolutionary at the time, this programming package addressed the underserved Spanish language-dominant Latino audience. Outside the Hispanic arena, Schwimmer also oversaw the importation and U.S. launch of over 100 foreign language television channels from countries around the world for delivery to America's immigrant populations.

In 2003, Schwimmer joined Sí TV's board of directors. He later took the helm of Sí TV in September 2005. Schwimmer believed that - despite meaningful progress having been made towards providing Spanish-dominant Hispanics with more choices in television programming - the very large and growing segment of young Latinos who consume their media in English was being virtually ignored by both the media and advertising community.

Schwimmer raises two bi-cultural and bilingual children with his Brazilian wife of more than 18 years.

Bio

Adriana Waterston
VP, Marketing and Business Development
Horowitz Associates, Inc.

Adriana Waterston is Vice President of Marketing and Business Development at Horowitz Associates, Inc./Surveys Unlimited. In this capacity, she is responsible for client relations, sales, new business development and branding for the renowned research and consulting firm.

Adriana is a recognized expert on the U.S. Hispanic market; she is often quoted in the trade and consumer press and her articles on the topic have been published in various media industry publications including Multichannel News and Sky REPORT. Adriana is often invited to speak at industry events and conferences such as those hosted by AHAA (Association of Hispanic Advertising Agencies), NAMIC (National Association of Multiethnicity in Communications), CTAM (Cable and Telecommunications Association for Marketing), the ARF (the Advertising Research Foundation) the OCTA (Oregon Cable and Telecommunications Association), the Strategic Institute, and the Hispanic Television Summit, among others.

A seasoned quantitative and qualitative market researcher, Adriana handles project management for select clients, and is Senior Project Manager on all multicultural and Latino research. She has particular expertise in ethnographic research, focus group moderation and one-on-one interviewing. Over the years, she has moderated hundreds of groups and conducted in-home ethnographic research on a bevy of topics ranging from media and entertainment consumption, subscription television, Internet and telco services; programming/channel evaluation; category assessments/unmet needs; pricing and packaging; travel; advertising effectiveness; marketing communications effectiveness; customer service satisfaction; lifestyles and family dynamics; and brand/corporate image. A fully bilingual moderator and ethnographer, Adriana has particular expertise with research among Spanish dominant, bilingual and English-oriented Latinos in addition to "general market" consumers.

In 2005, Adriana received a CTAM TAMI award for her work in multicultural marketing, and in 2007, she was included in Cableworld Magazine's "2007's Most Influential Minorities in Cable."

Born in San Juan, Puerto Rico, Adriana brings to Horowitz Associates the extensive experience she gained during her tenure as a retail executive specializing in marketing and merchandising. For eight years, she was Vice President of marketing and public relations for El Imperio Salón, a high-end bridal retailer in San Juan. In this capacity, Adriana was responsible for organizing public affairs events, managing customer relations with high-profile clients and designing and implementing all the marketing campaigns for the company.

Adriana is graduate of Brandeis University in Waltham, MA and the proud mother of a four year-old, Micaela Louise.
Cable and marketing executives in the following areas:
Advertising
Marketing
Media Buying
Media Planning
Business Development
Management
Social Media
Branding
Products Launches
Financial Management
Communications
Research
The live audio is delivered to your location over the telephone or your computer speakers. The Power-Point presentations are presented over the Internet and are available to print out before the program. This is like a talk-radio program with visuals on the Web. You and your team will be able to have a live Q&A with all the speakers.

You need Real Player or Windows Media Player installed on your computer. If you do not have either, please follow the instructions below to download and install them. Or if you prefer, a phone for the audio and an Internet connection to let you watch the slides and other information on the Web will suffice. No other downloads or special hardware - a dial-up connection will work fine.
One (1) set of materials (you may make copies for all of the persons you invited to listen to the program);
One (1) toll-free connection to the seminar (if you select the audio connection.), and
One (1) Internet connection to the seminar.
Use speakers on your computer or speakerphone on your telephone and invite your entire staff to attend for one low price of $329.00 USD per site.
For the audio connection:
A computer with Real Player or Windows Media Player installed. When you log into the Virtual Seminar, your computer will be taken through a brief configuration check and will let you know if you're missing any software.
If you do not have Real or Windows, a touch-tone telephone will work also. It works best to use a speakerphone so that others can listen too.
For the Internet connection:
PC: 166Mhz Pentium-based PC or better
Operating system: Windows 95, 98, NT, 2000, XP
Browser: For optimal viewing experience, we recommend using Internet Explorer 6.0 or higher. However, any version of IE 4.0 or higher will work. For Netscape, only versions 4.x are supported at this time.
Internet connection: 28.8 or faster connection
Display set at 1024 x 768 or 800 x 600
Mac users are encouraged to use Firefox 2.0 (or later) with Real Player to view the webcast. You can also test your system using the system test button in menu on the left hand side.
Player Downloads
If using Microsoft Windows Media Player, Version 6.4 or later is required.
Download a supported Microsoft Windows Media Player
If using RealPlayer, Version 7.0 or later is required.
Download a supported RealPlayer
If you are having any technical difficulties or need assistance meeting these requirements, please contact our Technical Support Center at 1-866-709-8255 or click here.

For content questions regarding this Webinar, contact Kate Schaeffer at 301-354-2303 or kschaeffer@accessintel.com

*CableFAX does not offer any refunds for the webinar. All sales are final.





For sponsorship opportunities contact: Debbie Vodenos at
dvodenos@accessintel.com or Amy Abbey at aabbey@accessintel.com
Each registration comes with access to the archived version of the program, the materials provided by the speakers and a personalized certificate of completion for attending the Webinar.
About CableFAX:
CableFAX is the most trusted brand in the industry, providing cable executives with the most original, comprehensive and insightful overview of the latest industry news and strategic initiatives. CableFAX offerings include a wide range of resources for cable professionals, including CableFAX Daily, CableFAX: The Magazine, award programs, Webinars, networking events and workshops. For more information, visit www.CableFAX.com.