Sign up for The Skinny from CableFAX - Free Weekly Eletter
Awards --
Call for Entries & Events:

CableFAX Most Powerful Women & Most Influential Minorities in Cable
Deadline: May 17
Free to Nominate

CableFAX Program Awards
Call for Entries: June 21
Enter today!

CableFAXIES & Sales Executive of the Year Awards Breakfast
June 24
Register today!

Complete List of Events

Webinars:

Vine, Viggle, GetGlue:
Leveraging the Newest Social Media Apps to Drive Engagement and Brand Awareness
On-Demand

Capitalizing on Cloud Management and Navigation

Video On Demand Next Practices: Capitalizing on the Latest Innovations
On Demand

Killer Cable Apps: Using Online Games and Apps to Drive Consumer Engagement
On Demand


---
---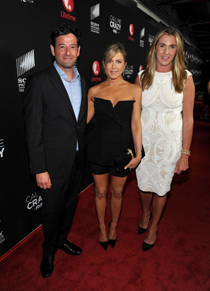 CALL ME CRAZY. On April 16, 2013, Lifetime and Sony Pictures Television held a premiere event for the Lifetime Original Movie "CALL Me Crazy: A Five Film" at the Pacific Design Center in Los Angeles. L to R: Rob Sharenow, evp, Programming, Lifetime Networks; Jennifer Aniston, Executive Producer of "Call Me Crazy"; and Nancy Dubuc, pres, Entertainment and Media, A+E Nets. Debuts April 20, 8pm. Photo by John Shearer/Invision for Lifetime/AP Images.


CableFAX Webinar:
TV Everywhere 2.0: It's Here - So How Do You Monetize It?
Thursday, December 1, 2011
1:30 - 3:00 p.m. ET



($329/location
Each registration comes with access to the archived version of the program, the materials provided by the speakers.
Authentication has been the hottest topic in cable for a couple years now, but now that TV Everywhere has moved beyond the conceptual stage and into reality, what now? How can cable operators and programmers work together to both ensure that authenticated content retains subscribers and preserves strong business models—while also looking to it as a new opportunity for revenue growth. It's a tricky balance in a tough economy. But with advertisers anxious to find more targeted customers and better measurement, and consumers demanding content that follows them everywhere they go and on every device they use, this may be the best time for the industry to figure it all out. Meanwhile, turmoil at Netflix, potential changes at Hulu and the continued threat from the likes of Apple and Microsoft with over-the-top products of their own means cable needs to move fast to ensure that TV Everywhere works—and works exceedingly well.
In this Webinar, you'll learn to:
How best to approach TV Everywhere as an operator or programmer.
How consumers are using authenticated content—what's working and what's not.
How TV Everywhere might evolve as operators and programmers work together to monetize the authenticated online platform.
The best strategies to connect with consumers via authenticated content.
Monetization ideas and integration of social media elements into the TV Everywhere world.
Return to top
Bio Wayne St. Amand
VP, Marketing
Crimson Hexagon


Wayne St. Amand is a veteran marketing leader with a track record of significantly accelerating the growth trajectory and valuation of technology businesses. At Crimson Hexagon, St. Amand is responsible for driving business expansion through the company's global corporate and product marketing efforts.

Most recently, St. Amand was the director of marketing for ExaGrid Systems, a fast-growing, multi-award-winning developer of advanced data storage and back-up appliances. Before ExaGrid, St. Amand ran Electronic Vaulting product marketing for Iron Mountain (NYSE: IRM), helping to grow the product line from $12 million to $100+ million in revenues. Prior to Iron Mountain, he managed product marketing as well as corporate communications for Connected Corporation, a provider of PC data protection services and software, which was acquired by Iron Mountain in 2004 for $120 million. Prior to Connected, St. Amand managed global corporate communications for SilverStream Software, helping the company navigate a successful IPO (NASD: SSSW) and an acquisition by Novell in 2002 for $212 million.

Earlier in his career, St. Amand led successful communications campaigns for a number of well-known technology companies including HP, Motorola and Texas Instruments, while working for several of the Boston area's most influential marketing services firms.

He holds a B.S., with honors, in Communications and Marketing from Boston University's College of Communication.

Bio Robert Gessner
President
Massillon Cable TV


Robert Gessner is President of Massillon Cable TV, a family-owned company serving 45,000 Basic customers in two Northeast Ohio systems. Bob also serves as President of Massillon Cable Communications, an Internet Service Provider that serves 35,000 homes and businesses with cable modem, dial-up, dedicated fiber and co-location services in a six county area. Digital Phone service has been available since 2005. There are currently more than 16,000 Massillon Cable TV and Clear Picture customers with Digital Phone service. Massillon Cable TV purchased Safeguard Security in 2010 and now offers security services for both business and residential customers, along with Personal Emergency Reporting Systems (PERS) medical alert service.

Bob's parents, Richard and Susan Gessner founded Massillon Cable TV in 1965. Bob earned a Bachelors of Business Administration from the College of William & Mary in Virginia in 1976. He began his cable career in 1979 when he returned to his hometown to be Massillon Cable TV's Marketing Manager; launching HBO and instituting the company's first computer customer billing system.

Massillon Cable TV is still very much a mom and pop system. Both of Bob's parents still are active in company matters. His sister Elizabeth is Vice President and handles all local advertising sales. His wife Nancy assists with many Human Resource functions at all three companies. His older brother, Richard also serves on the company board.

Bob is currently Vice-Chairman of the American Cable Association ACA) Board of Directors. He is also an active Board Member and past President of the Ohio Cable Telecommunications Association and has served on several state committees for cable-related issues. Bob is also the past Chairman of the Board of the National Cable Television Cooperative (NCTC). Bob currently serves on many local boards including Stark Development Board, Massillon Development Foundation, FirstMerit Community Board, the Spring Hill Historic Home, and the Health Foundation of Greater Massillon.

On a personal note, Bob and Nancy have been married for over 30 years and have two adult daughters, Suzanne and Katherine. In recent years, Bob and Nancy have enjoyed several adventure vacations in various parts of the world.

Bio Michael Quigley
VP, Business Development and Multi-Platform Distribution
Turner Broadcasting System


Michael Quigley is vice president of business development & multi-platform distribution for Turner Broadcasting System, Inc., focusing on initiatives such as TV Everywhere, Interactive Television, Connected Devices, Content Search & Navigation and traditional digital businesses - which include broadband syndication, gaming, and electronic sell-through. Quigley is based in Atlanta and reports to Jeremy Legg, senior vice president of business development & multi-platform distribution.

Within his role, Quigley evaluates new IP video distribution technologies, develops advance video products, cultivates partnerships with consumer electronic manufacturers, and develops associated new business models with both internal and external constituencies. He also serves as the primary liaison between Business Development and Animation, Young Adults, & Kids Media. Most recently, Quigley was executive director of business development.

Since joining Turner in 2006, Quigley has been responsible for developing and executing all non-linear platform distribution for the Turner properties across broadband and interactive television. He has served as a leader in the TV Everywhere effort - which spans across technology platform initiatives to advertising models to new distribution technologies - as well as in the distribution of Turner's first Interactive Television application.

Prior to joining Turner, Quigley was the vice president of business development and strategy for DMX MUSIC. In this role, he was responsible for the distribution of DMX MUSIC's Asia Pacific pay TV music channels, execution of the company's digital music business plan and the sale of the company to a private investor group. Before DMX MUSIC, Quigley served as director of business development for Liberty Digital, Inc., and as manager of strategic planning for Time Warner, Inc.

Quigley earned a bachelor of arts degree in economics from Rice University and a masters of business administration from Stanford University.

Turner Network Sales (TNS), a division of Turner Broadcasting System, Inc. (TBS, Inc.), is responsible for the sales and marketing of Turner Broadcasting's 10 domestic basic cable networks – TBS, CNN, HLN, TNT, Cartoon Network, Turner Classic Movies, CNN International, CNN en Español, Boomerang and truTV – to cable and satellite affiliates and special markets throughout the United States, Canada, Puerto Rico and the U.S. Virgin Islands.

Turner Broadcasting System, Inc., a Time Warner company, creates and programs branded news, entertainment, animation and young adult media environments on television and other platforms for consumers around the world.

Bio BJ Elias
Vice President, Advanced Services, Distribution
Fox Networks


Benjamin (BJ) Elias serves as Vice President, Advanced Services, Distribution for Fox Networks where he is responsible for overall product management and negotiations with major cable, satellite, and telco affiliates and non-traditional distributors for all of the division's advanced services products, including video-on-demand (VOD), interactive television (ITV), 3D, mobile TV, advanced advertising, and authenticated internet video.

Mr. Elias played an important role in the launch of Fox's authenticated products, including SPEED2, BTN2Go, and online viewing of FOX. He also develops product strategy for television distribution on emerging digital platforms and new incremental revenue-generating products, providing guidance to senior management across the division.

Prior to joining Fox Networks in 2010, Mr. Elias served as Director of Strategy and Business Development at A&E Television Networks where he was responsible for product management of VOD services for all of AETN's networks, including Lifetime, History, and A&E. He also led mobile business development and provided guidance for other advanced services including authentication, ITV, and advanced advertising.

Prior to AETN, Mr. Elias worked for Sezmi Corporation as Director of Content Partnerships where he negotiated content license agreements with film studios, cable networks groups, and internet companies. He has also held business development positions with Yahoo! and CBS Digital Media.

Mr. Elias earned a bachelor's degree in political science and journalism from Emory University and a master's degree in communications management from the Annenberg School for Communication & Journalism at the University of Southern California. He is a member of the Cable & Telecommunications Association for Marketing (CTAM) and Women in Cable Telecommunications (WICT). He currently serves as Co-Chair of the Jewish Free Loan Association Genesis Division, a non-profit, non-sectarian agency providing funding for healthcare, education, and social services.

Moderator:
Michael Grebb
Executive Editor
CableFAX Daily
Cable and marketing executives in the following areas:
Advertising
Marketing
Media Buying
Media Planning
Business Development
Management
Social Media
Branding
Products Launches
Financial Management
Communications
Research
The live audio is delivered to your location over the telephone or your computer speakers. The Power-Point presentations are presented over the Internet and are available to print out before the program. This is like a talk-radio program with visuals on the Web. You and your team will be able to have a live Q&A with all the speakers.

You need Real Player or Windows Media Player installed on your computer. If you do not have either, please follow the instructions below to download and install them. Or if you prefer, a phone for the audio and an Internet connection to let you watch the slides and other information on the Web will suffice. No other downloads or special hardware - a dial-up connection will work fine.
One (1) set of materials (you may make copies for all of the persons you invited to listen to the program);
One (1) toll-free connection to the seminar (if you select the audio connection.), and
One (1) Internet connection to the seminar.
Use speakers on your computer or speakerphone on your telephone and invite your entire staff to attend for one low price of $329.00 USD per site.
For the audio connection:
A computer with Real Player or Windows Media Player installed. When you log into the Virtual Seminar, your computer will be taken through a brief configuration check and will let you know if you're missing any software.
If you do not have Real or Windows, a touch-tone telephone will work also. It works best to use a speakerphone so that others can listen too.
For the Internet connection:
PC: 166Mhz Pentium-based PC or better
Operating system: Windows 95, 98, NT, 2000, XP
Browser: For optimal viewing experience, we recommend using Internet Explorer 6.0 or higher. However, any version of IE 4.0 or higher will work. For Netscape, only versions 4.x are supported at this time.
Internet connection: 28.8 or faster connection
Display set at 1024 x 768 or 800 x 600
Mac users are encouraged to use Firefox 2.0 (or later) with Real Player to view the webcast. You can also test your system using the system test button in menu on the left hand side.
Player Downloads
If using Microsoft Windows Media Player, Version 6.4 or later is required.
Download a supported Microsoft Windows Media Player
If using RealPlayer, Version 7.0 or later is required.
Download a supported RealPlayer
If you are having any technical difficulties or need assistance meeting these requirements, please contact our Technical Support Center at 1-866-709-8255 or click here.

For content questions regarding this webinar, contact Rachel Isaman at risaman@accessintel.com.

*CableFAX does not offer any refunds for the webinar. All sales are final.





For sponsorship opportunities contact: Debbie Vodenos at
dvodenos@accessintel.com or Amy Abbey at aabbey@accessintel.com
Each registration comes with access to the archived version of the program, the materials provided by the speakers and a personalized certificate of completion for attending the Webinar.
About CableFAX:
CableFAX is the most trusted brand in the industry, providing cable executives with the most original, comprehensive and insightful overview of the latest industry news and strategic initiatives. CableFAX offerings include a wide range of resources for cable professionals, including CableFAX Daily, CableFAX: The Magazine, award programs, Webinars, networking events and workshops. For more information, visit www.CableFAX.com.