Sign up for The Skinny from CableFAX - Free Weekly Eletter
Awards --
Call for Entries & Events:

CableMania with Cablefax & AXS TV - April 30
RSVP Today!

CableFAX Tech Breakfast & Roundtable - May 1
Complimentary Registration!

Call for Nominations - Top Operators
Nomination Deadline: May 2
Enter Now!

CableFAX's Digital & Tech Summit: May 21
Yale Club | NYC
Register Now!

Complete List of Events
Webinars:

Participation TV 2.0: Turning Audience Involvement Into Profit
May 7
Register Now!

Monetizing Social TV: New Tools and Tactics for Success
March 25
On-Demand

---
---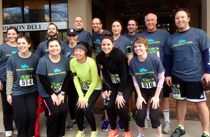 CABLE SHAPES UP! Members of CableFit #teamplatform at NCTA get ready to run a St. Patrick's Day 8K road race, spanning the U.S. Capitol grounds and National Mall on March 9, (back row, l. to r.): Julie Hance, Ethan Buch, Frank Gallagher, Kristin Buch, Steven Morris, Lisa Hamilton, Scot Donaldson, Rob Stoddard, Rick Stoddard; (front row, l. to r.): Kelly Allers, Kat Stewart, Esther Song, Carleigh Blewett, Lisa Otto. NCTA's team finished 11th in a field of 54.





Join us for CableFAX's Most Powerful Women in Cable Breakfast on December 5, 2012 from 8:00 - 10:00 a.m., at the Grand Hyatt in NYC, as we salute the women who have made their mark on the industry with leadership, innovation and community.
CableFAX 2012 Most Powerful Women in Cable Honorees:
(In alphabetical by company)
A, B, C, D, E, F, G, H. I, K, L, M, N, O, P, Q, R, S, T, U, V, W
Abbe Raven, A&E Networks
Lori Conkling, A&E Networks
Dr. Libby Haight O'Connell, A&E Networks/AETN
Tana Jamieson, A&E Television Network
Linda Schupack, AMC
Ellen Kroner, AMC Networks
Arlene Manos, AMC Networks Advertising Sales
Mary Celle, American Support
Sandy Ashendorf, BBC Worldwide America
Clare Reichenbach, BBC Worldwide America
Ann Sarnoff, BBC Worldwide Americas
Amy Tykeson, BendBroadband
Debra Lee, BET Networks
Loretha Jones, BET Networks
Frances Berwick, Bravo and Style Media
Nomi Bergman, Bright House Networks
Julie Laulis, Cable One
Lisa Rosenblum, Cablevision Systems Corporation
Gemma Toner, Cablevision Systems Corporation
Anne R.Carlsen, Carlsen Resources
Kelly Dunne, CBS Sports
Suzanne Norman, CMT
Katrina Cukaj, CNN / Turner Broadcasting
Marlene Dooner, Comcast
Charisse R. Lillie, Comcast
Melissa Maxfield, Comcast
D'Arcy Rudnay, Comcast
Jennifer Gaiski,Comcast Cable
Cathy Avgiris, Comcast Cable
Martha Soehren, Comcast Cable
LeAnn Talbot, Comcast Cable
Kathy Zachem, Comcast Cable
Amy Banse, Comcast Corporation
Rebecca Schulte, Comcast SportsNet Mid-Atlantic
Kellie Grutko, Comcast Spotlight
Michele Ganeless, Comedy Central
Jill Campbell, Cox Communications
Kathy Payne, Cox Communications
Laura Lee, Crown Media Family Networks
Annie Howell. Crown Media Family Networks
Susanne McAvoy, Crown Media Family Networks
Michelle Vicary, Crown Media Family Networks
Susan Swain, C-SPAN
Char Beales, CTAM
Mary Murano, Current TV
Nancy Daniels, Discovery Channel
Eileen O'Neill, Discovery Channel, TLC and Discovery Fit & Health
Marjorie Kaplan, Discovery Communications
Rebecca Glashow,Discovery Communications
Courtney Menzel, Discovery Communications
Lisa Williams-Fauntroy, Discovery Communications, LLC
Vera Buzanello, Discovery Networks Latin America/U.S. Hispanic (DLA/USH)
Oprah Winfrey, Discovery/OWN
Lisa Berger, E! Entertainment Television
Suzanne Kolb, E! Entertainment Television
Cyndi McClellan, E! Entertainment Television
Janice Arouh, Entertainment Studios, Inc.
Christine Dreissen, ESPN
Marie Donoghue, ESPN
Lori LeBas, ESPN
Liz Dolan, Fox International Channels
Jamia Bigalow, Fox Networks
Sherry Brennan, Fox Networks
Rita Tuzon, Fox Networks Group
Claudia Teran, Fox Networks Group
Karen Brodkin, Fox Sports Media Group
Stephanie Gibbons, FX Networks
Leslie Chesloff, GMC TV & ASPiRE
Mary Jeanne Cavanagh, GMC TV, ASPiRE, Sportsman Channel
Dale Hopkins, GSN
Becky Henderson, Halogen
Sue Naegel, HBO
Sheila Nevins, HBO
Nancy Dubuc, HISTORY AND LIFETIME NETWORKS
Jennifer Cotter, HSN
Mindy Grossman, HSN
Judy Schmeling, HSN
Jennifer Caserta, IFC
Debbie DeMontreux, IFC
Stacie Gray, iN DEMAND
Nina Lederman, Lifetime Networks
Tanya Lopez, Lifetime Networks
Gena McCarthy, Lifetime Networks
Sara Kozak ID, Military Channel, Destination America
Italia Commisso-Weinand, Mediacom
Mary Beck, MLB Network
Theresa Chillianis, MSG Varsity
Denise Denson, MTV Networks
Colleen Fahey Rush, MTV Networks
Tanya Giles, MTV Networks Entertainment Group
Diana Mogollon, mun2
Nicol Turner-Lee, Ph.D, National Association for Multi-ethnicity in Communications (NAMIC)
Heather Moran, National Geographic Channel
Amy Cohen, NBC Sports Group
Dana Zimmer, NBC Universal
Linda Yaccarino, NBCU
Bonnie Hammer, NBCU/USA Network and SyFy
Lauren Zalaznick, NBCUniversal
Bridget Baker, NBCUniversal
Salaam Coleman Smith, NBCUniversal
Patricia Fili-Krushel, NBCUniversal News Group
Susane K. Newell, NCTC
Marjorie Cohn, Nickelodeon
Cyma Zarghami, Nickelodeon/MTVN Kids and Family Group
Maria Perez-Brown, nuvoTV
Liz Janneman, Ovation
Gaynor Strachan-Chun, Ovation
Meg Lowe, OWN
Sheri Salata, OWN: Oprah Winfrey Network
Cori Abraham, Oxygen Media
Jane Olson, Oxygen Media
Claire Watts, QVC
Angie Simmons, QVC
Cathy Hetzel, Rentrak Corporation
Deborah Myers, Science Channel
Brooke Johnson, Scripps Networks Interactive
Kathleen Finch, Scripps Networks Interactive
Laureen Ong, Scripps Networks Interactive
Denise Conroy-Galley, Scripps Networks Interactive
Susie Fogelson, Scripps Networks Interactive
Laura Galietta, Scripps Networks Interactive
Cynthia Gibson, Scripps Networks Interactive
Cindy McConkey, Scripps Networks Interactive
Vikki Neil, Scripps Networks Interactive
Lisa Choi Owens, Scripps Networks Interactive
Gwen Marcus, Showtime Networks Inc.
Superna Kalle, Sony Pictures Television
Sandy Wax, Sprout
Nancy McGee, Starz Entertainment
Patty McCaskill,Suddenlink Communications
Mary Meduski, Suddenlink Communications
Sarah Barnett, Sundance Channel
Lisa Schwartz, Sundance Selects/IFC Films
Jacqueline Hernández, Telemundo Media
Robyn Miller, Tennis Channel
Margaret Loesch,The Hub TV Network
Anne Sweeney, The Walt Disney Company
Jennifer Dangar,The Weather Channel Companies
Melinda Witmer, Time Warner Cable
Carol Hevey, Time Warner Cable
Joan Gillman, Time Warner Cable
Jennifer Chun, Time Warner Cable
Pat Crull, Time Warner Cable
Ellen East, Time Warner Cable
Irene Esteves, Time Warner Cable
Michelle Kim, Time Warner Cable
Gail MacKinnon, Time Warner Cable
Debi Picciolo, Time Warner Cable
Amy Winter, TLC
Kelly Regal, Turner Broadcasting Sysetm
Louise Sams, Turner Broadcasting System
Molly Battin, Turner Broadcasting System
Donna Speciale, Turner Broadcasting System, Inc.
Brenda Piper,Turner Broadcasting's Animation, Young Adults & Kids Media Group (AYAKM)
Sandra Dewey, Turner Entertainment Networks & Cartoon Network Originals
Christina Miller, Turner Sports
Friday Abernethy, TV Guide Network
Wonya Lucas, TV One
Kenetta Bailey, TV One
Toni Judkins, TV One
Michelle Rice, TV One
Beth Roberts, Universal Cable Productions and NBCUniversal Cable Entertainment and Cable Studios
Tonia O'Connor, Univision Communications Inc.
Deanna Andaverde, Univision Communications Inc.
Jennifer Ball, Univision Communications Inc.
Renee Plato, Univision Communications Inc.
Jessica Rodriguez, Univision Communications Inc.
Alexandra Shapiro, USA Network
Lisa Sherman Logo, Viacom Media Networks
Kim Martin, WE tv
Jennifer Robertson, WE tv
Maria E.Brennan, Women in Cable Telecommunications (WICT)
Colleen Abdoulah, WOW! Internet, Phone and Cable
Stephanie McMahon, WWE
Women in Tech
Sandra Howe, Arris
Jill Meinzer, ARRIS Group Inc
Donna Thomas, Ascent Media
Emily M. Nikoo, Blonder Tongue Laboratories, Inc.
Lisa Hsia, Bravo Media
Aimee Viles, Bravo Media
Nomi Bergman, Bright House Networks
Sabrina Calhoun, Bright House Networks
Marva Johnson, Bright House Networks
Kim Norris, Cablevision Media Sales Corporation
Stephanie Mitchko, Cablevision Systems
Yvette Kanouff, Cablevision Systems Corporation
Manjula Talreja, Cisco
Susan Adams, Comcast
Lauri Smith, Comcast
Jennifer Yohe Wagner, Comcast
Sue Wante, Comcast
Charlotte Field, Comcast Cable
Jennifer Yohe Wagner, Comcast Cable
Sherita Ceasar, Comcast Corp
Kristine Faulkner, Cox Business
Vicki Marts, Cox Communications
Jackie Boudreau, Cox Communications, Inc
Leslie Ellis, Ellis Edits
Carol Pandiscia, ESPN
Anna Tran Reyna, Fox Cable Networks
Julie Simon, Fox Networks
Barbara Jaffe, HBO
Michelle Wilkins, HSN
Christy Martin, iBox
Vibha Rustagi, itaas
Sally Kinsman, Kinsman Design Associates
Susan Stone, MLB Network
Pam Arment, Pam Arment Consulting
Selina Lo, Ruckus Wireless
Sandy Sexton, Scripps Networks
Pam Nobles, SCTE
Cathy Oakes, SCTE
Marsha Humphreys Gee, Suddenlink Communications
Rhonda Holt, TBS
Rebecca Rusk Lim, TBS
Rhonda Lowry, TBS
Veronica Sheehan, TBS
Grace Egan, Time Warner Cable
Cyndee Everman, Time Warner Cable
Vickie Fiala, Time Warner Cable
Charlene Keys, Time Warner Cable
Charlotte Strong, Time Warner Cable
Carolyn Terry, Time Warner Cable
Tara Maitra, TiVo Inc.
Margret Schmidt, TiVo Inc.
Susan McLaughlin, TOA Technologies
Susan Grant, Turner Broadcasting System
Questions:
Contact Saun Sayamongkhun at saun@accessintel.com; 301-354-1694.
Sponsorship Opportunities:
Amy Abbey
Associate Publisher, CableFAX, aabbey@accessintel.com; 301-354-1629.
About CableFAX:
CableFAX is the most trusted brand in the industry, providing cable executives with the most original, comprehensive and insightful overview of the latest industry news and strategic initiatives. CableFAX offerings include a wide range of resources for cable professionals, including CableFAX Daily, CableFAX: The Magazine, award programs, Webinars, networking events and workshops. For more information, visit www.CableFAX.com.