Sign up for The Skinny from CableFAX - Free Weekly Eletter
Awards --
Call for Entries & Events:

CableFAX Most Powerful Women & Most Influential Minorities in Cable
Deadline: May 17
Free to Nominate

CableFAX Program Awards
Call for Entries: June 21
Enter today!

CableFAXIES & Sales Executive of the Year Awards Breakfast
June 24
Register today!

Complete List of Events

Webinars:

Vine, Viggle, GetGlue:
Leveraging the Newest Social Media Apps to Drive Engagement and Brand Awareness
On-Demand

Capitalizing on Cloud Management and Navigation

Video On Demand Next Practices: Capitalizing on the Latest Innovations
On Demand

Killer Cable Apps: Using Online Games and Apps to Drive Consumer Engagement
On Demand


---
---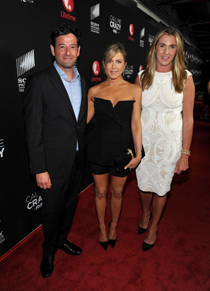 CALL ME CRAZY. On April 16, 2013, Lifetime and Sony Pictures Television held a premiere event for the Lifetime Original Movie "CALL Me Crazy: A Five Film" at the Pacific Design Center in Los Angeles. L to R: Rob Sharenow, evp, Programming, Lifetime Networks; Jennifer Aniston, Executive Producer of "Call Me Crazy"; and Nancy Dubuc, pres, Entertainment and Media, A+E Nets. Debuts April 20, 8pm. Photo by John Shearer/Invision for Lifetime/AP Images.



Distribution | 2012 CableFAX Media Kit | 2012 Calendar | Advertising Contacts
CableFAX is a leadership brand. Advertise with CableFAX to reach key industry executives in the cable/telco set, network programming and advertising community. The CableFAX portfolio of products and services offers an integrated platform for branding, lead generation, and connecting with clients.
Products:
CableFAX Daily
The essential industry update read each business day via email delivery by 16,500 top industry executives. CableFAX Daily offers the following advertising units:

Send ad materials to: Joann Fato at jfato@accessintel.com

Link to Ad Specs

****
Special Cable Show Issues:

2011 Pre-Show Issue

2011 Cable Show Dailies:
Day 1, June 14
Day 2, June 15
Day 3, June 16

****
Special Mid-Day Reports:

April 2011: CableFAX Best of the Web Awards & Digital Hotlist

May 2011: CableFAXIES, Sales Executive of the Year & Sweet 16 Issue

October 2011: Program Awards Issue

Custom Mid-Day Reports are also available. Example (World Cup)

****
View Previous Issues:

CableFAX Best of Web & FAXIES 2010

CableFAX Sales Executive Issue 2010

CableFAX Program Awards Issue 2010


---

CableFAX: The Magazine
Published 4 times per year honoring cable's top executives, programs and technology. Delivered in print to 10,000 and electronic distribution to 50,000+.


Read the 2011 CableFAX: The Magazine
issues:


2012 Print Schedule
Apr: Sales Executive of the Year, Sweet 16 & Faxies Special Issue
May: Digital Hotlist & Best of the Web Awards Special Issue
July: Top Ops
Sept: Diversity & Best Places to Work and Program Awards
Nov: Most Powerful Women in Cable
Dec: CableFAX 100

Online and E-letters
Numerous opportunities to reach a wide audience of 50,000+ unique visitors on cablefax.com and cable360.net, as well as targeted e-letter advertising.

The Skinny: weekly, Tuesdays

Cable Jobs e-letter: weekly

Cable Resumes e-letter: bi-weekly

Breaking News: avg: 2-3X per month

***
Units available:
728 x 90 and 160 x 600

View Sample

Custom E-Blast:

View Sample

Link to Custom Ad Specs




Events
CableFAX hosts events throughout the year as well as regular virtual training programs providing you topic-focused niche audiences.

April: Digital Hot List & Best of the Web
May: Sales Executive of the Year, Faxies & Sweet 16
Sept: Program Awards & Top Operators (Top Ops)
Dec: CableFAX 100 & Most Powerful Women in Cable

Sponsorships available

Webinars
CableFAX hosts webinars throughout the year on topics such as TV Everywhere, Advanced Advertising, Social Media.

Custom Sponsorships available.
Contests

Let CableFAX host your next contest. Contests offer a fun and effective way to reach out to your prospects and create new business alliances
---
Our Industry Partners: AAAA, ACA, ACC, ANA, CTHRA, CTAM, NAMIC, NATPE, NCTA, SCTE, TelcoTV, The Cable Center, Walter Kaitz Foundation, WICT



---
2012 CableFAX Media Kit
| | |
| --- | --- |
| | Please download the 2012 CableFAX Media Kit for more information on advertising opportunities, rates and specifications. |
---
Advertising Contacts: