Sign up for The Skinny from CableFAX - Free Weekly Eletter
Awards --
Call for Entries & Events:

CableMania with Cablefax & AXS TV - April 30
RSVP Today!

Call for Nominations - Top Operators
Nomination Deadline: May 2
Enter Now!

CableFAX's Digital & Tech Summit: May 21
Yale Club | NYC
Register Now!

Call for Entries - Program Awards
Entry Deadline: June 20
Enter Today!

Complete List of Events
Webinars:

Participation TV 2.0: Turning Audience Involvement Into Profit
May 7
Register Now!

Monetizing Social TV: New Tools and Tactics for Success
March 25
On-Demand

---
---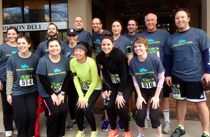 CABLE SHAPES UP! Members of CableFit #teamplatform at NCTA get ready to run a St. Patrick's Day 8K road race, spanning the U.S. Capitol grounds and National Mall on March 9, (back row, l. to r.): Julie Hance, Ethan Buch, Frank Gallagher, Kristin Buch, Steven Morris, Lisa Hamilton, Scot Donaldson, Rob Stoddard, Rick Stoddard; (front row, l. to r.): Kelly Allers, Kat Stewart, Esther Song, Carleigh Blewett, Lisa Otto. NCTA's team finished 11th in a field of 54.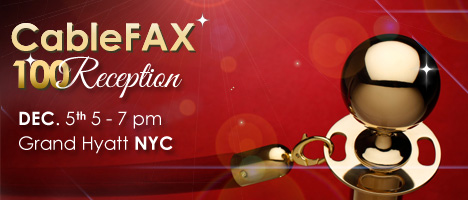 Join us for the CableFAX 100 Reception on December 5, 2012, from 5 - 7 p.m., as we salute cable leaders, pioneers, influencers, out-of-the-box thinkers and rainmakers. This must-attend industry event showcases the "who's who" of the cable business and will honor the CableFAX 100 and The Regional Top Players.

Back to Main Page
CableFAX 100 Honorees:
(In alphabetical by company)
A, B, C, D, E, F, G, H. M, N, O, P, R, S, T, U, V, W
Bob DeBitetto, AETN
Nancy Dubuc, AETN
Abbe Raven, AETN
David Zagin, AETN
Sarah Barnett, AMC Networks
Bob Broussard, AMC Networks
Ed Carroll, AMC Networks
Jennifer Caserta, AMC Networks
Charlie Collier, AMC Networks
Arlene Manos, AMC Networks
Kim Martin, AMC Networks
Josh Sapan, AMC Networks
Matthew Polka, American Cable Association
Jeff Weber, AT&T
Mark Cuban, AXS TV
Herb Scannell, BBC Worldwide Americas
Debra Lee, BET Networks
Mark Silverman, Big Ten Network
Nomi Bergman, Bright House Networks
Steve Miron, Bright House Networks
Jerry McKenna, CableONE
Wilt Hildenbrand, Cablevision
Yvette Kanouff, Cablevision
Dolan Kristin , Cablevision
Bob Rose, CBS Sports Network
Tom Rutledge, Charter Communications
Michael Angelakis, Comcast
Stephen Burke, Comcast
David Cohen, Comcast
Steve Feingold, Comcast
Bill Haase, Comcast
Kyle McSlarrow, Comcast
Hank Oster, Comcast
Greg Rigdon, Comcast
Dave Scott, Comcast
Neil Smit, Comcast
Charlie Thurston, Comcast
Dave Watson, Comcast
Tony Werner, Comcast
Jill Campbell, Cox Communications
Pat Esser, Cox Communications
Robert Wilson, Cox Communications
Bill Abbott, Crown Media Family Networks
Rob Kennedy, C-SPAN
Susan Swain, C-SPAN
Dan York, DirecTV
Joe Abruzzese, Discovery Communications
Bill Goodwyn, Discovery Communications
Mark Hollinger, Discovery Communications
Marjorie Kaplan, Discovery Communications
Margaret Loesch, Discovery Communications
Erik Logan, Discovery Communications
Deborah Myers, Discovery Communications
Eileen O'Neill, Discovery Communications
JB Perrette, Discovery Communications
Sheri Salata, Discovery Communications
Henry Schleiff, Discovery Communications
Luis Silberwasser, Discovery Communications
Amy Winter, Discovery Communications
David Zaslav, Discovery Communications
Dave Shull, DISH Network
Gary Marsh, Disney Channels Worldwide
Ben Pyne, Disney Media Networks
Byron Allen, Entertainment Studios
Janice Arouh, Entertainment Studios
Sean Bratches, ESPN/Disney
John Kosner, ESPN/Disney
David Preschlack, ESPN/Disney
John Skipper, ESPN/Disney
Peter Block, FEARnet/Sony
Ron Garfield, FEARnet/Sony
Michael Biard, Fox Networks
Randy Freer, Fox Networks
Michael Hopkins, Fox Networks
John Landgraf, Fox Networks
Hernan Lopez, Fox Networks
Eric Shanks, Fox Networks
Rita Tuzon, Fox Networks
Roger Ailes, Fox News Channel
Charley Humbard, GMC TV & gMovies
Brad Siegel, GMC TV & gMovies
Michael Lombardo, HBO
Sue Naegle, HBO
Richard Plepler, HBO
Mindy Grossman, HSN
Rocco Commisso, Mediacom
Marwan Fawaz, Motorola Mobility
Denise Denson, MTV Networks
Michele Ganeless, MTV Networks
Doug Herzog, MTV Networks
David Lyle, Natiional Geographic Channels
Howard Owens, National Geographic Channels
Frances Berwick, NBCU
Mac Budill, NBCU
Jacqueline Hernandez, NBCU
David Howe, NBCU
Jason Klarman, NBCU
Suzanne Kolb, NBCU
Jon Litner, NBCU
Chris McCumber, NBCU
Emilo Romano, NBCU
Jeff Wachtel, NBCU
Linda Yaccarino, NBCU
Matt Bond, NBCU
Bonnie Hammer, NBCU
Lauren Zalaznick, NBCU
Michael Powell, NCTA
Cyma Zarghami, Nickelodeon
Randy Brown, Outdoor Channel
Charles Segars, Ovation
Brian Deevy, RBC Daniels
Randy Wells, RBC Daniels
Henry Ahn, Scripps Networks Interactive
Steve Gigliotti, Scripps Networks Interactive
Brooke Johnson, Scripps Networks Interactive
John Lansing, Scripps Networks Interactive
Ken Lowe, Scripps Networks Interactive
Laureen Ong, Scripps Networks Interactive
Jon Steinlauf, Scripps Networks Interactive
Matt Blank, Showtime
David Nevins, Showtime
Chris Albrecht, Starz
Glenn Curtis, Starz
Jerry Kent, Suddenlink
Ken Solomon, Tennis Channel
Mike McCarley, The Golf Channel
Michael Riley, The Walt Disney Company
Anne Sweeney, The Walt Disney Company
David Kenny, The Weather Channel Companies
Glenn Britt, Time Warner Cable
Irene Esteves, Time Warner Cable
Joan Gillman, Time Warner Cable
Rob Marcus, Time Warner Cable
David Rone, Time Warner Cable
Peter Stern, Time Warner Cable
Melinda Witmer, Time Warner Cable
Coleman Breland, Turner Broadcasting System
Greg D'Alba, Turner Broadcasting System
Andy Heller, Turner Broadcasting System
Marc Juris, Turner Broadcasting System
Phil Kent, Turner Broadcasting System
Steve Koonin, Turner Broadcasting System
David Levy, Turner Broadcasting System
Stuart Snyder, Turner Broadcasting System
Donna Speciale, Turner Broadcasting System
Michael Wright, Turner Broadcasting System
Alfred Liggins, TV One
Cesar Conde, Univision
Tonia O'Connor, Univision
Terry Denson, Verizon Communications
Mark Greenberg, Viacom
Regional
Tom Might, CableONE
Lisa Washa, Charter Communications
Bill Bridgen, Comcast
Kevin Casey, Comcast
Bill Connors, Comcast
Jim Corno, Comcast
Tom Coughlin, Comcast
John Crowley, Comcast
Hank Fore, Comcast
Steve Hackley, Comcast
Curt Henninger, Comcast
Rich Jennings, Comcast
Amy Lynch, Comcast
Mary McLaughlin, Comcast
Len Rozek, Comcast
Jim Samaha, Comcast
Rebecca Schulte, Comcast
Amy Smith, Comcast
LeAnn Talbot, Comcast
Steve White, Comcast
William Beaty, Jr., Comporium
Marilyn Burrows, Cox
Jacqueline Vines, Cox
Bob Ormberg, GCI
Robert Gessner, Massillon Cable
Michael Bair, MSG Media/Cablevision
Theresa Chillianis, MSG Media/Cablevision
Daniel Ronayne, MSG Media/Cablevision
Jim Gleason, NewWave Communications
Steve Raab, SNY
Bill Goetz, Time Warner Cable
Carol Hevey, Time Warner Cable
John Keib, Time Warner Cable
Mike Munley, Time Warner Cable
Steve Friedman, Wave Broadband
Wayne Schattenkerk, Wave Broadband
Steve Weed, Wave Broadband
Tracy Dolgin, YES Network


Back to Main Page

Location:
Grand Hyatt in New York City,
Park Avenue at Grand Central
New York, NY 10017

Questions:
Contact Saun Sayamongkhun at saun@accessintel.com ; 301-354-1694.

Sponsorship Opportunities:
Contact: Amy Abbey, Associate Publisher at AAbbey@accessintel.com.